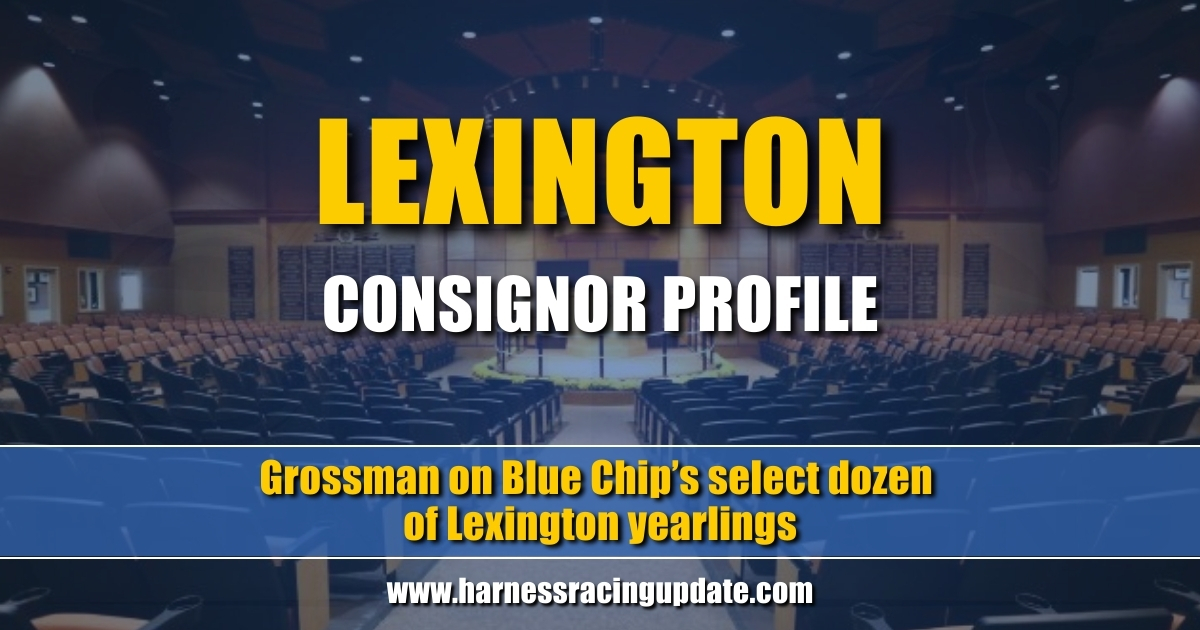 Grossman on Blue Chip's select dozen of Lexington yearlings
by Dave Briggs
Tom Grossman of Blue Chip Farms said he's learned a lot in recent weeks about the dozen select yearlings selling in Lexington.
"You learn so much more about them once they are in and being shown to clients, in the paddock and videoing and everything," Grossman said. "This group really finished very well and I'm hopeful.
"Overall I'm very happy with the group. We only bring a select few there and still bring the majority to Harrisburg. Generally, they've been sifted through pretty well, both for pedigree and individuals.
Grossman said hip 93 Upnaway Blue Chip, out of Norweaster Bluechip, "is a very nice, correct Chapter Seven colt. He looks nothing like the one we sold last year and much more like the good ones in the family like Spider and Union Forces et cetera. He was really smart in the paddock. I'm very happy with that one and he looks like what we've been trying to create out of that mare. I think we finally have it."
VALUE PICK
Grossman said the last yearling Blue Chip is selling in Lexington — hip 869 Urania Blue Chip, a Downbytheseaside filly — could be a great value pick.
"She was a brilliantly fast, crazy mare… the first foal was a little bit like her, but this one seems to have a really good mind. The video looks good, but he's looked much better in the paddock a few times that I've had clients looking at him. Obviously, Downbytheseaside is hot. I think the video is great, but I know he's much better than that video shows and I know how fast the mare was. I think he's a real sleeper that could be a monster," Grossman said, adding another Blue Chip yearling selling in the fifth session could be special.
"The other one is obvious, it's a Fear The Dragon out of the family of Downbytheseaside that looks the part (hip 797, Umbrage Blue Chip). She's worth quite a bit of money just as a broodmare, but she really looks like a racehorse."