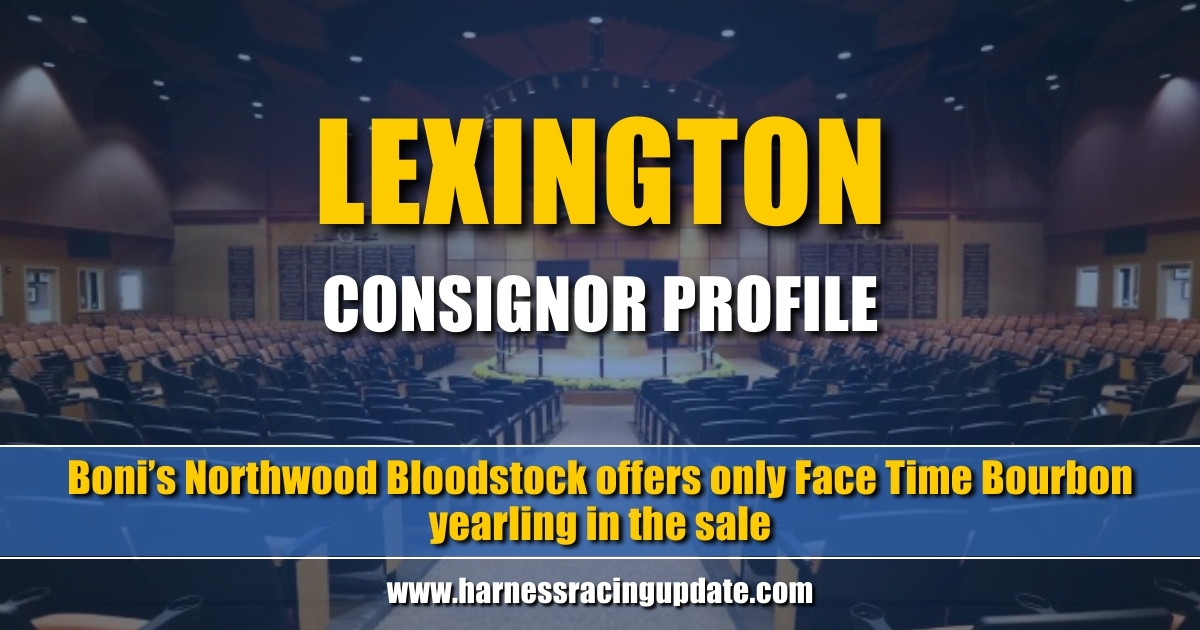 Boni's Northwood Bloodstock offers only Face Time Bourbon yearling in the sale
by Dave Briggs
Bob Boni said his Northwood Bloodstock consignment of 34 yearlings for the Lexington Selected Yearling Sale has quality from night one right through the last yearling he is selling, hip 850 on the final night.
"I'm watching video of a beautiful Downbytheseaside filly that is selling number 850 (Mcseaside). She's a sister to a 2-year-old pacing colt of the year (Boston Red Rocks) and others. It's a good page and she's a nice, correct filly… She's a legit filly that can go anywhere and certainly has the ability," Boni said.
On opening night, Boni has something no other consignor can offer: A yearling sired by European champion Face Time Bourbon — hip 114 Emira Mil It raised by Cane Run Farm.
"I'm anxious to see her because she looks to be a lovely filly. That's what Elizabeth (Caldwell from Cane Run) has told me. She looks good on video. The video is not a real fast one, but she looks clean, moves nicely. On the floor, she looks nice. And when you have the only one by one sire, that's going to get some attention. I would think it would, as good as (Face Time Bourbon) has been."
Selling on Day 2, Northwood will send out hip 291 Sweet Phenomena, a Sweet Lou filly out of Omen Hanover.
"She is a quality filly and a sister to a Breeders Crown winning filly (Someomensomewhere). The dam won over $1 million and is four for four (with her foals)," Boni said.
"The video of number 23 (Lous Guy) looks like a very nice colt. Sweet Lou can have top horses and he's a brother to a horse (Always A Miki) that is a very, very good horse."
Finally, Boni highlighted a colt selling in the third session.
"I've got a number of Chapter Sevens that I'm very encouraged by that have pedigree," Boni said. "One of the more interesting ones is number 420 (Pretty Dame Speedy). It's the first foal of a Muscle Hill mare."