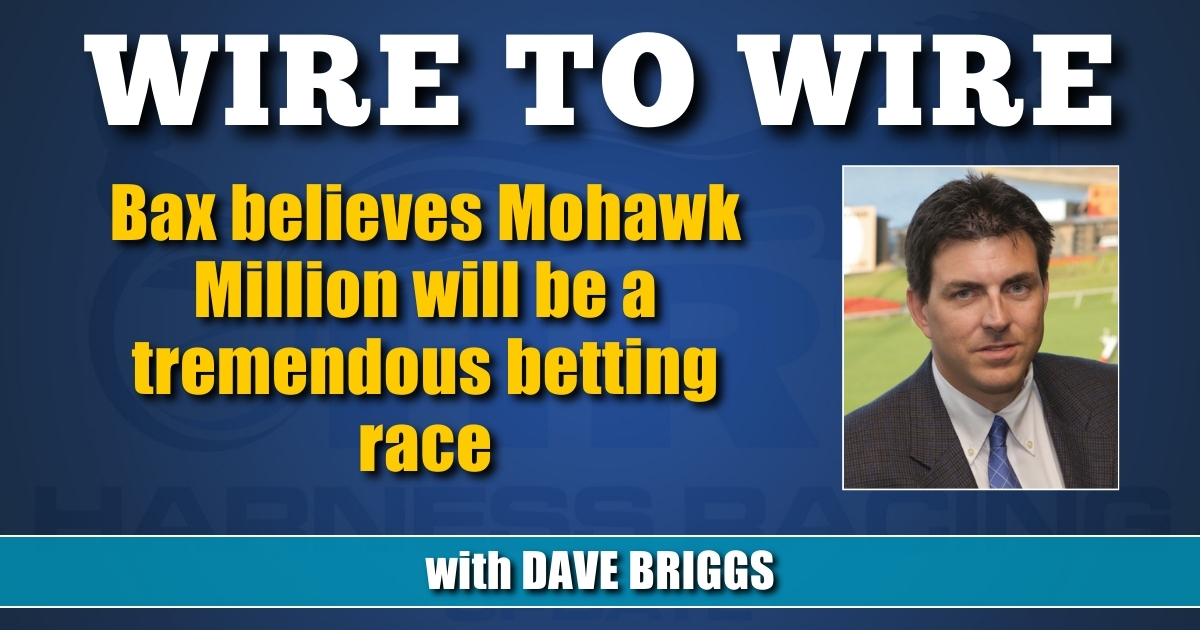 Bax believes Mohawk Million will be a tremendous betting race
The trainer of Duly Resolved said bettors "must just lick their lips at this kind of a race," because top 2-year-old trotters from New Jersey, Indiana, Ohio and Ontario will finally all meet.
by Dave Briggs
Trainer John Bax is predicting Saturday's (Sept. 25) $1 million Mohawk Million at Woodbine Mohawk Park will be incredibly enticing to bettors.
"They must just lick their lips at this kind of a race because, yeah, two horses kind of stand out, but they aren't that far (ahead) and they may beat each other up. They are only a neck better than four or five of the other ones," said Bax, who will send out his Ontario-sired star Duly Resolved (post 8, driver Paul MacDonell) in the race for 2-year-old trotters.
The fact the Mohawk Million features a field of rookies from a variety of jurisdictions should also make the handicapping puzzle that much more attractive, Bax said.
"I think the exciting part about this race is that they are coming from everywhere – Ohio, Indiana, the Meadowlands – so there's a lot of uncertainty," Bax said. "It's one thing to go in :52 at The Red Mile and then come up to Mohawk or go in :53 at the Meadowlands and come up to Mohawk. All the tracks are different.
"I think that's what (bettors) look for. Those gamblers are going to say, 'I can make a killing here because I know something that no one else knows or I'm going to key on this one.' I think that's good. Variety is the spice of life."
The field features undefeated filly Venerable (post 9, David Miller) from the Meadowlands, undefeated gelding Dover In Motion (post 6, Ricky Macomber, Jr.) from Indiana, division money-leader King Of The North (post 2, Mark MacDonald) from New York who spots a record of 6-1-0 in 7 starts and earnings of $601,890, Ohio champion The Mighty Hill (post 7, James MacDonald), who has won five of seven starts and filly Selfie Queen (post 10, Dexter Dunn), who sports the fastest mile (1:51.2) in the field.
As for Duly Resolved, Bax said he likes the fact the gelded son of Resolve out of Motown Muscle has home track advantage.
"We're used to this track and you see horses come up here and they don't like the track surface, or they don't truck very well. There's so many variables that come into play in this race," he said.
Duly Resolved has never been worse than second in eight career starts, winning five times to compile earnings of $342,409. Bax purchased the horse for $30,000 at last year's Lexington Selected Yearling Sale. Duly Resolved has won three Ontario Sires Stakes (OSS) Gold Series finals this year already and finished second to King Of The North on Sept. 11 in the $640,000 final of the William Wellwood Memorial.
"This horse has been God-sent this year and you wish everybody could have a horse like this come along at the time he came along. It's good for everybody, so we're riding it," Bax said. "It's been a tough year-and-a-half for everyone in this business, including us, and to have something like this come along, the timing is good, the karma is good… it's a pretty sunny day for us.
Bax said he's most happy for his fellow owners of Duly Resolved: Dave Hudson, Don Allensen and the Gaelic Stable.
"We've had a chance to sell him, but the guys are small guys and they've been in it for 20 years. To see them standing at the fence with a horse in the Wellwood and having a shot at it in (the Mohawk Million), it's really what we train them for," Bax said. "It's not often that you get that chance to be in that position. Whether you make it or don't make money, just to be there, it's a big deal to them.
"A couple guys in the Gaelic Stable, an older gentleman from Ottawa, Gary Drouin, and he's got his son Todd in it… Gary is getting on in years and to be able to be with his son on this horse and to get a horse this good is pretty satisfying and pretty fulfilling to see the enjoyment that they get out of it."
Bax had hoped to win the Wellwood and earn an automatic berth into the Mohawk Million. Duly Resolved was leading in the stretch, but fell a length short. That led slot owners to seek out the trainer to see if he wanted to make a deal to let Duly Resolved use their slot. It was a process Bax said, laughing, that "was like being the favorite hooker.
"Steve Heimbecker was the first guy to reach out. I talked to him the next morning and then I had another call. So, it didn't take long to come up with a deal," Bax said.
Nine slots for the $1 million (Cdn) race were purchased at $100,000 (Cdn) apiece. The rules of the race allow slot owners to use them at their discretion. Slots are considered an entity that can be sold, traded or leased. Ontario-based owner/trainer Gino Toscani, Montreal's Determination Stable (Serge Godin) and EquineX each purchased two slots. Single slots were purchased by Crawford Farms of New York (Al and Michelle Crawford) and leading Ontario owners Brad Grant and Steve Heimbecker.
Four of the slot owners will race their own trotters. Crawford Farms will race their filly Valentina Blu, Toscani will use one of his two slots for his colt Southwind Domino and Determination will use both of its slots, sending colt Star Power Hanover and filly Mischevious Rose to the gate.
Heimbecker dealt his slot to Bax, Grant made a deal to allow filly Venerable to use his slot and Toscani dealt one of his two slots to the connections of gelding Dover In Motion. EquineX purchased its two slots as a unique promotion for its software platform which aims to use transparency to increase accountability and integrity in the sport by creating secure, detailed records for every horse placed registered. Those that paid $400 to register with EquineX were eligible to be chosen by a panel of independent experts to use a slot. From the list of EquineX clients, the panel selected colt The Mighty Hill and filly Selfie Queen to go to the gate.
Bax said he has the highest praise for the Mohawk Million slot owners that put up big money to allow the race to be held for another year.
"We should be talking about the size of the kahunas on the guys that put their money up," Bax said. "It's like buying a lottery ticket. God love Gino —  and Gino did reach out to me because he had two spots. Steve was first and that's where we went, but I know Gino and he put his money where his mouth is and he went and bought a bunch (of trotting yearlings) and they don't always turn out. I give the guy credit… and Determination, I give them credit. They are the people that deserve all the applause for putting their money up."
The Mohawk Million is race 9 in a stakes-laden Saturday card that features over $3 million in total purses including the $240,000 Milton Stakes, $157,975 Simcoe, $500,500 Shes A Great Lady and the $824,000 Metro Pace, along with an Ontario Sires Stakes Gold Series event going for $155,600. Post time is 7 p.m. (Eastern).