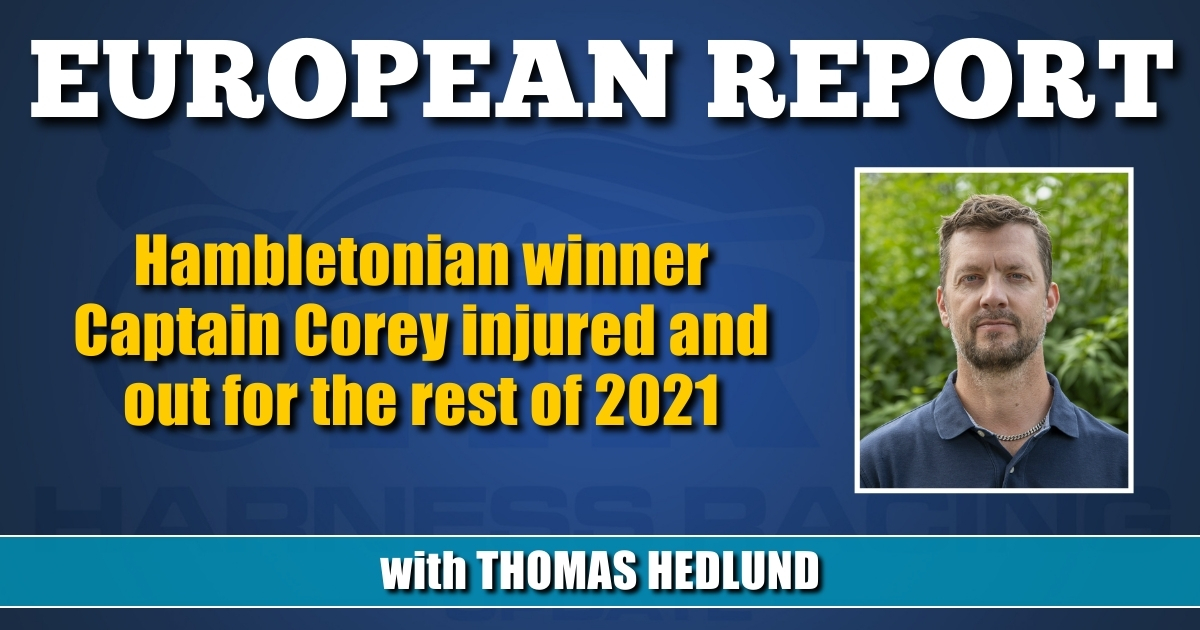 Hambletonian winner Captain Corey injured and out for the rest of 2021
by Thomas Hedlund
Trainer Åke Svanstedt told Swedish media on Monday (Sep. 20) that his 3-year-old Hambletonian champion Captain Corey has a fracture in a hoof that has put a stop to his racing schedule for the remainder of 2021.
"It's not a serious fracture, but there will be no more starts this season. It will maybe take 4-5 months before Captain Corey can train again," Svanstedt said.
The owners will decide if Captain Corey will continue to race or if he will begin his work as a stud.
Ganay de Banville outstanding at Vincennes
The $235,000 Prix de l'Etoile over 1.3 miles was held at Vincennes on Sunday (Sep. 19) afternoon and champion trainer Jean-Michel Bazire had his Ganay de Banville (Jasmin de Flore) in splendid condition.
Five-year-old Ganay de Banville started 50 meters behind well-merited 3-year-old trotters and the task was nothing but easy for Bazire's horse. After a quick attack three wide at the back stretch, Ganay de Banville hit the front with a half mile to go.
First choice 3-year-old Italiano Vero, got his chance from position third on the inside, but new leader Ganay de Banville was strong over the stretch and won easily in a splendid mile rate of 1:52.2.
Vincennes' Sunday race card also featured the racing under saddle race the $235,000 Prix de Vincennes over 1.9 miles and 5-year-old mare Gladys des Plaines (Opus Viervil) won in a stakes record mile rate of 1:56.2 for jockey Matthieu Abrivard.
Gladys des Plaines came to the lead after a kilometer and just cruised away from her opponents during the race's last part.
Nurmos in front seat ahead of Oaks and Kriteriet in Sweden
The biggest races for 3-year-old Swedish bred trotters are scheduled on Solvalla's Saturday (Sep. 25) race card and Derby-winning trainer Timo Nurmos seems to have great chances to enlarge his already vast trophy cabinet.
Nurmos trains four horses in the 12-trotter strong field in $640,000 Oaks for 3-year-old fillies and all his weapons won their eliminations, respectively. Two of his horses (Senorita Tokio and Isabelle Cash) are both undefeated after four starts so far this year and Oaks is a true highlight on Saturday's card even if the purse is higher in the $920,000 Svenskt Travkriterium, where colts and geldings gather over 1.6 miles.
Nurmos has a shot even in that race. His Mister Invictus (Ready Cash) has five wins in six attempts ahead of Kriteriet and will be a serious factor in a very open story on Saturday.
$920,000 Svenskt Travkriterium
2,640 meters
Post – Horse – Sire – Driver
1 – Kavatosåfin – Pato – Robert Bergh
2 – Mister Invictus – Ready Cash – Björn Goop
3 – Francesco Zet – Father Patrick – Örjan Kihlström
4 – Donizetti – Maharajah – Kevin Oscarsson
5 – Dowhatyoudodowell – Maharajah – Jeppe Juel
6 – Henessi Walk – Walk The Walk – Claes Sjöström
7 – Indy Rock – Readly Express – Johan Untersteiner
8 – Global Cashflow – Ready Cash – Ulf Ohlsson
9 – Ninepoints Lasse – Uncle Lasse – Mika Forss
10 – Mellby Jinx – Ready Cash – Erik Adielsson
11 – Mustang Racer – The Bank – Per Lennartsson
12 – That's so Clever – Maharajah – Markus B Svedberg
$640,000 Oaks
2,140 meters
Post – Horse – Sire – Driver
1 – Senorita Tokio – Southwind Frank – Ulf Ohlsson (Nurmos)
2 – Red Lady Express – Readly Express – Erik Adielsson
3 – Isabelle Cash – Ready Cash – Carl Johan Jepson (Nurmos)
4 – Lara Boko – Djali Boko – Mika Forss (Nurmos)
5 – Rihanna W.I – S.J.'s Caviar – Jorma Kontio (Nurmos)
6 – Kashmir River – Django Riff – Petter Lundberg
7 – Good Vibes – Django Riff – Per Nordström
8 – Identity – Maharajah – Magnus A Djuse
9 – Bright Crystal – Readly Express – Björn Goop
10 – Glamorous Rain – Muscle Hill – Örjan Kihlström
11 – Deborah S.H – Maharajah – Fredrik Persson
12 – Great Skills – Ready Cash – Per Lennartsson
Saturday's race card at Solvalla.