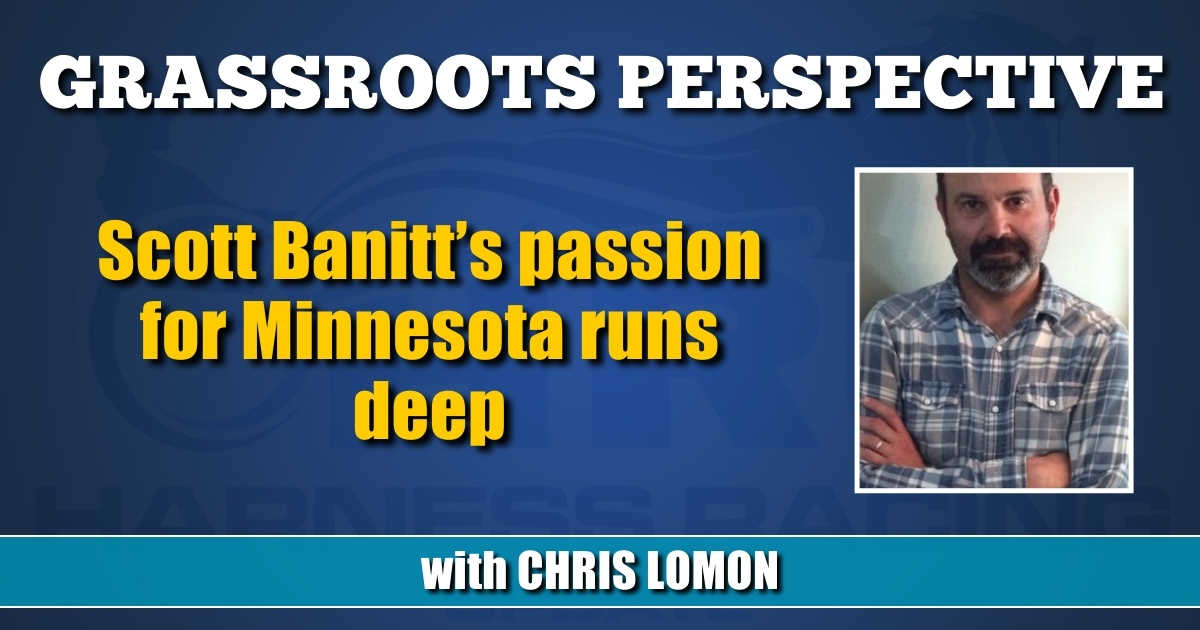 Scott Banitt's passion for Minnesota runs deep
by Chris Lomon
Scott Banitt has a modest stable to go along with a modest demeanor. His contributions to Minnesota standardbred racing, however, are quite the opposite.
For the man born and raised in Cannon Falls, MN, horse racing has always been, and will always be, a big part of his life.
Banitt had first developed an interest in racing through familial ties, namely, his uncle and grandfather, who had strong ties to the sport.
He bought his first racehorse in the mid 1990s, a pacer who didn't exactly put money in the bank or Banitt's name on the local horse racing map.
What the experience did do, however, was fuel a passion for the industry, one that remains just as strong to this day.
"I grew up with racing. My grandpa lived in Cannon Falls, so we always went to the fair races around here in Minnesota. My uncle, Ronald Banks, he raced down in Chicago – Sportsman Park, Hawthorne, Maywood Park – and had a real love for it. So, I was around racing a lot, especially at the fairgrounds. In 1996, I bought my first horse, a 3-year-old Radiant Ruler colt I bought from Danny Shetler. That was my first one. He didn't turn out to be anything special, but I ended up buying in half on a horse with my uncle. It was probably my best and fastest horse. Her name was Bee Jay's Hit. She was fun to be around."
She was also quite impressive.
In 184 starts, the daughter of Hit The Bid fashioned a record of 23-22-30 and earned just over $85,000. The mare earned her 1:56.2 speed badge at Maywood Park on June 26, 2000.
There was also Carlees Conquest, a baby daughter of Arts Conquest. The bay mare recorded 17 wins, 23 seconds and 13 thirds from 166 career dashes.
"I bought her in Chicago and raced her there. At one point, she won three in a row at Hawthorne. I've kept her as a broodmare. She was in the first-ever race at Running Aces and finished second. On that day, (former Minnesota Twins manager) Tom Kelly, who owns standardbreds, handed out the winning blanket. Carlees Conquest has definitely been a highlight for me."
These days, Banitt, who works full-time for UPS, runs a small stable out of Running Aces. He owns a few broodmares with his son, who found a stallion in Ohio to pair with their broodmare band.
That horse, Fancy Schmansy, was no stranger to success on the racetrack, competing in the 2002 Little Brown Jug, and going on to post 35 wins and earnings in excess of $231,000.
"We own him and stand him. He's had three Minnesota state champions, so he's done quite well for us. I think our top year is 2016 when we bred 23 mares. For Minnesota, that's pretty darn good. Those are the highlights from the breeding part."
Now, some 25 years after owning his first horse, Banitt is still very much a part of the Minnesota standardbred scene, as an owner, breeder, charter, and board member of Minnesota Harness Racing, Inc.
The association, established in 1951, represents all of the drivers, trainers, owners, and grooms who work in the Minnesota Standardbred industry, while also promoting and protecting the welfare of the horses and horsepeople.
All of the roles he carries speak to a deep devotion to racing in the Gopher State.
"I'm not a big-time major stakes winner, but I love the game. I've also enjoyed my time on the board. I've had two tenures. In Minnesota, there are not a huge number of harness racing people involved in the sport. I made the decision to go on the board, and I'm glad I did. We have a good working relationship with Running Aces, and we also manage the fairs here in Minnesota. We try to make things accommodating for all horsepeople.
"There will always be struggles, as it is with racing anywhere. The pandemic obviously threw a big wrench into things and hit our entire industry hard. With no fans and all of the other issues COVID caused, 2020 was just a very difficult year for people inside and outside of racing."
Despite the hurdles horse racing faces, both short and long term, Banitt does see reason to be optimistic about the future of the sport.
"I do see optimism. We've had our best month at Running Aces, in the card room, this July. So, when you look at something like that, it does make you think positively. And then you look at the Minnesota breeding program. Our numbers are going up, which is also encouraging. There are lot of very good incentives and bonuses for Minnesota-bred horses. Horsepeople here, they are hardworking and dedicated. They are very hands-on. They are busy all day long."
Banitt included.
Although he'll calling it a career at UPS next May, a job he's held for 30-plus years, he won't be calling it a day with horse racing.
Horses like Chip Talks, a son of Money Talks, bred Daniel Girod (IN), give him plenty of motivation to stay in the game.
"I had a 2- and 3-year-old, and I ended up selling them. Right now, I only have a 2-year-old trotter, Chip Talks. My wife (Rebecca) and I bought him at the yearling sale. We breed pacers, so we thought we would try something different. He went for $3,000, so we bought him. He finished second in the Minnesota-bred 2-year-old trot, which was great. We're very happy with him. He's smaller, but he's got a little bit of an attitude. I left him with (trainer) Dave Ginter because I wanted the horse to stay at the track. I stable at Cannon Falls, but with this horse, I wanted him to be able to jog every day at the track. It's a good place for him to be."
Banitt has passed along his love for racing to others, including a family member.
"We also have another one that we're training for my nephew (Jack Banitt). He bought a $4,000 claimer, called Crusin For You. It's the first horse he ever bought. So, we have a new guy in the business. His first start, he finished second, and just finished third – and he's also won a few – so he's doing okay with the first horse he's ever had."
He won't have to look very far for an ideal role model.
Perhaps one day, Banitt will share the words with his nephew that perfectly sum up his love for Minnesota racing.
"It's hard work and there are always ups and downs, but when you see your horse cross the line first, it's one of the greatest feelings you can have."