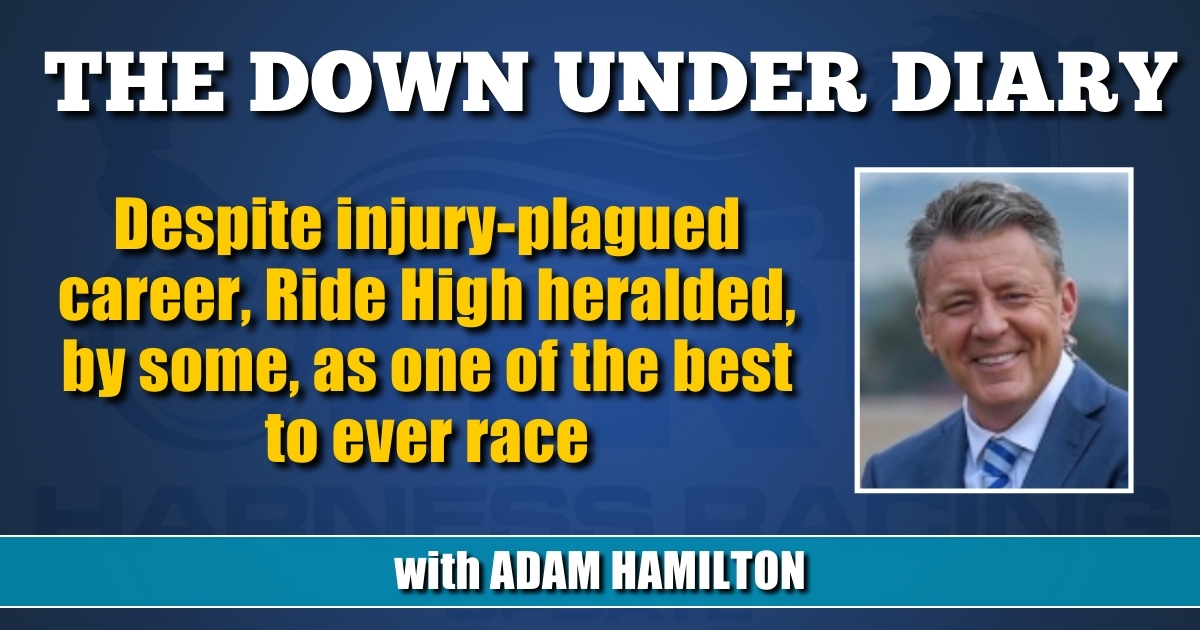 Despite injury-plagued career, Ride High heralded, by some, as one of the best to ever race
by Adam Hamilton
He is the flawed genius of Down Under pacing and he's tantalisingly close to his last shot at making a serious splash on the racetrack.
His name is Ride High and injuries have restricted the rising 7-year-old stallion to just 18 starts, of which he's won 16 and shown genuinely freakish talent.
This time last year, the giant son of Art Major sat parked-out for the entire 1,650m trip on a cold winter night and seemed to cruise to the line in a scorching 1:49 mile rate at Bendigo.
"Imagine if he'd been in front, on the marker pegs, which time he'd have run that night," part-owner and breeder Peter Gleeson said. "When he's right, there simply isn't a horse in this part of the world who would live with him."
But the "when he's right" part is the key because Ride High's injury history makes him a day-to-day proposition.
The doubters say he's destined to fall into the "what might have been" bucket.
Leviathan studmaster and breeder Alan Galloway, of Alabar Farms, tried to buy a share in Ride High for two years and finally succeeded soon after that Bendigo win last year… only to have the pacer sidelined again soon after with issues in both front suspensory ligaments.
"I've been all around the world and seen the best of the best, most of them in the flesh, and this horse is next level," Galloway said. "He's the best I've seen, anywhere, and that includes horses like Niatross and Nihilator.
"The way he gets over the ground so easily and the times he runs without being asked… he's just amazing."
Yes, I know there will be lots of you in the U.S. scoffing at Galloway's comments, but few Down Under command as much respect and have so much experience watching and attending the world's biggest races.
Galloway largely bought into Ride High for breeding purposes so Ride High will mix his comeback campaign with breeding duties at Alabar. Already at this early stage of the Aussie breeding season, he has over 60 bookings.
"He gets to stay at home (with trainers Clayton Tonkin and Emma Stewart) and is collected from three times a week," Gleeson said. "It's not ideal, but getting him back to the races was far from certain so we didn't want to miss another breeding season with him."
This is a big week for Ride High. The "collecting" started and he is set to trial (go the qualifiers) any day now. He hasn't been seen publicly since going amiss in a race at Melton on Oct. 3, last year.
"We know this is the last roll of the dice with him. Our lease to race him runs out next August, but we can't keep trying to get him back. Either he stands up this time, or we retire him," Gleeson said.
"I've been in this game 54 years and he's the horse I've dreamed of getting… I just hope he gets the chance to show it."
Tonkin and Stewart, Australia's most dominant stable, recently built a lavish rehab and pre-training facility at their property outside Melbourne and credit it with getting Ride High so close to a racing return.
"He wouldn't have got here without it, no question," Tonkin said. "He's very close now. There's been times when we've almost given up, but the last few scans have been fantastic. Imagine how we felt last time when the vet said he thought we'd brought the wrong horse in because the legs looked so good."
The Group 1 Victoria Cup (one of Australia's big five open-class races) looks too soon on Oct. 9, but Ride High is on target to be back racing around then.
So, what's Gleeson's wish-list?
"I'm reluctant to answer that because every day matters with him given his injury history," he said. "But, if we can keep him sound, and the signs are good, then giving him the chance to show what he can do against the best in the biggest races is the goal.
"The Hunter Cup (February 5) and Miracle Mile (March 5) are the big ones.
"Clayton has always said we won't see the absolute best of him until he's in the top races, following the speed and unleashing late.
"I'm sure he's a 1:46 horse… maybe he'll prove it in Miracle Mile time."