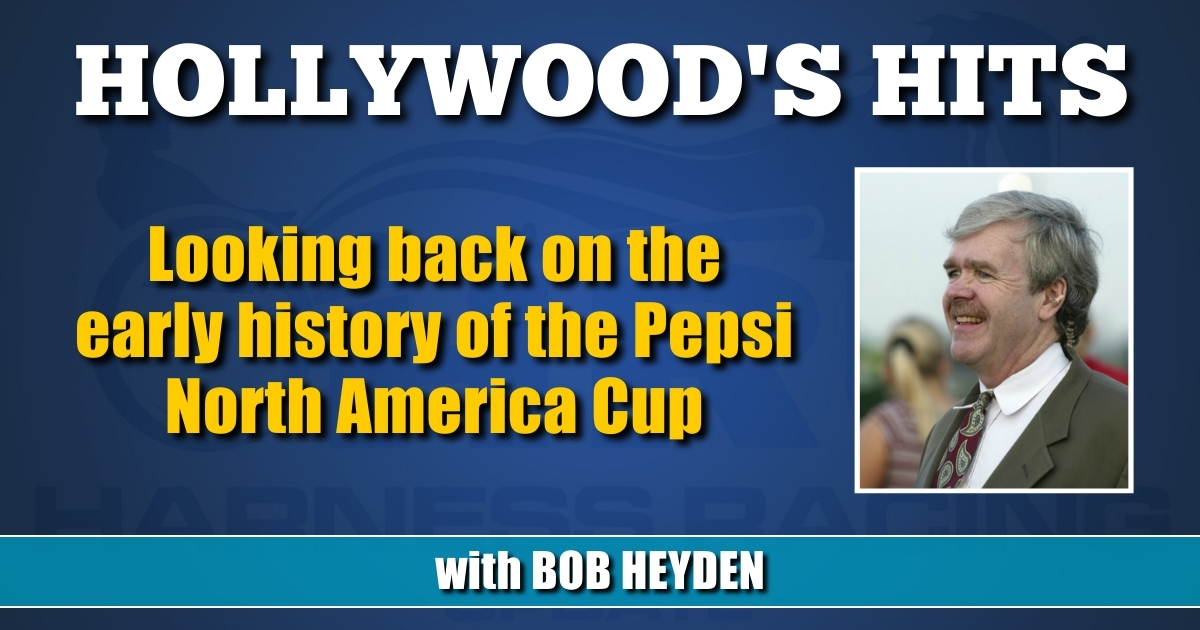 Looking back on the early history of the Pepsi North America Cup
by Bob Heyden
Can it really be 35 years since John Campbell debuted with favored Amity Chef and was second to Quite A Sensation in the 1986 Pepsi North America Cup?
This year marks 34 years since Canada's very first million-dollar event was held and Jate Lobell dug in to hold off Frugal Gourmet in the 1987 NA Cup.
Yes, sire
Jate Lobell won the first seven-figure event on Canadian soil-and then sired three winners of the NA Cup in a six-year span:
1992 — Safely Kept
1995 — Davids Pass
1997 — Gothic Dream
Oh, Canada
Canadian-born drivers swept the board six times in the early years of the NA Cup:
1986 — Trevor Ritchie, John Campbell and Walter Whelan
1988 — Yves Filion, William Gale and Lyle MacArthur
1990 — Bud Fritz, Doug Brown and Trevor Ritchie
1993 — Ron Waples, Tony Kerwood and John Campbell
1996 — John Campbell, Tony Kerwood and Carl Jamieson
1997 — John Campbell, Paul MacDonell and Mike Lachance
Last, but still tremendous
Camtastic was the 1987 Breeders Crown winner and made $2,117,619.
Beach Towel was the 1990 Horse of the Year and the first ever winner of $2 million in a season (1990).
They both were last in the NA Cup in 1988 and 1990, respectively.
29 years and counting
It has been 29 years since Joe Holloway last won the NA Cup in 1992, upsetting Western Hanover with Safely Kept. Perfect Sting looks to make another statement for Hall Of Fame trainer.
In early June of 1995, Holloway had the two best sophomore pacers in the land — No Standing Around and Jennas Beach Boy. The NA Cup was right on their schedules until fate took over. The ill-fated No Standing Around didn't make it and Jenna suffered an injury that prevented him from racing all summer.
Photos aplenty
Five of the first six editions of the NA Cup required a photo to determine a winner:
1984 — Legal Notice by a neck
1985 — Staff Director by a neck
1986 — Quite A Sensation by a neck
1987 — Jate Lobell by a nose
1989 — Goalie Jeff by a head
Bomb squad
1986 — $63.50 Quite A Sensation
1989 — $93.60 Goalie Jeff
1992 — $63.70 Safely Kept
1998 — -$60.10 Straight Path
2004 — $54.70 Mantacular
Dad no, son yes
Real Desire was ninth in the 2001 NA Cup, but his son Tell All won it in 2007.
One and done
None of the first seven winning drivers of the NA Cup ever won it again!
1984 — Dr John Hayes with Legal Notice
1985 — Dave Wall with Staff Director
1986 — Trevor Ritchie with Quite A Sensation
1987 — Mark O'Mara with Jate Lobell
1988 — Yves Filion with Runnymede Lobell
1989 — Steve Condren with Goalie Jeff
1990 — Bud Fritz with Apaches Fame
Odds are
In 21 of the first 25 NA Cups there was at least one 10-1 or higher finisher on the board (84 per cent).
Pacing themselves
Only one of the first six NA Cups had a Meadowlands Pace winner participate. Frugal Gourmet in 1987 was second. But then in each of the next six editions they made both. Beach Towel 1990-Precious Bunny 1991-Carlsbad Cam in 1992-Presidential Ball in 1993-Cams Card Shark in 1994 and Davids Pass in 1995.
No check, please
The following did not get a check in the NA Cup but won the Meadowlands Pace:
Day In A Life (1998)
Beach Towel (1990)
Real Desire (2001)
Art Official (2008)
A decade to remember
Has anyone ever had a decade in the same stake as John Campbell had in the 1990s in the NA Cup? The answer is NO.
1990 — Jake And Elwood 4th at 8-1
1991 — WINNER Precious Bunny favored
1992 — Scratched with Direct Flight
1993 — Life Sign 3rd at 7-1
1994 — WINNER with favored Cams Card Shark
1995 — WINNER with favored Davids Pass
1996 — WINNER with 12-1 Arizona Jack
1997 — WINNER with favored Gothic Dream
1998 — Pearl River Matt 9th at 9-2
1999 — WINNER with favored The Panderosa
Campbell's record in that stretch was: 9 6-0-1. All were million-dollar races.
Manzi's moment
Cat Manzi won the 2004 NA Cup in his first attempt (June 26, 2004), the day before he turned 54. He drove Mantacular to victory for Larry Rathbone. It was Manzi's first million-dollar win.
The old 1-2
It took until the 14th edition of the NA Cup for the favorites to finish 1-2 in order — 1997 — Gothic Dream and Village Jasper.
Mike Lachance's sparkling NA Cup slate
Mike Lachance sports a 3-0-4 record in eight NA Cup appearances:
1992 — (DEBUT) Safely Kept WINNER first time driving.
1994 — Magical Mike 3rd
1997 — Megamind 3rd
1998 — Straight Path WINNER first time driving!
1999 — Show Me The Money longshot, Lachance's only time off the board.
2001 — Bettors Delight WINNER! all-time leading sire in horse racing history.
2002 — McArdle 3rd
2003 — Artesian 3rd