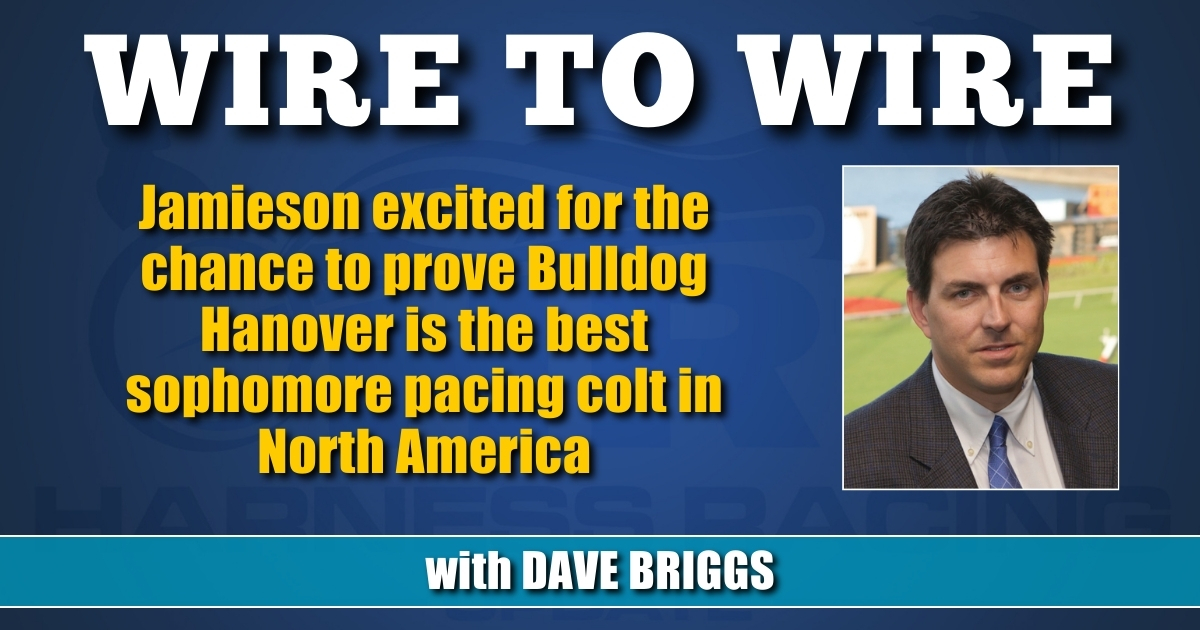 Jamieson excited for the chance to prove Bulldog Hanover is the best sophomore pacing colt in North America
Two-time Pepsi North America Cup-winning driver is hoping to add a third NA Cup win with Jack Darling's talented colt.
by Dave Briggs
A shorter version of this story originally appeared here.
Driver Jody Jamieson said he can't wait for Saturday's $1 million Pepsi North America Cup at Woodbine Mohawk Park to have the opportunity to back up his statement that Bulldog Hanover is the best sophomore pacing colt on the continent.
"He's done everything I've asked of him and, lately, he's done it with ease," Jamieson said of the son of Shadow Play out of BJ's Squall. "I'm really excited about Saturday night to see what he can do and show off some more talent that he has. He's just such an exciting horse and the best that I've ever driven because he's never gotten tired. I've gotten horses tired and got them beat and whether or not I get him beat or not, I haven't got him tired yet. I'm hoping that he stays that way."
The Pepsi North America Cup is race 11 on Saturday's jam-packed stakes card that also includes the $392,000 Peaceful Way final for 2-year-old trotting fillies (race 3), the $240,000 Goodtimes for 3-year-old trotters (race 7), the $425,000 Fan Hanover final for 3-year-old pacing fillies (race 8), the $640,000 William Wellwood Memorial for 2-year-old trotters (race 10) and two divisions of the Champlain for 2-year-old pacers (race 4 for open pacers and race 9 for pacing fillies). First race post time is 6:30 p.m.
Bulldog Hanover, a winner of 6 of 8 starts in 2021, is trained by Jack Darling, who owns the colt in partnership with Brad Grant. With no dominant U.S. star in the division, Jamieson points to Bulldog Hanover's races as the evidence for the statement that the pacer is the top of the class.
"I just think he's the most impressive one. He got beaten his first start, which wasn't his fault. He got beaten in Georgian, struggling around the turns on a track that was loose and they've had tons of complaints all year about the track surface. No excuses because everyone else had to race on it, too, but he got beat by a half-length in :49.4 on a terrible track and not the greatest trip with traffic," Jamieson said.
"He's just a great, big, strong, perfect individual."
The driver said Bulldog Hanover's last two starts — a career-best 1:48.2 performance on Aug. 28 in his $85,250 Somebeachsomewhere division and a wrapped-up 1:49 victory on Sept. 4 in his $50,000 NA Cup elimination — were both impressive, with the latter being the slightly better performance.
"He was so dominant last week," Jamieson said. "Someone said it looked like you gave him a tap with the whip and away he went, but I don't think I did tap him with the whip. I might have pushed his tail with it, but I don't think I tapped him with it. He was pacing so hard, he didn't need any encouragement. He knew his job and he knew what he had to do. Down by the wire, I just let him pull up a little just to conserve some energy for next week, but he was so damn good."
Bulldog Hanover defeated Desperate Man by a length to earn the right to pick post four for the $1 million final.
Jamieson said he's been watching a lot of replays of his competition this week and thinking a lot about how the NA Cup may unfold.
"Perfect Sting was the other division winner, so he's a good one, but there's other horses in there. I think Rockyroad Hanover will be heard from. I think Whichwaytothebeach will be heard from. The McNair horses (Jimmy Connor B and Bettor Sun) drew 1-2. I've beat them, but you never know. It's a horse race and that's why we run the races… If I was to say one horse it would be Perfect Sting, I suppose, but there's a couple in there that are going to take a shot and we'll see how it plays out," Jamieson said.
MOMENT DECADES IN THE MAKING
As for landing the drive on Bulldog Hanover at the start of the horse's racing career, Jamieson said he owes the opportunity to drive the NA Cup favorite to Darling listing him to drive Northern Sky 18 years ago when Jamieson was just a 26-year-old up-and-coming driver.
"I would come up (to Mohawk) from London to drive one horse in the mares open and it was Northern Sky. You'd have to ask Jack why he used me, but he's been using me for that long. I'm his number one, go-to-guy each year and I couldn't be happier about that," Jamieson said.
"Everybody wants to drive at the big show, and that's Woodbine Mohawk Park and I was no different, so I would leave five or six drives on the table at London. I'd drive a couple and then I'd take off to drive to Northern Sky or, as a 4-year-old, Junior Mint. I got to drive him as a four-year-old. I was a bit in awe at the time, especially driving in Jack's old Telstar with the outside stirrups. Looking back at it, it's kind of funny now thinking about it, because he still has that bike… Anyway, it was that long ago that Jack gave me the call. You'd have to ask him why, but I definitely appreciate it and we've raced some really nice horses together and Bulldog is the best one we've raced together. I think Jack even stated he was the best horse he's ever trained."
Jamieson said he's blessed to drive for Darling.
"(Darling is) the consummate professional," Jamieson said. "We joke a little bit sometimes, but normally the last thing he says when we go on the track is that he could use the money and I say, 'Yep, I know. I'll try to get you some.' That's usually what we say, no matter what race it is.
"He's great to drive for and he's always been great to drive for. He always lets me do my thing and lets me get to know the horse and drive them the way I think they need to be driven. I don't know how many times he's ever been upset with me because if I don't win I don't see him in the winner's circle and he just goes home. When we win, I see him in the winner's circle."
In the other stakes on Saturday, Jamieson will drive Samosa in the Peaceful Way (post 7), Logan Park in the Goodtimes (post 8), Off The Record in the Fan Hanover (post 10) and World At War Deo in the William Wellwood (post 1).
Jamieson said his best shot, other than Bulldog Hanover, is likely with Logan Park.
"He didn't draw great, but with the new slanted gate it's not the worst-case scenario. Logan Park has a really good shot. He was really sharp last week and I was caught in the two-hole. I should've been second, probably, but got shut off right at the wire and was loaded with trot. I think he's got a shot from the eight-hole," said Jamieson who added World At War Deo has the talent to win. "He just got trotting not great down by the wire, but (trainer) Dave (Menary) will have him as good as he is possibly going to be on Saturday and he's got the inside. He'll get to go the shortest way around, so I like his chances, too."
Overall, Jamieson said he's hoping to have a big night Saturday.
"I've got a really good line-up. I think it's all going to culminate in the 11th race. I hopefully will have a good night and get some checks, hopefully win a couple before I get there and then you're settled right into the night and you're working hard and trying to do your best and you get to the best race of the night… it's sort of the routine of every night, you just treat it like every other night, even though we're going for a million."
The driver won the North America Cup in 2007 with Tell All and in 2011 with Up The Credit for his father, Hall of Fame trainer Carl Jamieson. Jody said his NA Cup victory with Tell All for trainer Blair Burgess will always be a favorite racing memory.
"Tell All that was the first year (the NA Cup was) at Mohawk and I was coming right back off Doonbeg the year before, who bounced off the gate. I think it was probably my fault that he made a break, but just being a rookie driver in the North America Cup and I probably had some nerves," Jody said.
"The second year, with Tell All, I really felt confident in the horse and didn't feel the nerves as much."
Jody said he knows all too well that it is rare to have a horse talented enough to win the North America Cup.
"I've been lucky enough to be in it a few times and to win it twice with a couple of horses that were really well-prepared for that night," he said. "It's an amazing experience. I had a lot of confidence in the times that I won it and I have a lot of confidence in Bulldog going into Saturday night, too."
In recent years, Jody has often brought a victorious horse along the tarmac rail so he could slap hands with fans on the way to the winner's circle. That likely isn't possible now since the track was resurfaced and there's an incline between the edge of the track and the railing making it dangerous to steer horses too close to the fans. But, should Jamieson pull off a third Pepsi North America Cup victory, he said he hopes to bring racing fans along for the ride, somehow.
"These last two Saturday nights, especially in the summer time, have been great crowds… I'm hoping to get some high fives in on Saturday night. We'll see what happens," he said. "A few months ago we weren't sure if we were going to have a North America Cup, let alone a North America Cup night with all these races on the undercard, so it's really nice to know that a bunch of the guys are all racing in those races. All the guys from up here that were locked down, everybody has at least a drive in one of the big races and it really does make it all worthwhile and puts the lockdown a long way in our rear-view."
TrackMaster PPs available here.
A special WEG program handicapping section is available here.