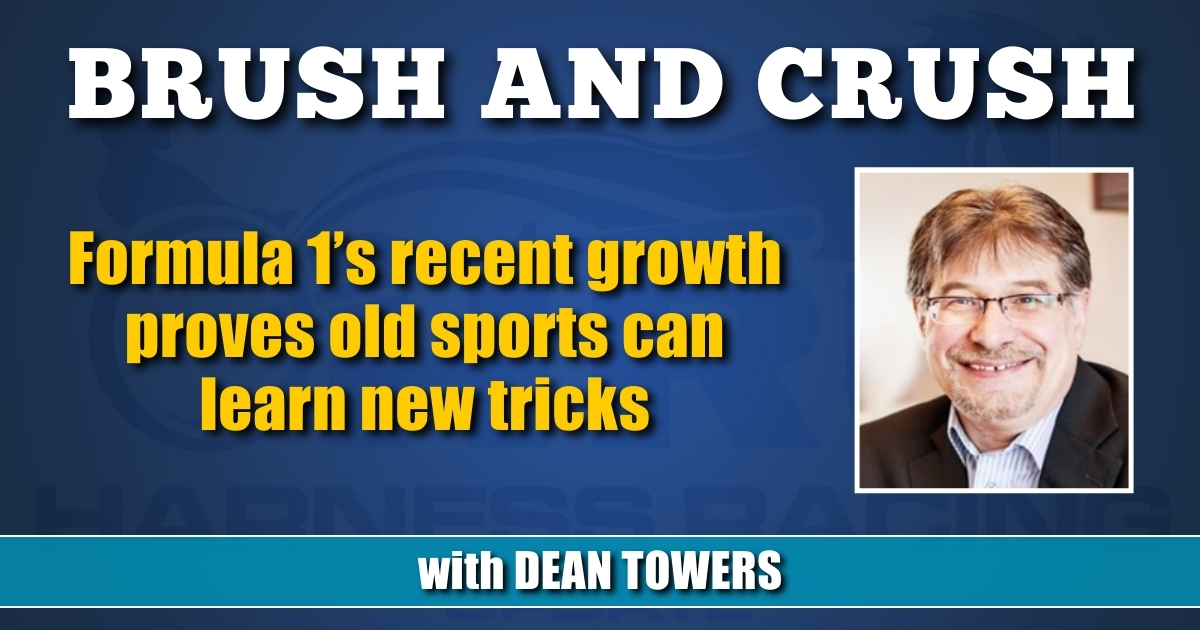 Formula 1's recent growth proves old sports can learn new tricks
Maybe it's time to revisit harness racing's marketing and growth experiments
by Dean Towers
Formula 1 – a Eurocentric open wheel car racing series – was in the doldrums. Decreased viewership and attendance along with corresponding revenues made it a prime target for takeover. In 2016, Liberty Media took the bait and paid $4.4 billion for control.
Their problem, which should sound familiar to us, was about attracting new (and younger) fans to a traditional sport some would call an anachronism.
"It's going to be a very slow process to turn around the format of Formula One from what it was, looking at big old cars going round in circles, which was spectacular, but it has very little [to do] with what kids growing up now understand the world of transportation to be," noted Jennie Gow, a motorsports presenter and journalist.
Liberty's catch-all approach was aggressive.
First, they invested heavily in digital, including in emerging fan markets like China. It started off slow (as it often does), but by 2020 F1 was the second fastest growing major sports league across the four main platforms. In terms of engagement, F1 achieved 99 per cent year-over-year (YOY) growth, well ahead of second place UFC and far ahead of the NHL, MLB and NFL. Seventy-seven per cent of the growth came from the 16-35 demographic.
Second, they devised an esports series, where expert players compete weekly in paid events, culminating in a World Championship at the end of the season. The events were viewed 23.8 million times during the last (pre-pandemic) season.
Third, they created a series some of you may have watched, called "Drive to Survive," distributed through Netflix. Now in its third season, the reality show has been rumored to have monster ratings, and the fan base has blossomed.
"The F1 thing is sneaky AF. I previously had no s—s to give," tweeted tech investor Chris Sacca. "Then that Netflix series happens and now I have multiple fantasy teams and set my alarm to watch it live with the kids."
"The series has made it easier for fans in the U.S. to understand our sport, which is one of the key barriers we face when engaging non and casual fans," said F1's Director of content Ian Holmes.
About now maybe you're saying (as I did while studying this) that it all sounds well and good, but where's the proof it's translating to dollars?
On Sky Sports in the U.K., 2021 television ratings are through the roof, culminating in an all-time record audience of 2.23 million (records are unheard of in pro sports in today's world) for a recent Grand Prix. In the U.S. — where the sport has historically been a massive outlier with low ratings — the results are similar. ESPN reported a 50 per cent increase in YOY viewership to about a million per race so far in 2021. For comparison, the NBA playoffs (an ESPN staple), averaged about 3 million viewers on the network.
The proof, as they say, seems to be in the pudding.
Does this provide horse racing with anything actionable? It would be foolish to conclude that what F1 has implemented can be replicated in such a small sport; F1 is apples and harness racing is oranges. But the parallels – a shrinking fan base, a sport built for a different time, a younger demographic not showing any interest at all – are noteworthy. It at the very least makes us think, doesn't it?
Several years ago, a digital marketing strategy was attempted in harness racing but it was defunded not long after. The sport, through the USTA and others, have dabbled in other projects; again, for mostly a very brief period. As F1 has proven, this is not a battle, it's war. Changing perception and growing more fans, bettors and owners takes not only investment, but time and patience.
Perhaps it might be wise to revisit marketing channels in the sport of harness racing once again; some tried, some not tried. If the narrative can be changed where old cars going around in circles see a resurgence, perhaps there's something to it for horses, too.