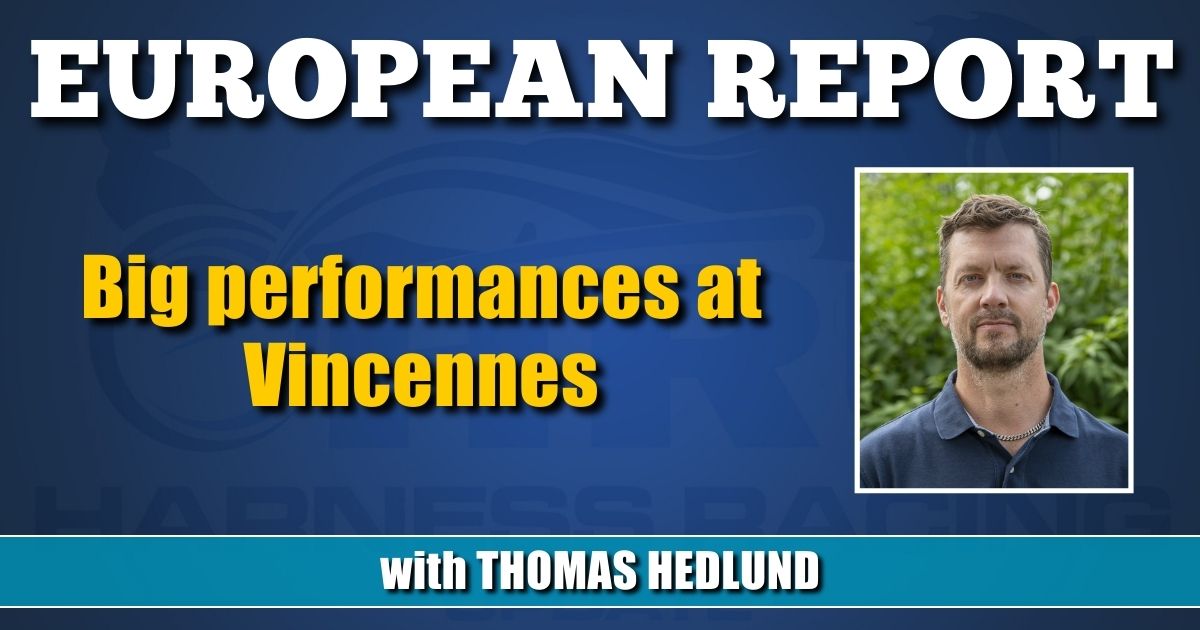 Big performances at Vincennes
by Thomas Hedlund
Paris track Vincennes offered a nice race card on Saturday afternoon (Sept. 4), where two high-staked Criterium races were on the menu.
The $237,500 Criterium des 4 ans for 4-year-olds saw an upset winner in Yannick Henry-trained Hastronaute (Booster Winner), who came to the lead in the hands of Mathieu Abrivard and in front, Hastronaute defended himself strongly when attacks were made from the outside during the race's last half mile. From the pocket, Hanna des Molles got out and tried a serious challenge towards the leader, but Hastronaute couldn't be reached and the upset was confirmed. A strong mile rate of 1:55.2 over 1.7 miles was noted, which was equal mark as the previous stakes record, performed by Ennino du Pommereux in 2018.
In the $237,500 Criterium des 5 ans, Love You son Galius impressed from the lead among some of the best 5-year-olds in France. Yoann Lebourgeois sent Séverine Raimond's chestnut to the lead a kilometer into the 3,000 meter long race and in that position, Galius was too tough to beat, even if big upset (115-1) and runner up Gangster du Wallon got really close at the wire via a strong finish far outside.
Mile rate over 1.9 miles was 1:57.2.
Philippe Allaire dominated in two big races for 3-year-olds at Vincennes. In the $118,750 Prix Victor Regis, Allaire's Italiano Vero (Ready Cash) sprinted home in a mile rate of 1:56.1 over 1.3 miles from the lead. In the $118,750 Prix Uranie for 3-year-old fillies, Allaire noted a win for Ivensong (Ready Cash), who did the hard work three wide during the race's last 600 meters and just ahead of the wire Ivensong had the victory in her hands as first over trotter I Love You was disarmed. The mile rate over 1.3 miles was 1:55.4.
Korpi dominated in Helsinki
The $305,000 Derby for 4-year-olds in Finland was on the schedule at Vermo racetrack on Saturday afternoon (Sept. 4) and the prestigious race became a big success for Finnish champion trainer Pekka Korpi.
Korpi sent his Magical Princess (Maharajah) to the lead after 200 meters and held the opponents behind her without problems over the stretch.
An-Dorra finished strongly three wide during the last half mile but couldn't reach the leader who came home in 1:58.3 over 1.6 miles. Magical Princess has dominated big among the Finnish bred 4-year-olds and this was her 10th victory in 13 attempts in 2021. Korpi claimed his fifth sulky win in the Finnish Derby. His first win came in 1977, the last prior to Saturday's triumph came in 2020 with Mascate Match.
The $75,000 Finnish Championship was held at Vermo racetrack in Helsinki, Finland on the same race card and Korpi sat behind the winner American Hero (Express Duo), who disarmed leader and stablemate Run For Royalty after a perfect pocket trip.
Five-year-old American Hero won in mile rate 1:56.3 over 1.3 miles and noted his 13th win in 32 starts.
Nurmos in perfect position
Timo Nurmos had no luck with first choice Sahara Jaeburn in the Finnish Derby on Saturday afternoon, but the Finnish born trainer is in favorite position as both the $930,000 Swedish Derby and $465,000 Derby for mares are on today's (Sept. 5) card at Jägersro.
Nurmos managed to claim three out of six elimination heats for the Swedish Derby and his probable best shot in the final is undefeated talent Calgary Games (Readly Express). Nurmos' other elimination winners are Henry Flyer Sisu and Chiru.
In the Derby for mares, Nurmos has Hoboken Am (Muscle Hill), who impressed a lot from the lead in her elimination and it wouldn't be a big surprise if Timo Nurmos returns to the office with two big trophies tonight.
$930,000 Swedish Derby
2,640 meters
Post – Horse – Sire – Driver
1 – Brambling – Bold Eagle – Örjan Kihlström
2 – San Moteur – Panne de Moteur – Björn Goop
3 – Önas Prince – Chocolatier – Per Nordström
4 – Henry Flyer Sisu – Bold Eagle – Mika Forss
5 – Calgary Games – Readly Express – Jorma Kontio
6 – Marre's Dreamboy – Maharajah – Jörgen Westholm
7 – Global Badman – Yield Boko – Daniel Wäjersten
8 – Kuyt F – Boko – Conway Hall – Magnus A Djuse
9 – Chiru – Muscle Hill – Claes Sjöström
10 – Digital Races – Super Photo Kosmos – Christoffer Eriksson
11 – Titan Yoda – Ready Cash – Ulf Ohlsson
12 – Readly Lavec – Bird Parker – Oskar J Andersson