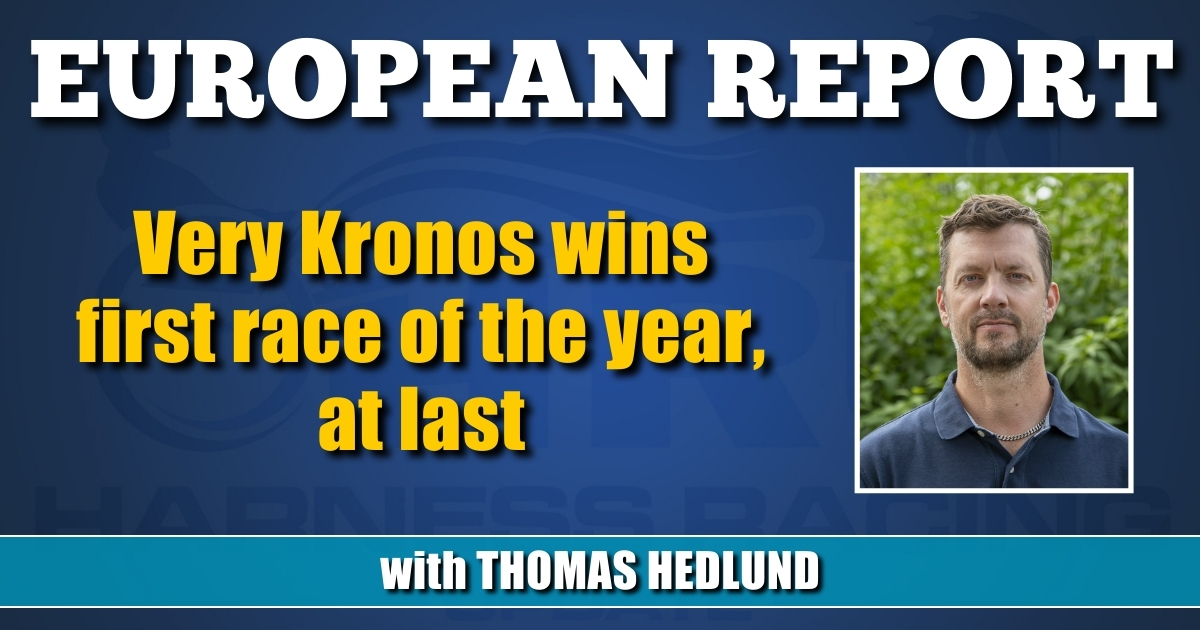 Very Kronos wins first race of the year, at last
by Thomas Hedlund
Svante Båth's 7-year-old Very Kronos (Ready Cash) claimed his first win for the year as he took a safe victory in Saturday's (Aug. 28) $230,000 Sundsvall Open Trot at Bergsåker racetrack in Sweden.
Erik Adielsson is Very Kronos' constant companion and one can say the duo have been involved in some bad luck situations in the races prior to Sundsvall Open Trot.
Very Kronos has a history of being quite unpredictable in his behavior in races and especially in his younger years. He often went off stride whereupon he lacked trophies in the very big races ahead of the Open Trot in Sundsvall.
Very Kronos was named as one of the favorites ahead of Elitloppet this year, but a bad trip in the elimination stopped him from advancing for the final at Solvalla that day.
In Sundsvall, Adielsson hit the lead early into the race and when first choice Who's Who found a fourth over spot, the victory was near for Båth's horse. And over the stretch it all seemed pretty calm for Very Kronos, even if pocket runner Esprit Sisu got closer in the end and as Who's Who finished, as most often, very well three wide.
Very Kronos held on and won in mile rate 1:54.4 over 1.3 miles.
Esprit Sisu noted the same mile rate and Who's Who came home in 1:55.
Vivid Wise As splendid in the Riviera
Alessandro Gocciadoro-trained Vivid Wise As (Yankee Glide) made a perfect performance as he claimed the $176,000 Grand Prix Alpes-Maritimes in Cagnes-sur-Mer in southern France on Saturday (Aug. 28) night.
Mathieu Abrivard was entrusted behind Gocciadoro's star trotter and from post two Abrivard took a safe departure and attacked for the lead in the first turn. Leader Drole de Jet, paired with trainer Pierre Vercruysse, got a perfect pocket trip behind the heavy favorite when Abrivard hit the lead and when Vivid Wise As runs in the front position, he is hard to beat.
Mathieu Abrivard played his cards well and just let Vivid Wise As roll in a satisfying pace over the home stretch and the son of Yankee Glide was more or less outstanding in a 1:51.4 mile.
Drole de Jet followed as runner up ahead of Elsa de Belfonds.
Vivid Wise As made his second appearance at the track since his runner up performance in Elitloppet in May. Prior to Saturday's race he finished second to Go On Boy in $115,000 Prix de Washington at Enghien on July 31.
Abrivard was the name in Vincennes' $176,000 Yearling Cup for 3-year-olds at Vincennes on Saturday (Aug. 28) afternoon, but in Paris it was Mathieu's cousin Alexandre who was victorious. Alexandre's father Laurent Claude Abrivard trains I Still Loving You (Prince Gede) and the duo hit the lead after three quarters of a mile, via a three wide attack. In front, I Still Loving You was cruising to safe win in strong mile rate 1:59.2 over 1.6 miles on Vincennes' big track.
Flower Dust in Denmark
The $105,000 Danish Derby for 4-year-old mares was on the schedule at Charlottenlund racetrack in Copenhagen on Saturday (Aug. 28) afternoon and the winner Flower Dust impressed a lot.
Flower Dust (Love You), driven by Bent Svendsen, attacked three wide with some three quarters of a mile to go in the 1.3 miles long race and with a kilometer left, the duo landed in position first over. Leader Fascination had to suffer some mean pressure from the outside horse and driver Bent Svendsen had no thoughts of putting his horse in a cover position during the last lap at Charlottenlund. Instead, Flower Dust sprinted to a four lengths victory in mile rate 1:56.3 over 2,000 meters while leader Fascination held strongly as second ahead of Finest Aveve.
Charlottenlund offers its big Derby day today (Aug. 29) and when the $181,000 Danish Derby for 4-year-olds will be run, undefeated (11 of 11) Festival Of Speed will carry the weight as heavy favorite for trainer and driver Steen Juul.
Danish Derby 2021
3,000 meters
Post – Horse – Sire – Driver
1 – Figaro Sölvtorp – Ens Snapshot – Rene Kjaer
2 – Forever Shadow – Orlando Vici – Stefan Persson
3 – Fantastic Design – Prodigious – Nicklas Korfitsen
4 – Frodo Cash – Zola Boko – Thomas Uhrberg
5 – Festival Of Speed – Cantab Hall De – Steen Juul
6 – First Blood – Prodigious – Birger Jörgensen
7 – Fetlock Joint – Noras Bean – Ken Ecce
8 – Freeze – Ganymede – Jeppe Juel
9 – Fönix Vang – Varenne – Victor Rosleff
10 – Ferrari Bork – S.J.'s Caviar – Morten Friis
11 – Felix – Ens Snapshot – Rene Jonassen
12 – Flamboro Downs – Panne de Moteur – Anders Pedersen