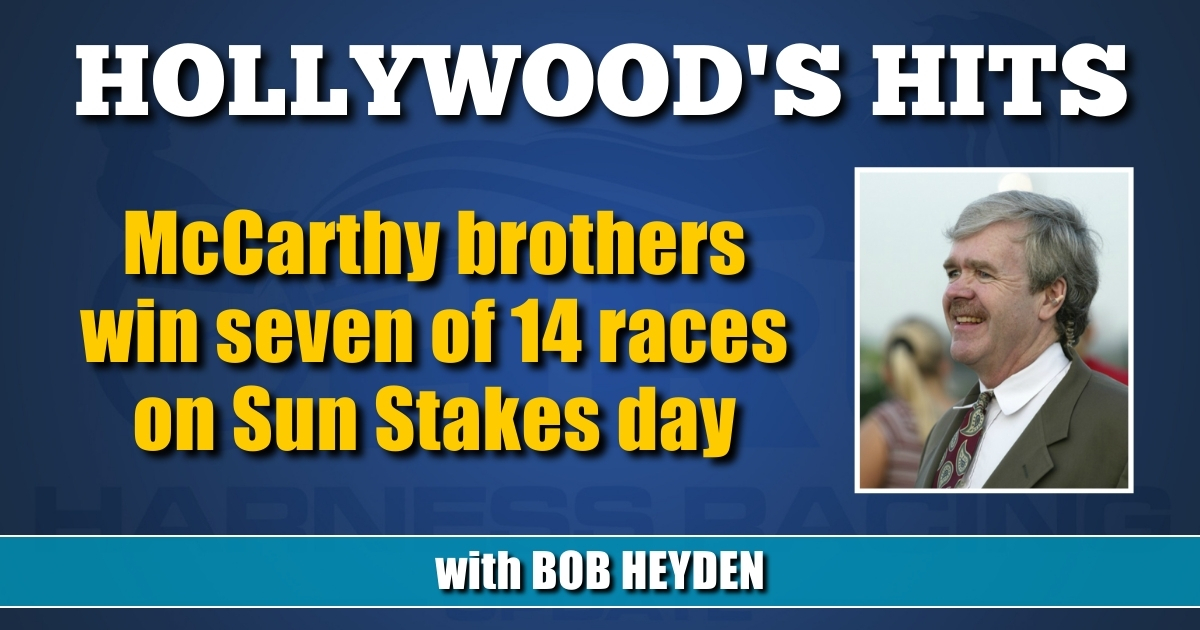 McCarthy brothers win seven of 14 races on Sun Stakes day
Australian-born Todd and Andy McCarthy put on a show Saturday at The Downs at Mohegan Sun Pocono.
by Bob Heyden
Saturday's (Aug. 21) Sun Stakes card at The Downs at Mohegan Sun Pocono was notable for much more than some $2 million in purses.
Seven of the 14 races on the afternoon card were won by driving brothers Andy and Toddy McCarthy. The latter was making his Sun Stakes debut since the stakes were not held in 2020 due to the COVID-19 pandemic.
Todd won four races:
Race 4 with Dazzling Reign in the $125,000 Delmonica Hanover consolation I
Race 9 with Grace Hill in the $250,000 James Lynch Memorial
Race 10 with Darlene Hanvoer in the $250,000 Delmonica Hanover
Race 14 with Allyway Hanover in the $75,000 Always B Miki invitational
Andy won three races:
Race 1 with Paternity Suit A
Race 5 the James Lynch Memorial consolation I with Nashville Elgenna for a $125,000 purse
Race 7 the Max Hempt Memorial consolation I with Whichwaytothebeach for a $200,000 purse.
In summary, the McCarthy brothers won half of the races on the card at the only track in North America where brothers are 1-2 in the driver standings: George Napolitano and Anthony Napolitano.
Go ahead, try and find a time in the sport's history when two brothers won five six-figure races on the same card.
Maybe the most amazing part is this:
Todd won two major six-figure events with trotting fillies — Darlene Hanover and Dazzling Reign. Last year, he was driving Anoka Hanover to the 2YOFT division title. Todd is just completing his first full year in the states having arrived last September. Nobody drives 2-year-old trotting fillies in Australia and New Zealand. You can't find any. He more or less had to learn on the fly.
Get your passports out
Get your passports and ID out for the next one:
Twelve straight races (races 1-12) and the 14th, as well, were won by drivers not born in the U.S.
Australia's McCarthy brothers won seven races, as previously mentioned.
Sweden's Ake Svanstedt won the Earl Beal Memorial with Captain Corey.
Canada's Mark MacDonald won the Max Hempt Memorial with Lawless Shadow and Yannick Gingras won three races: the Sebastian K with Atlanta for $75,000, the $100,000 Max Hempt consolation II with Lous Pearlman and a conditioned test with Covered Bridge.
Only Joe Bongiorno waved the American flag in Race 13 with second choice J M Mandamin.
Tongues wagging over Allywag
Allywag Hanover, one of 20 "Hanovers" on the card, equaled the track 4-year-old mark with a day's best 1:47.2 in the finale.