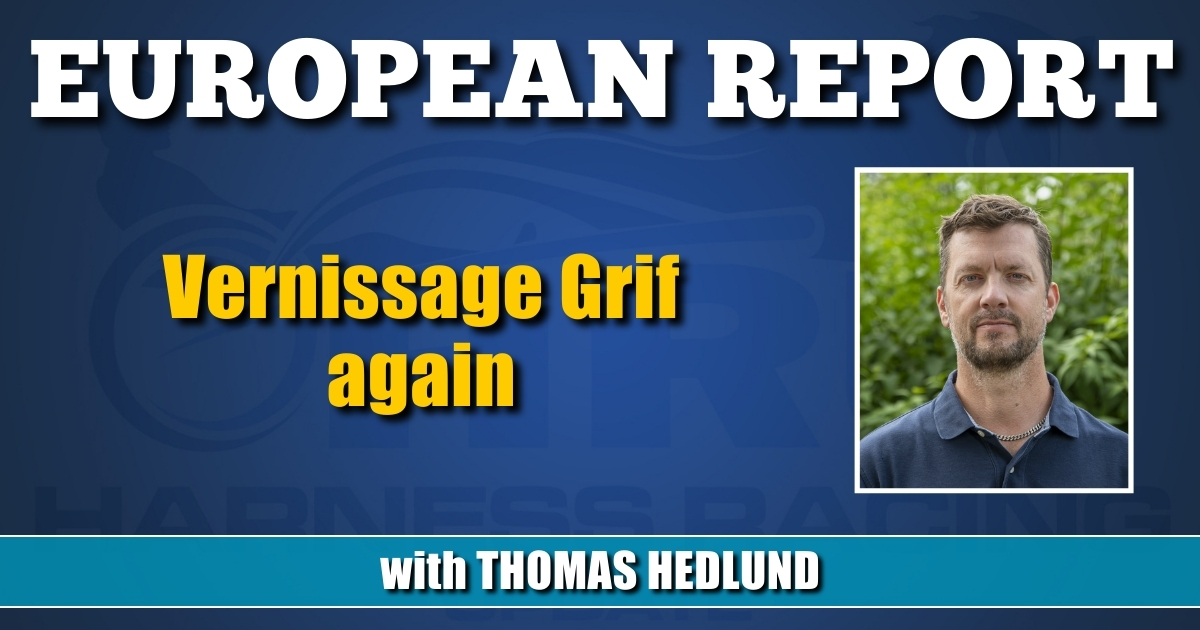 by Thomas Hedlund
Alessandro Gocciadoro-trained Vernissage Grif (Varenne) has had a great summer on European race tracks so far and in Sunday's (Aug. 15) $155,000 Gran Premio Citta di Montecatini, raced on the half-mile track in beautiful region of Tuscany, the 8-year-old was outstanding over two heats.
Vernissage Grif won his elimination in track record 1:53 and proved to be hard to handle even in the final, where Zacon Gio controlled the field with Gocciadoro's trotter on the outside. Gocciadoro had no plans in letting the leader hold the pace down, so when the field turned for home, Vernissage Grif had disarmed Zacon Gio and sprinted to safe win in 1:53.2.
Billie de Montfort beat Zacon Gio in the battle for the silver medal.
Vernissage Grif collected two impressive wins in Jämtlands Stora Pris and Årjängs Stora Sprinterlopp earlier this summer and Gocciadoro's trotter is definitely one of the most interesting older trotters in Europe at this moment.
Set for E3
Gävle racetrack is the host track of the second edition of E3 finals in Sweden on Saturday (Aug. 21) afternoon. This time, the distance is 1,640 meters and the purse is $225,000 in both divisions.
Only two eliminations were held for colts and geldings and it's clear that the interest for the race is bigger than when the first edition, over 2,140 meters in mid-June, is held. The winner from that division among the colts and geldings, Felix Orlando, tries to defend the title after finishing fourth in his elimination.
E3 for 3-year-old colts and geldings
1,640 meters
Post – Horse – Sire – Driver
1 – Ambrosius – Uncle Lasse – Björn Goop
2 – Francesco Zet – Father Patrick – Örjan Kihlström
3 – Immanuel K – Sebastian K – – Daniel Wäjersten
4 – Dowhatyoudodowell – Maharajah – Jeppe Juel
5 – Herecomestheboom – Select Yankee – Kaj Widell
6 – Felix Orlando – Orlando Vici – Per Nordström
7 – Chipper Kronos – Southwind Frank – Erik Adielsson
8 – Correct W.F – – Hövding Lavec – Rikard N Skoglund
9 – Power Doc – Muscle Massive – Åke Lindblom
10 – Ploquepin – Jocose – Mats E Djuse
11 – Amazing Hazel – Raja Mirchi – Johan Untersteiner
12 – Dozen Of Oysters – Zola Boko – Claes Sjöström
E3 for 3-year-old fillies
1,640 meters
Post – Horse – Sire – Driver
1 – Bouillabaisse – Charly du Noyer – Oskar J Andersson
2 – Islay Mist Sisu – Beer Summit – Per Nordström
3 – Lacille Boko – Readly Express – Erik Adielsson
4 – Florence Ima – Maharajah – Magnus A Djuse
5 – Breeze – Broad Bahn – Claes Sjöström
6 – Global Celebrity – Muscle Hill – Mats E Djuse
7 – Impala Am – Southwind Frank – Daniel Wäjersten
8 – Polar Operation – Uncle Lasse – Jorma Kontio
9 – Ain't Misbehavin – Ready Cash – Örjan Kihlström
10 – Chatty Kronos – Bold Eagle – Kevin Oscarsson
11 – One Night Only – Maharajah – Mikael J Andersson
12 – Amoa Queen – Maharajah – Ulf Ohlsson