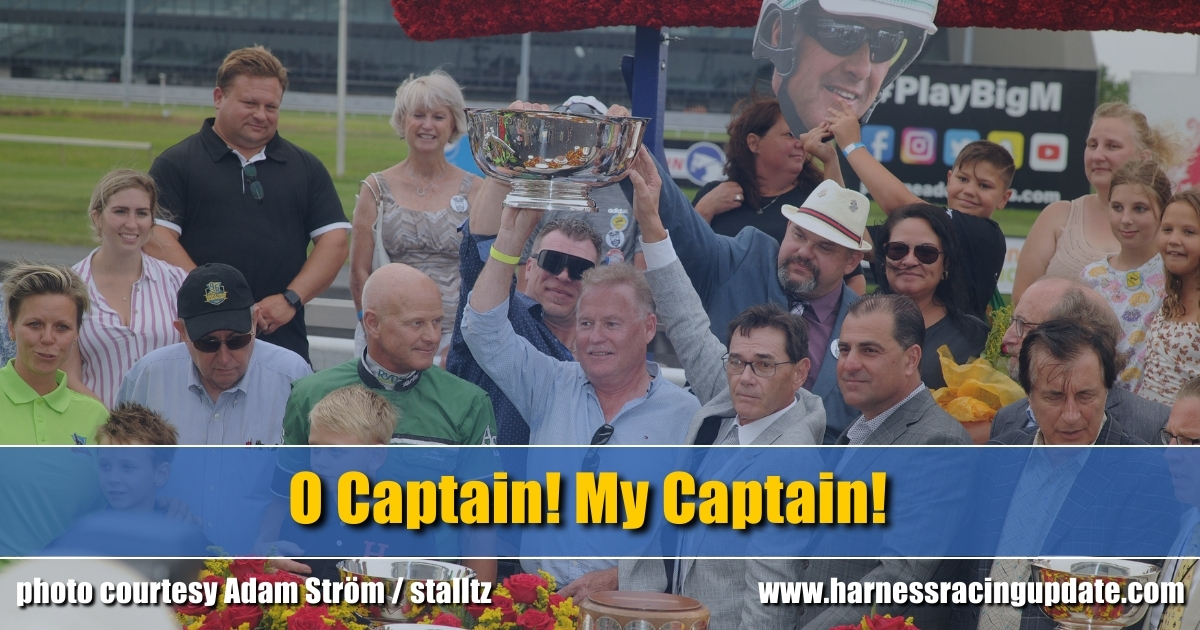 The first time Robert Lindstrom saw Captain Corey in person he fell so in love with the trotter he absolutely had to have him. Two years later, the colt, whose grandsire is a pacer, stormed to victory in the sport's ultimate trotting event – the 96th edition of The Hambletonian.
by Dave Briggs
The day Swedish horse agent Robert Lindstrom saw Captain Corey trotting downhill in a paddock at Carter Duer's Peninsula Farm in Kentucky was the moment Lindstrom knew he absolutely had to have the colt.
"When he ran uphill he was okay, but when he turned around he could run just as fast downhill. All the other horses, they'd lose their gait a little bit on the slope, but he went right through with the stride that he had. Already as a yearling, he moved great," Lindstrom said. "Absolutely, he was the most beautiful horse in that sale. That's my opinion. You could have opinions about his pedigree, but he was the most beautiful horse."
Trouble is, lusting after the brown son of Googoo Gaagaa out of the Angus Hall mare Luv U All at the 2019 Lexington Selected Yearling Sale was one thing. Actually acquiring him would prove more challenging than Lindstrom first thought. He couldn't afford him.
"I was thinking that I could buy him for between $30,000 and $50,000 because no one likes Googoo Gaagaa, but then it went up," Lindstrom said. When the bids approached $100,000, Lindstrom appealed to SRF Stable's Lennart Agren, a Swedish banker, for help.
"I said, 'I'm going to need money from you, because I'm going to buy a horse and I know I cannot afford it,'" Lindstrom said, laughing. "He asked me how much and I said, 'I think he's going to go for $100,000.' He said, 'Okay, I'll finance you. Buy him.' Then, when it reached $130,000, I had to get $130,000. He came over and said, 'Ah, it's getting expensive.' Then somebody bid $140,000 and I said, 'Can I be in?' Then, I bid $150,000 and we got the horse. Then we took in other partners. There were some friends with me that night and they were going to buy into a cheaper horse the next day, but I told them, 'Take a part of this one, it'll be much more fun.' I'm happy they did."
Nearly two years after he first set eyes on the colt, Lindstom's Mensa-like equine IQ — and his rock-solid belief the trotter with pacer blood on his fraternal side would be star — paid off handsomely when Captain Corey won the 96th Hambletonian on a steamy Saturday at The Meadowlands Racetrack in New Jersey. With 62-year-old trainer Ake Svanstedt at the controls, Captain Corey defeated longshot Spy Booth by one-and-a-half lengths in 1:51.
"When they came up to the half in :54 and the pressure was on (Captain Corey from Cuatro De Julio) in that third quarter, of course I was worried, but I know (Captain Corey) has the fighting spirit and fights like a lion, so as soon as we turned into the straight, I knew they were struggling from behind him, so then I was not worried," Lindstrom said.
Captain Corey also had an extra weapon on this day — all four shoes were pulled.
"I pulled his shoes and I tested him when I scored him down," Svanstedt said. "He went a little faster quarter, and he felt really good. All four shoes were off. I think it made a difference."
Lindstrom said the track crew at The Meadowlands had the oval in perfect shape.
"I've never seen the Meadowlands so good. I've been there a lot of times, but they've done a super job on the track. They helped us a lot, because we could go without shoes. We could never do that before, so they really helped us a lot with this win," Lindstrom said.
It was an all-Swedish victory for the Captain Corey team. Beyond Lindstrom, who owns the colt under his Midnight Sun Partners stable name, the trotter is also owned by Svanstedt, Knutsson Trotting and the SRF Stable of Agren and Jan Johnson that won the 2017 Hambletonian with Perfect Spirit and Svanstedt. Perfect Spirit was awarded the victory after What The Hill was disqualified for interference in the stretch. It was the first disqualification of a winner in Hambletonian history.
"I've been working as an agent to buy horses for other people for many years," Lindstrom said. "I bought Perfect Spirit for Lennart, so I've been doing well for my partners. Then, to pick another Hambo winner… I'm very proud of myself. I work really hard with the horses, checking everything and going to look at so many horses. So, when you get it right…"
That this year's Hambletonian victory was an uncontested wire-to-wire trip that defied a front-end speed bias — and the win came 20 years after Scarlet Knight and Stefan Melander put Sweden on the moon with a stirring victory on behalf of a trotter-loving nation (full story here) – were both particularly poignant for Lindstrom.
"This day was 33 years since the first day I was in the United States to see horses," Lindstrom said. "I saw the Hambletonian win by Armbro Goal, with Swedish trainer Jan Johnson, who I know, and John Campbell driving. Now, 33 years later, I received the Hambletonian from (Hambletonian Society president) John Campbell. That's a nice touch."
This year was as dominant a performance by Sweden as there's ever been in the Hambletonian. Svanstedt's two other Hambletonian finalists — Ambassador Hanover (Scott Zeron) and Delayed Hanover (Yannick Gingras) — finished third and fourth, respectively, meaning Svanstedt horses collected $700,000 of the $1 million purse. Add in Swedish-born Nancy Takter's second-place finish with Spy Booth — thanks to a masterful drive by Tim Tetrick — and Swedes took home $950,000 or 95 per cent of the sizeable pot (Jim Campbell's Take All Comers, driven by David Miller, picked up the final check).
That the winner was sired by a trotting stallion (Googoo Gaagaa) that was sired by a pacer (Cam's Rocket) is just an interesting side story, Lindstrom said. A close look at Captain Corey's pedigree shows he comes from the same maternal line as Muscle Hill, one of the greatest trotters and stallions in the sport's history.
"But it wasn't that that made me like (Googoo Gaagaa). I met Staffan Lind, a trainer at the time in the States, and he said, 'Have you seen this good 2-year-old that won the other night?' I said, 'No,' but I started to follow him. Then when he won, I think it was Ocean Downs. Corey Callahan drove him and he took the turns and I've never seen a horse do it in that speed. At that point, I start following the horse," Lindstrom said.
Just like Captain Corey — who was named after Callahan — there was something about Googoo Gaagaa that made Lindstrom simply need to have him.
Googoo Gaagaa was a trotting sensation that earned $665,339 in three years of racing including wins in finals of the Earl Beal, Jr. Memorial and Colonial. He first stood in Maryland and then Pennsylvania to a lukewarm reception. When Lindstrom couldn't convince the stallion's owner, Richard Hans, to export the horse to Sweden, Lindstrom did the next best thing.
"We ended up making a deal so I could freeze the semen and take it to Sweden because he was such a tremendous individual. I've been in the business for 30 years and when you see a horse… and you cannot put your finger on it, but you haven't seen it before, then you know it's something else," Lindstrom said.
Still, selling the trotting purists in Sweden on a stallion sired by a pacer wasn't easy at first.
"The first year that we bred in Sweden, I really had to convince partners or people that I had done something good for before. So, they trusted me. He bred 28 and got 25 in foal and we got 17 colts and eight fillies. They won the biggest race in Sweden for 2-year-olds. They won the biggest race for 3-year-olds and the biggest race for 4-year-olds. And now we've won the Hambletonian," Lindstrom said.
In 2019, based on the success of his offspring bred by frozen semen, Lindstrom convinced Hans to export the horse to Sweden and promptly filled his 2020 book with 150 mares (see story here).
"We priced him very reasonably, because I wanted everybody to afford to go to him," Lindstrom said.
So, Mr. Lindstrom, now that Googoo Gaagaa has sired a Hambletonian winner, will you raise his stud fee?
"No, we are not going to raise the price," he said. "I have such a good deal on him, I'm not going to be greedy. I'm going to be happy. Maybe the year after, when he gets older, we'll make him the right price, but that's nothing we're going to think of at the moment, anyway."
After all, for Robert Lindstrom, this wasn't as much about enriching himself as proving he was right about a horse.
There's nothing quite as affirming as winning the Hambletonian
with files from Ken Weingartner and The Hambletonian Society