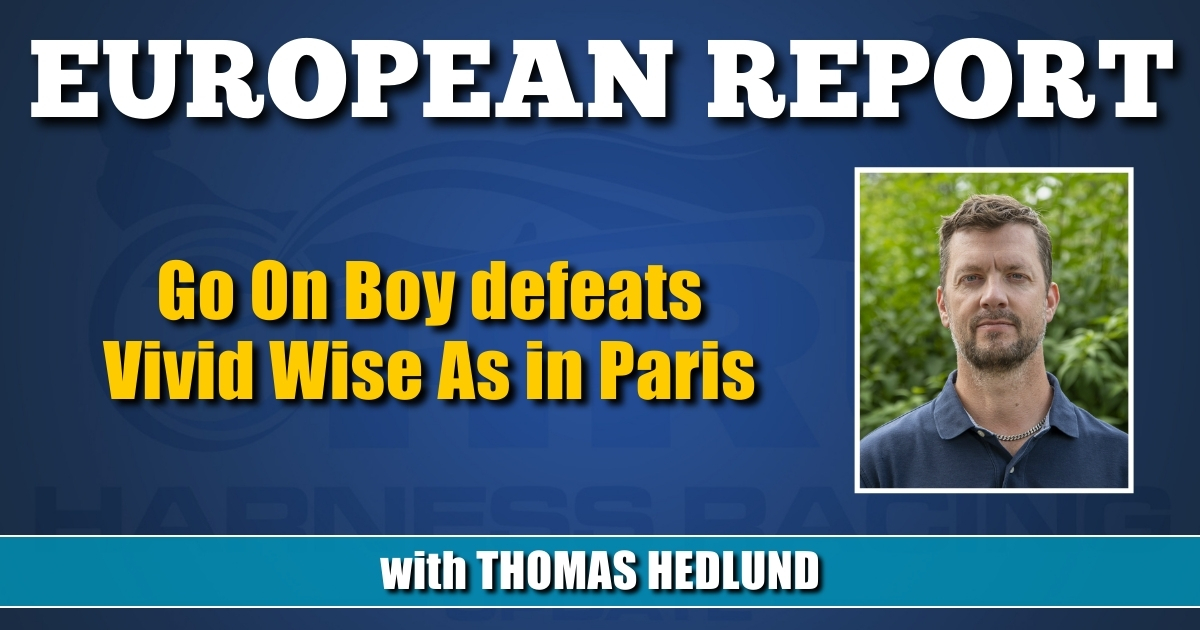 Go On Boy defeats Vivid Wise As in Paris
by Thomas Hedlund
Enghien, not Vincennes, was the Paris track that raced on Saturday (July 31) afternoon and Elitloppet runner up Vivid Wise As made his first start since the trip to Solvalla in May.
Mathieu Abrivard sat behind Alessandro Gocciadoro's Yankee Glide son in $181,000 Prix de Washington and the duo had to face a first over trip when Jean-Michel Bazire's duo Davidson du Pont and Dorgos de Guez controlled the field in front.
Vivid Wise As got advantage of the race in the last turn and into the stretch, but from behind, Romain Derieux-trained Go On Boy (Password) got close and just before the wire the 5-year-old Go On Boy disarmed the new leader and first choice Vivid Wise As.
The Prix de Washington is a mile race and Go On Boy won in 1:52.
Jean-Michel Bazire won the $95,000 Prix de Milan for 4-year-olds. Hooker Berry (Booster Winner) sprinted to safe victory ahead of first choice Helgafell and noted a mile rate of 1:57.1 over 1.3 miles.
Face Time Bourbon races today
Face Time Bourbon, who is back in his home country after an impressive win in Finland two weeks ago, will be aimed northward today (Aug. 1). Mons in Belgium awaits and it's time for the $140,000 Grand Prix de Wallonie, where Face Time Bourbon will start from post one behind the gate over 1.4 miles.
Big win for Lionel
Biri racetrack in Norway offered a great race card on Saturday (July 31) afternoon and among several nice races, $45,500 Norwegian Championship was held. An old fighter, 11-year-old Lionel (Look de Star) claimed the prestigious win and this was Lionel's third victory in the race.
Owner Göran Antonsen drove the chestnut himself and via a very speedy first half mile, Lionel came to the lead from where he held the opponents behind him in mile rate 1:59.3 over 1.6 miles on a sloppy track.
The $45,500 Norwegian Championship for mares was held over 1.3 miles and Trond Andersen's Miracle Tile (Cantab Hall) took a safe wire to wire victory in 1:59.3.
Bigger purses were at stake in two divisions of the $69,000 Prinsess Märtha Louses Pokallopp for 3-year-olds. I.D.Exeptional (El Diablo B.R.), paired with Ole Johan Östre, came to the lead at an early stage and the duo was outstanding over the stretch. I.D.Exeptional won in mile rate 1:59.4 over 1.3 miles.
Readyforwine (Ready Cash) claimed the win in the fillies' division for Magnus Teien Gundersen. A first over trip didn't stop Geir Vegard Gundersens trotter and the family affair couldn't end better since Geir Vegard (Magnus' father) finished second with Kim B.R. Readyforwine won in a mile rate 2:00.3