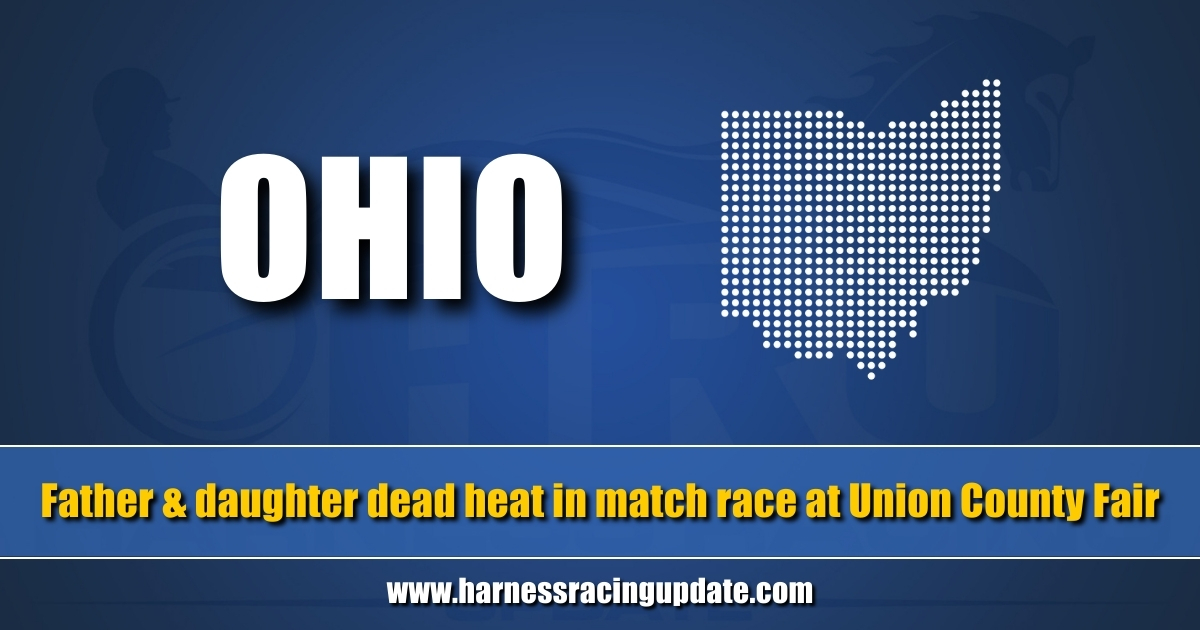 Father and daughter dead heat in match race at Union County Fair
Historians believe dead heat between Roy and Kacey Burns is a first for a father-daughter combo.
by Jay Wolf
Veteran Ohio trainer Roy Burns has seen a lot in harness racing, but he was not ready for what he saw when the draw sheet came out for the opening day of his hometown Union County Fair in Marysville, OH.
Burns had entered a pair of sophomore colt trotters – Blue Jacket and Big Riggin Joe, listing his 23-year-old daughter, Kacey as the driver on each.
Lo and behold, the Burns' entries were the only two in the box, setting up a $9,035 Burns family match race – father versus daughter.
"That was a very big shock," said Roy. "I have been driving since the mid-1970's and is the first time that has ever happened to us."
Kacey elected to drive Blue Jacket, who was leaving from the rail, giving the assignment behind Big Riggin Joe, a Big Rigs gelding, to her father.
"Kacey gets along really well with Blue Jacket. Big Riggin Joe is a little bull headed at times," said Roy.
On paper, the two colts were fairly equal. Both were winless during their career (Blue Jacket was 0-for-21, Big Riggin Joe was 0-for-24). There career earnings were within $103 of each other ($13,843 to $13,740). The punters made Kacey the slight favorite at 2/5.
When the starting gate wings folded, Roy and Big Riggin Joe took the lead, allowing his daughter to sit patiently through the fractions of :34.1, 1:10.1 and 1:45.3. A sensible pace considering neither of them wanted the fun to end.
"We talked a little bit about who see who wanted to go to the front. Whatever happened after that, we were just going to race," said Kacey.
As the pair hit the top of the stretch, Kacey tipped Blue Jacket off the rail and started the chase after her father. The duo hit the finish line together.
The gathered crowd and those watching on the Ohio Harness Horseman's Association's Facebook broadcast debated the results and started thinking about another famous match-race dead heat – the 1989 Hambletonian Final between Probe and Park Avenue Joe.
When track announcer Ayers Ratliff provided the historic confirmation – the father and daughter had in fact dead heated for win in 2:17.3 (The replay can be seen at the 1:13:36 mark of the OHHA Broadcast 2021 Union County Fair Day 1 – YouTube)
"I was going to let his colt do all the work. I was just waiting," joked Kacey.
"You can race or train a hundred times and try to make a dead heat and it will never happen. It was just amazing," added her father.
In the statistical oddity, Roy was credited with two training wins and driving win and his daughter picked up an additional driving win.
"The raced helped all of our statistics," said Roy, laughing. "The only bad thing is that I lost two maidens."
The owner's share of the $9,035 purse was split between Roy and his wife, Melissa, who share ownership of Blue Jacket and Roy and his mother, Joan, who co-owned Big Riggin Joe.
Both horses paid $2.10 to win, causing a negative pool for the Union County Agricultural Society but plenty of positive press with the record setting dead heat.
If the dead heat wasn't a good enough story, how Blue Jacket became a member of the Burns Stable is also noteworthy.
The Wishing Stone–Jessica Rayne gelding, was originally a member of the Chris Beaver Stable, but was sold in a disbursement sale after his 2-year-old season ($12,272 in earnings). Blue Jacket may have ended up in Amish country, but the older Burns remembered the trotter and called the new owner with an offer.
"I traded a pacer by the name of WJ's Big Breeze for him," said Roy. "We like our trotters and Kacey really likes him."
Kacey is currently pursuing a master's degree at Ohio State University, working full-time with the OSU Extension Office and is a regular participant in the Spring Haven Farms Ladies Driving Series, an all-female driver series that crisscrosses the Buckeye State.
"I enjoy the Lady Pace series. It is an opportunity for us to race each other and show the industry we are capable," said Kacey. "The Lady Pace races are the most competitive events I drive in. It is a drag race from the time they say 'go.' It could be a three-horse race and you might get parked."
For the Burns family, the 2021 Union County Fair will forever be a great memory and will always be in the annals of harness racing history.