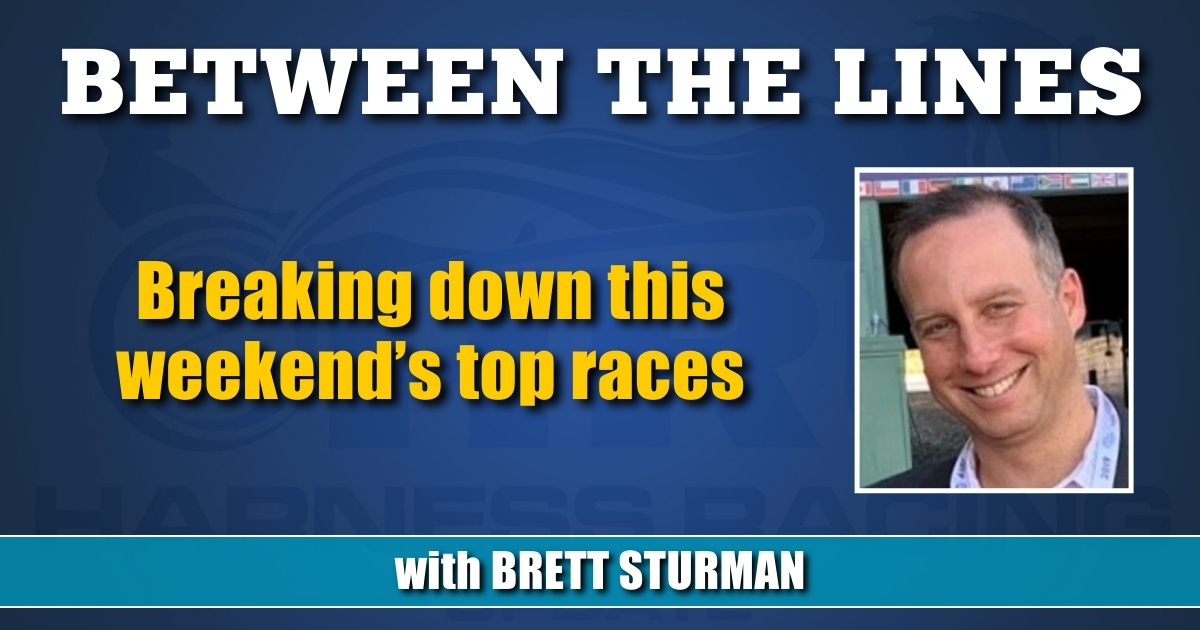 Breaking down this weekend's top races
by Brett Sturman
Top races this weekend include a pair of $580,000 races on Friday (July 2) at Yonkers — the Yonkers Trot followed immediately by the Messenger Stakes. Then, Saturday (July 3) at the Meadowlands features five major stakes in two divisions of the Roll With Joe, the Crawford Farms, the Artiscape and the Joie De Vie. Here is how I see the races playing out.
Yonkers — Friday, July 2
Race 8, Yonkers Trot
AHUNDREDDOLLARBILL rates 4-1 in the program but will likely be the favorite come race time. Now 4-for-4 on the year, he brushed strongly to the lead past the quarter pole after getting away fifth and never faced an anxious moment. There's a bunch of Svanstedt trainees to his inside, though, and he may face a difficult road to the top if McCarthy tries that route early; possible play against. JOHAN PALEMA has developed nicely from 2 to 3, though probably a touch of class relief has helped, too. He was able to capitalize last week in his elimination off a pocket trip to stablemate AMBASSADOR HANOVER and is one of the obvious shorter priced contenders. The latter drew the rail and I'd expect Ake to be aggressive with that advantage. IN RANGE was too far back in his elimination but you'd have to think Tetrick will blast in this position. He was able to show speed to take them all the way in a PASS win his first start back; he was one of the more talented 2-year-olds last year and I like. ON A STREAK hasn't come back super-fast but don't forget he won the Breeders Crown last year at 2. Wakes up on the move inside?
Race 9, Messenger Stakes
This time a week ago I think that most thought this stakes would be a walkover for ABUCKABETT HANOVER. He did win his elimination as expected, but between the mile put up by AMERICAN COURAGE and the ensuing post draw, the Messenger final is up for grabs. American Courage put the field on notice with his near track record mile. It seemed like Kakaley had him well in hand through the finish and while post 6 isn't ideal, at least it's better than his chief rival in post 8; my pick to win. Abuckabett Hanover moved at the five-eighths last week and won going away by a measured length at odds of 1-9, but the post is unfortunate and I don't think he's going to be able to overcome it. CHARLIE MAY was used early in his elimination to secure position and had noticeable pace up the inside when free too late. The morning line of 2-1 seems a tad ambitious but he's a real contender nonetheless. I'LL DRINK TO THAT was stubborn on the lead in his elimination.
Meadowlands — Saturday, July 3
Race 5, Crawford Farms Open Trot
The great MANCHEGO enters this race as the near unanimous #1 horse in the sport and there's not much else I can add that hasn't already been said since she's returned this year. As good as ever, she steamrolled similar in her last pair. Dunn has to be careful not to be too far back assuming the pace ends up slow in this seven-horse field, but even that may not matter. IT'S ACADEMIC held off Ready For Moni twice in a row and will almost certainly be the one to track down for Gingras and Burke. LINDY THE GREAT tracked along in the Maxie Lee and was able to get second to Manchego; may look for a similar trip to round out the exacta. FORBIDDEN TRADE will be well positioned from the rail; would have a shot on his best day. REIGN OF HONOR worked his way back up the ladder quickly in New York.
Race 6, Artiscape Mares Open
LYONS SENTINEL should appreciate being able to get away from Racine Bell who races today (July 1) at Yonkers. A 1:48.2 winner four back, Lyons Sentinel raced gamely from first over her last two starts and was resurgent late in her most recent; seems best. Betsy Ross winner KEEP ROCKIN A had little chance in her last pair at the Meadowlands to close from off the pace; this is a far more reasonable spot. ROCKNIFICENT had dead aim from the pocket two back against Racine Bell and then coasted last week against lesser as the big favorite; speed will be coming again. Both Takter trainees in here JK FIRST LADY and PEAKY SNEAKY are yet to come back to their 3-year-old form; improvement is possible from either. SOHO BURNING LOVE A is likely to show her usual speed but may not be as sharp now as she was in May; at least will offer a price to those who want to take a shot.
Race 8, Roll With Joe Open Pace
THIS IS THE PLAN was second in last week's open as the 2-5 odds-on favorite, and as was pointed out by Gabe Prewitt on social media, he is now just 1-for-16 lifetime at the Meadowlands. Though not a bad try, that was race still tough to figure when compared against that ridiculous 1:47.3 world record mile two back at Northfield. CAPTAIN BARBOSSA had ample pace when he shook free late in his most recent Graduate mile to finish third in a blanket finish. He established a lifetime mark two races back and I'd rate him as a deserving favorite. ANGERS BAYAMA should have never been 21-1 on the tote board last week and that was some charge down the lane to the tune of a :25.1 final quarter to win rather easily in the end. CHIEF MATE was a big longshot last out but I'd expect him to be put into play early from the outside; almost worked out four back against similar. CENTURY FARROH comes in following two races at Woodbine and is no stranger to these.
Race 9, Joie De Vie Mares Open
ATLANTA and RAMONA HILL faced each other in a qualifier two back at Gaitway and that finish was almost as exciting as any actual race. Atlanta got her in the final stride that morning, though both returned to the races impressively in their seasonal debuts. Last week, Atlanta was able to wear down When Dovescry with a :26 final quarter, despite that one setting a :30.3 second panel on the lead. Similarly, two weeks ago Ramona Hill angled off the cones around the final turn and closed to just miss against a well-rated winner in Beads; no disgrace there. HYPNOTIC AM might be an alternative to the top pair. She beat Beads two back in 1:50.3 and last week was trapped in behind It's Academic through the stretch and it looked like she had trot. FELICITYSHAGWELL S is usually in contention against these but is just 1 for 14 over the past two seasons. WHEN DOVESCRY has been generously rated in two of her last three starts; will have to contend now with the second tier starting position. NEXT LEVEL STUFF is always game and will offer a price from post 9.
Race 10, Roll With Joe Open Pace
Despite the outside post it would seem like BACKSTREET SHADOW has a grip over this field. Not only is he the class, but he also enters in some of the sharpest form of his career. He crushed two weeks ago here in the preferred and was flattered when runner-up in that race, Angers Bayama, came back to win last week's open over This Is The Plan. CAPTAIN KIRK didn't seem like he was going to offer much from his third over trip last week even halfway through the stretch, but then somehow was put into high gear and flew. I still don't think he's up to the likes of #9 but he did have success as a 3-year-old against some of the sport's best, including a runner-up finish here in his Pace elimination last year to Tall Dark Stranger. WARRAWEE VITAL seems like a logical choice to attract attention. He rode Captain Barbosa's cover to be second two back in a 1:47.1 mile. STARS ALIGN A is slated to pick up Sears.