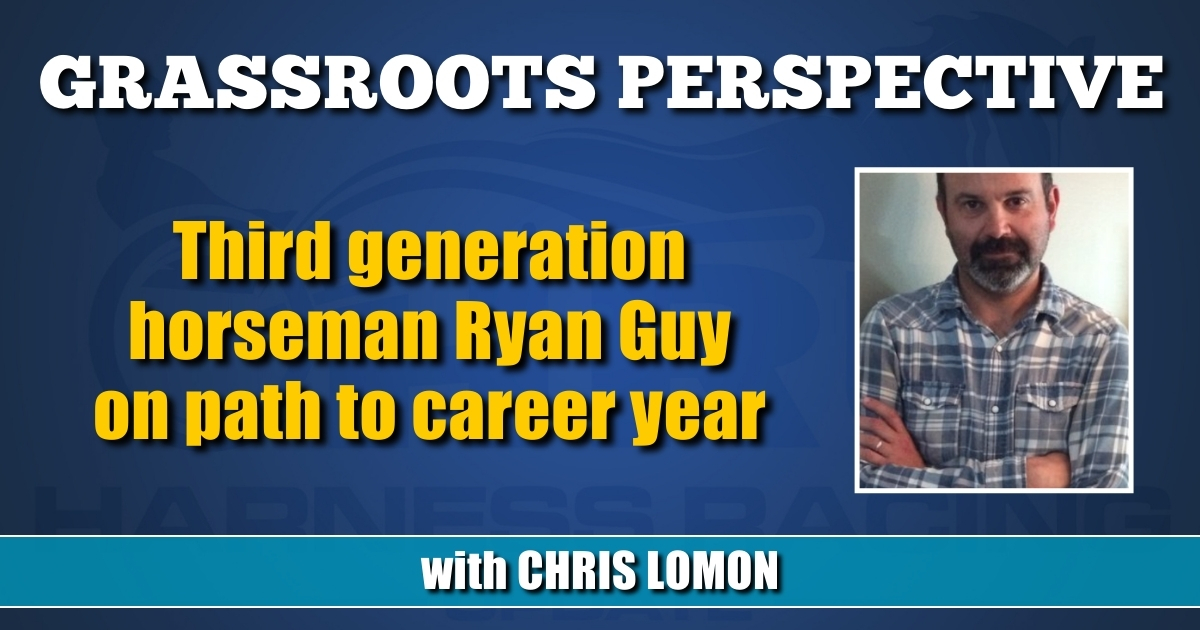 Third generation horseman Ryan Guy on path to career year
by Chris Lomon
Ryan Guy knew he wouldn't receive a reply, but that didn't matter at all.
As they crossed the wire a whopping 11 ¾-lengths ahead of their nearest rival, the driver from South Mountain, ON, thanked the veteran pacer, the one who delivered him his first win in what was his first pari-mutuel start in the race bike.
Four years and over 130 wins later, the modest reinsman is thankful for the efforts of the brown gelding on that night, an evening that brought out his own personal cheering section to take in the action.
"I can still remember it, very much so," said Guy. "It was a horse called Dali On Up. I was very happy to get a nice horse like that to drive for my first race. It was really special, I had my whole family there, and it was something I had always dreamed about. It was a great start to my career. I couldn't ask for anything more."
And, as Guy noted, it was as easy as it looked on the chart line.
"The horse pretty much did the work. I went to the front, cut the mile, and didn't look back. He was just awesome. I made sure I gave him a big pat and thanked him for what he did."
Although plenty has changed for Guy since that debut, his gratitude for standardbreds, trainers, owners and his support group, remains unchanged.
As does his winning attitude.
In the midst of a breakout year, Guy is very much the same person who won that first race.
In his rookie season, he recorded 25 wins and 102 top-three finishes from 341 starts. After 30 and 35 wins in 2018 and 2019, respectively, Guy posted 22 victories in a pandemic-shortened 2020.
This year, he's well on his way to establishing career-best marks in every category.
Not that you'd ever know it.
"It's about taking one race at a time. Things can change very quickly. You can have your good years, bad years, good nights, bad nights – you just have to find a way to turn the page and stay confident. Whether you win or lose, you always want to make the next drive your best one."
On June 17, he did that, times four.
Guy won four straight races, capping it off with Reys N A Rocket, who won her fourth consecutive dash and paid $10.60 for the victory.
"Normally on a race night, I try to maintain a steady focus on that upcoming night of driving. I like to come into the evenings with a clear and positive mindset to be able to give that horse, trainers and owners, my 100 percent."
Studying, before and after races, is also a must, offered Guy.
"I read the program, how the horses like to race, what class they're racing in, post position – it's about forming a good idea, a game plan, so I know what to expect from the horse. That said, anything can change from the time you're on your way to that first turn. For as much as you prepare, you also have to be able to make quick decisions."
Winding down after he arrives back home isn't always a simple task.
On occasion, Guy will go over his drives for the evening and then take notes.
"The blood is definitely still pumping after you head home. It's tough some nights to go to sleep quickly because you still have that adrenaline flowing. There are times when I'm back home where I'll watch replays of that night. Whether it's good or bad, you can learn something."
For now, his biggest highlight in the sulky was his first win on the Woodbine Entertainment circuit, which came in 2018.
He's hoping to add more Mohawk Park victories to his stat sheet sooner rather than later.
"My main focus is to keep driving live horses and hopefully, people keep listing me on them. I want to stay healthy, and stay safe. We'll see how things go this year and hopefully in the next little bit, I can make my way to Toronto, bring some horses of my own and try to make a go of it there."
There's no doubt those he's closest to will support him wherever he happens to race.
Guy is happy to carry on the family ties to the sport.
"My dad [Ron Guy], he's been in it for years, and so is my grandfather [George]. My aunt, Sharon Christie, really got me kick-started with the horses. She had a small stable and I've been going to the barn since I was old enough to walk, taking off bandages, things like that. I owned my first horse when I was nine and jogged my first horse a year before that.
"A lot of people helped me out. They taught me how to rate a mile, read a watch, how to sit in the bike – all of that stuff. Through the years, it progressed. I drove in some fairs and some great learning experience. Then it was on to the amateurs. I would warm up all kinds of horses at Rideau Carleton and when the time came where I was old enough to get my [harness] driving license and I had friends and family to stand behind me and help me out. I'm very fortunate. I wouldn't change anything. Being a third-generation horseman, I'm proud to carry on that tradition."
Even if he has a different racetrack look than his father did.
Father and son both see red, so to speak, whenever Guy takes the reins of a pacer or trotter.
"I've always been a fan of red, so that was going to play a big part in my driving colors. My aunt, she was red, and so was my grandfather. The funny story is that my dad is blue. I get a lot of backlash on that because he's a Toronto Maple Leafs' fan and I've always been an Ottawa Senators fan. It's red, black and white, and I'm happy with that."
And thankful for everything and everyone – human and horse – who helped him get to where he is these days.
It's evident in the way Guy conducts himself on and off the racetrack.
"It's important to be polite, to be respectful and be kind to everybody. That goes for wherever I find myself. I feel very grateful to be where I am and I hope it shows."