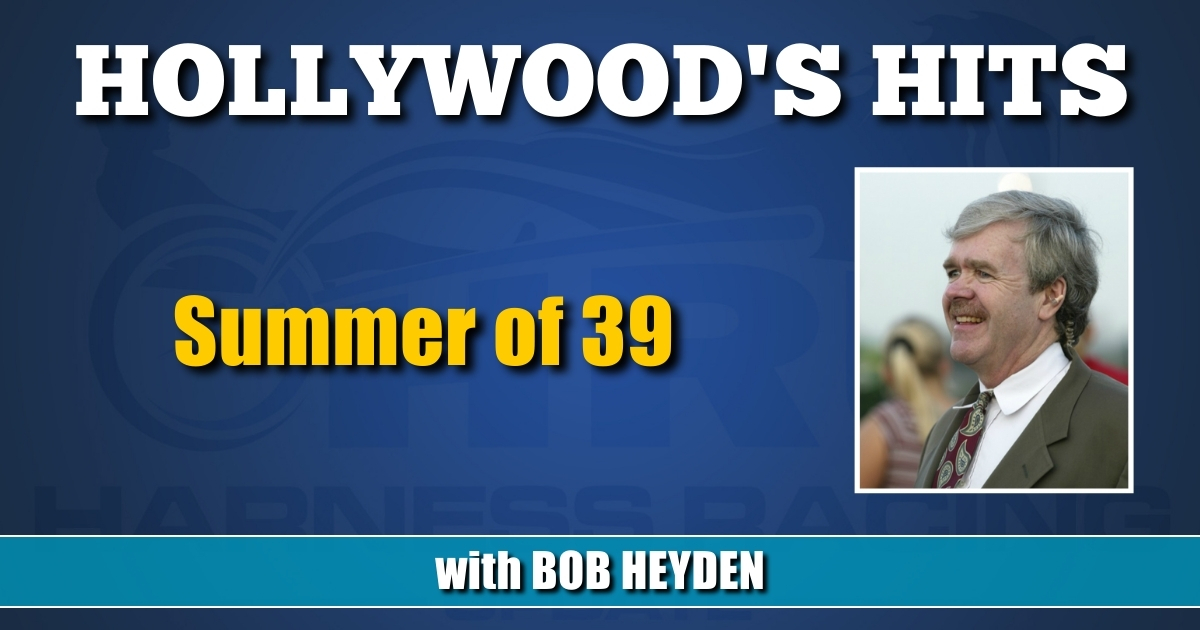 by Bob Heyden
Tim Tetrick is about to officially enter into the Hall Of Fame next Sunday at age 39. Here's a look at many others and what they did the year they were 39.
In 1956, Joe O'Brien was campaigning the magnificent Scott Frost to his second straight HOY season. Coming off the very first ever Triple Crown season the very year the Yonkers Trot was introduced. Joe-then 39, lived until Sept. 29, 1984.
In 1987, Hall of Famer Ted Wing got his biggest ever purse check at 39 — finishing second. In the 1987 Woodrow Wilson Even Odds got half of the $1,422,000 purse, but Wing's Prince Royce was second in this the last ever Wilson to go for better than $1.1 million.
Mike Lachance turned 39 in 1989, the same year he dominated the Jug with Goalie Jeff and also raced the fabulous Matts Scooter to a Horse of the Year season — the last time a HOY had 30 starts in a single, award-winning season.
Ron Waples was 39 when he won the Triple Crown in 1983 with Ralph Hanover. Four days before winning the Meadowlands Pace ($1,251,000) with Ralph, he won the Sweetheart ($1,062,000) with upsetter Shannon Fancy, making him the only driver to win his first two million-dollar drives, these two just four days apart.
Ray Schnittker was 39 when he first tested the Hambletonian waters in 1997 with Armbro Plato (third). He was third again in 2000 with Armbro Trick — also a longshot — before winning it all in 2008 with Deweycheatumnhowe. That is just over $1 million in purse earnings in his first three Hambletonian drives — making him the only driver with this accomplishment.
Jimmy Takter was 39 in 1999 when his prized Moni Maker was named HOY for the second straight season — the last time any horse has repeated HOY honors.
John Campbell was 39 in 1994 when Cams Card Shark dominated-, setting a new earnings record along the way ($2.2 million plus). That record lasted six years until Gallo Blue Chip surpassed $2.4 million in 2000.
David Miller turned 39 in 2003, the year No Pan Intended won the pacing Triple Crown. Eighteen years later, no pacer has won the Triple Crown making it the longest drought in the history of the pacing Crown.
Stanley Dancer was 39 the first time he won with Nevele Pride, aged 2. That colt would record the single most magnificent freshman trotting season of all time going 26-for-29-and was aptly named HOY. He repeated in 1968 and 1969.
Brian Sears was 39 in 2007 when he won 2/3rds of the Triple Crown for pacers with Always A Virgin —the Cane and the Messenger. That colt went on to sire HOY Always B Miki.
Thank you, Anne Doolin
The sport of horse racing — and the world — lost one of its treasures recently with the passing of Anne Doolin. She worked with standardbreds, thoroughbreds, rescue outfits, with the less fortunate. Anne was front and center. Anne's breezy and welcoming presence were always on display. You might not have seen her come into the room, but you absolutely felt better knowing she was there.
I knew Anne well over 30 years. I am 99 per cent sure that she was simply incapable of raising her voice. Her quiet demeanor WAS her insistence — one of getting things done — very often for those in need of a helping hand.
Anne worked at the Meadowlands from 1989-1996 doing stories, interviews, backstretch meet and greets. She left for Kentucky, Scioto, thoroughbreds, all the time being one of us. Geography was of no concern to her mission.
Teaching and giving were a natural extension of who she was. She never thought she stood out. When she won the LeAnne Pooler Award in 2017 for outstanding service, she was somewhat confused. She was only doing what she was meant — and sent — to do.
It was the rare moment when you introduced Anne to someone that she didn't already know. Well traveled, well known and very well liked. You didn't forget Anne.
It was simply never about Anne. Yeah, she wrote that flyer you were looking at on the telephone pole, but it was always about lifting someone else up.
Anne supplied a lifetime of steady flowing good natured unassuming decency. Did she want you to adopt that dog? For sure. Could you help her with some background on this horseman? Oh yes.
If the person behind the spotlight ever shined it Anne's way, it was quickly adjusted to the real stars of the show. Many, many animals are alive today thanks to her efforts. Many of those in need of a break or a boost benefitted from her forever extended hand.
It was not unusual in the past 20 years for me to not see Anne for 18-24 months at a time, but when you bumped into her at a horse sale or awards dinner — maybe a big race night — you just picked right up.
She made everyone's life a little bit better. No need for a curtain call either. Anne, you're still very much with us.