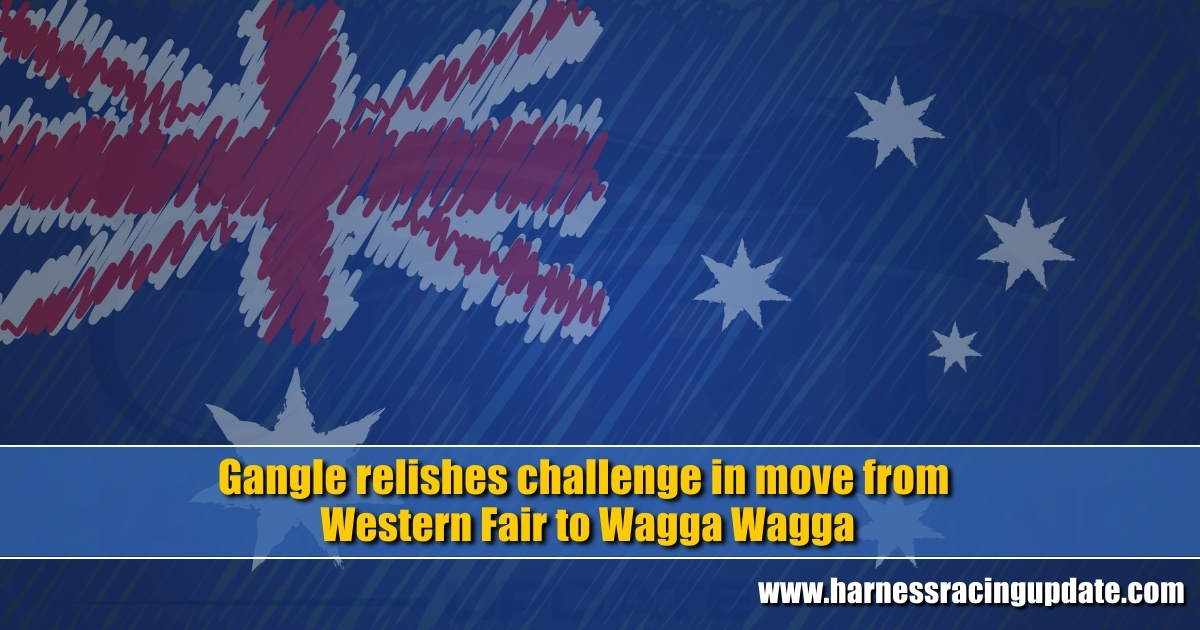 Gangle relishes challenge in move from Western Fair to Wagga Wagga
The former Raceway Manager at The Raceway at The Western Fair District spoke at length about the grand opportunity to become the CEO of Wagga Wagga Harness Racing Club in Australia.
by Dave Briggs
Greg Gangle said moving from Canada to the other side of the world to become CEO of Wagga Wagga Harness Racing Club in Australia is both a personal and professional challenge.
The 34-year-old Ontario native has already landed in Australia, but before he left Canada he spoke at length about leaving behind his position as raceway manager of The Raceway at The Western Fair District.
"The growth at Western Fair is only going to take you so far and I felt like this was a big stepping stone to my career, because I'm going to be the CEO there," he said. "It's really going to elevate me and I hope I can have an impact down there. I'm really looking forward to the challenge – the culture of how they race, the distance racing, their style of racing, how they conduct their business with the industry, the economy… a lot of it is different.
"They've got the fixed odds wagering. They seem to be ahead, I would say, of North America.
"I could give you a zillion examples and a great one is that if the first race is 3:05, scheduled on Sky Racing 1, if you're delayed you're going to get bumped to Sky Racing 2, so you have your allocated time and there's no post time drag or anything like that. That's a great way to make sure everybody gets maximum exposure."
Wagga Wagga, Australia is an inland town with a population of some 70,000 right in the middle of The Riverina agricultural region in New South Wales.
Gangle said the track plays host to a single card of racing a week, year round.
"There's about six other tracks within close proximity as well. It's a major breeding hub. Yirribee Stud is down there and they've got Lazarus and Warrawee Needy, so it's a big breeding destination, which attracts me as well because I enjoy that."
Gangle's wife, Anna, is an Aussie native whose brother and sister work at the country's biggest harness track, Menangle Park near Sydney, about four hours east of Wagga Wagga.
"Anna's family, her brother and sister, are at Menangle Park and Anna's mom is in Victoria (about 500 kilometres west of Wagga Wagga), so we're right in the middle, four hours either way."
Greg and Anna have two young daughters, Taylor and Shanelle — ages 6 and 3 — that the couple think can benefit from the experience living in another country.
But, mostly, Greg said the move is about personal and career development.
Greg started working at The Raceway in 2016 as the assistant manager after several years working at the Woodbine Entertainment Group (WEG) for both the broadcast and communications divisions. Prior to that, worked for Harold Howe at the Harness Edge magazine.
"I want to keep growing. I'm 34 and I'm young enough to do it. My kids are young enough where I can move them to the other side of the world. Anna and I have talked about it the last couple of years about making a change. I just didn't want to look back in five years and say, 'Coulda, woulda, shoulda.'"
Greg said he and Anna will keep and rent out their house in Port Stanley, ON in case they don't like their Australian adventure and want to move back to Canada.
He is also planning to keep his three broodmares and partial ownership of Ontario-based stallion Sunfire Blue Chip that he shares with Eric Cherry's Let It Ride Stables. Sunfire Blue Chip stands at Mac Lilley Farms.
"So, I'm still invested (in Ontario)," Greg said, "but it's very difficult to make a living racing at the smaller tracks and that needs to be increased."
Greg said he's visited Australia a few times, but has never been to Wagga Wagga specifically.
"I'm not going in blind," he said. "I know what I'm getting myself into and what the housing is like. I know what the economy is like and I know what taxes are like. It will be an adjustment. I'm fortunate enough to have my immigration in order and my partner visa with Anna, so it's pretty much full steam ahead. It was a difficult decision. It really was because it's not like you're just leaving one track for the next in North America or Canada, this is the other side of the world. So, we had to factor in many different things.
"I just didn't want to look back and say, 'Why didn't we do this or that.?' Just take the plunge. If it was 10 years later, it probably wouldn't have happened. My oldest daughter would've been 16 at that time, but she's six now.
"Also, they don't know what a snow shovel is or snow tires," Greg said. "Imagine that?"