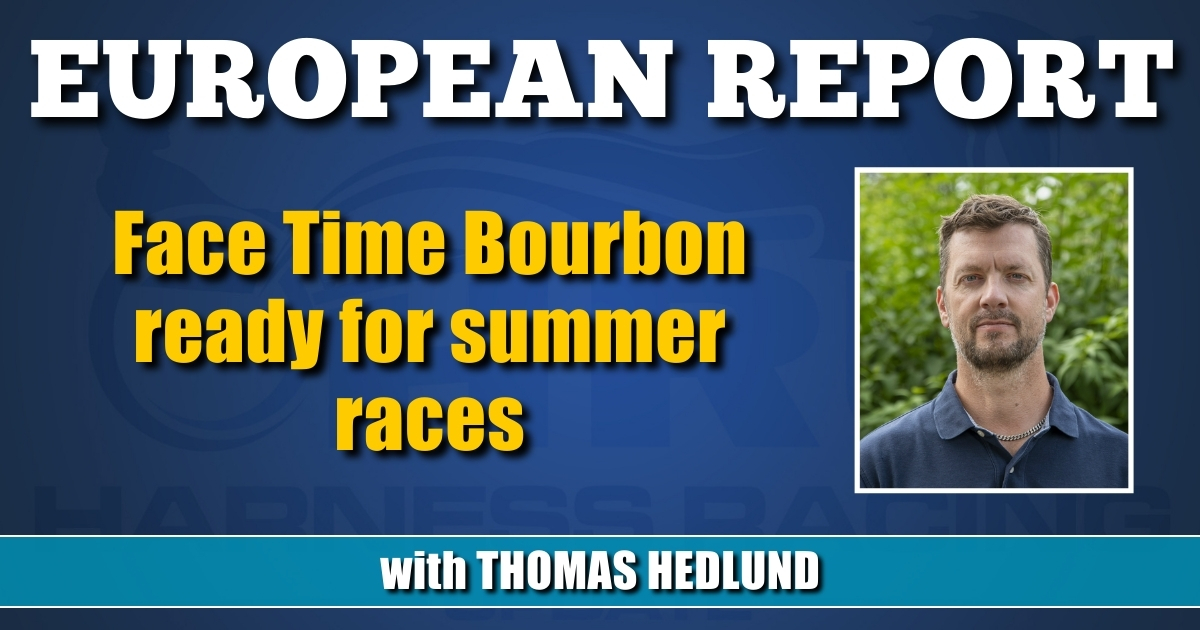 Face Time Bourbon ready for summer races
by Thomas Hedlund
Double Prix d'Amérique winner Face Time Bourbon (Ready Cash) hasn't been seen in the race programs since March 6, when he won $235,000 Prix de Selection at Vincennes, but today (June 27), the 6-year-old superstar makes his comeback in $203,000 Prix Rene Balliere over 1.3 miles at Vincennes.
And it seems like European harness racing fans will get opportunities to see Sébastien Guarato's top trotter in several races during this summer. The horse's owner Antonio Somma announced on Friday afternoon (June 27) that Face Time Bourbon will travel to Finland and $160,000 St-Michel-ajo in Mikkeli on July 18.
Vincennes' race card today is sharp with several high staked races where Prix Rene Balliere is the highlight from the sport's eyes point of view.
Beside Prix Rene Balliere, the 3-year-old monté trotters will fight in $203,000 Prix d'Essai, the 4-year-old monté horses meet in $235,000 Prix President Republique and the 3-year-olds will face a battle in $203,000 Prix Albert Viel.
Prix Rene Balliere 2021
2.100 meters (Autostart, car)
PP. Horse – Driver
1. Dreammoko – Antoine Lherete
2. Violetto Jet – Franck Nivard
3. Detroit Castelets – David Thomain
4. Express Jet – Adrien Lamy
5. Face Time Bourbon – Eric Raffin
6. Chica de Joudes – Alain Laurent
7. Davidson du Pont – Jean-Michel Bazire
8. Valokaja Hindö – Nicolas Bazire
9. Etonnant – Anthony Barrier
10. Go On Boy – Romain Derieux
Milligan's School's time is now
Midsummer in Sweden means traditionally Breeders Crown races in small town of Rättvik and in connection to four divisions of Breeders Crown, an open trot for older horses is offered at the track. Even with a relatively small purse in the $23,500 Midsommarloppet, the race became spectacular with an outstanding performance from American-bred Milligan's School, trained by Stefan Melander.
Driven by Ulf Eriksson, Milligan's School got parked outside of leader Nadal Broline and the pace was set high throughout the race. When the field reached the first kilometer (5/8ths of a mile), the clock showed a mile rate time of 1:53.2. One lap, one kilometer remained at that point and outside trotter Milligan's School just danced away and cruised to the lead in the last turn. With several lengths advantage at the top of the stretch, Eriksson noted that he and his horse had everything under control and when the duo hit the wire in a mile rate of 1:53.3, it was clear that Milligan's School had, probably, made the best performance of his life (replay here). The purse was pretty low, but races can still be something extra to watch, which definitely was the case on Saturday afternoon in Rättvik. Milligan's School claimed his third consecutive win in Midsommarloppet and it's obvious that the 8-year-old Yankee Glide son loves Midsummer holiday and Rättvik.
Winners in the four $26,000 Breeders Crown divisions were:
Winner (Pedigree) – mile rate over 1.3 miles
3-year-old colts and geldings:
Highway To Hill (Muscle Hill-Beatgoeson Hanover) – 1:59.2
3-year-old fillies:
Breeze (Broad Bahn-East Zenda) – 1:59
4-year-old colts and geldings:
Chiru (Muscle Hill-Pantholops) – 1:55.4
4-year-old mares:
Global Brilliance (S.J.'s Caviar – Pledge Allegiance) – 1:57.4