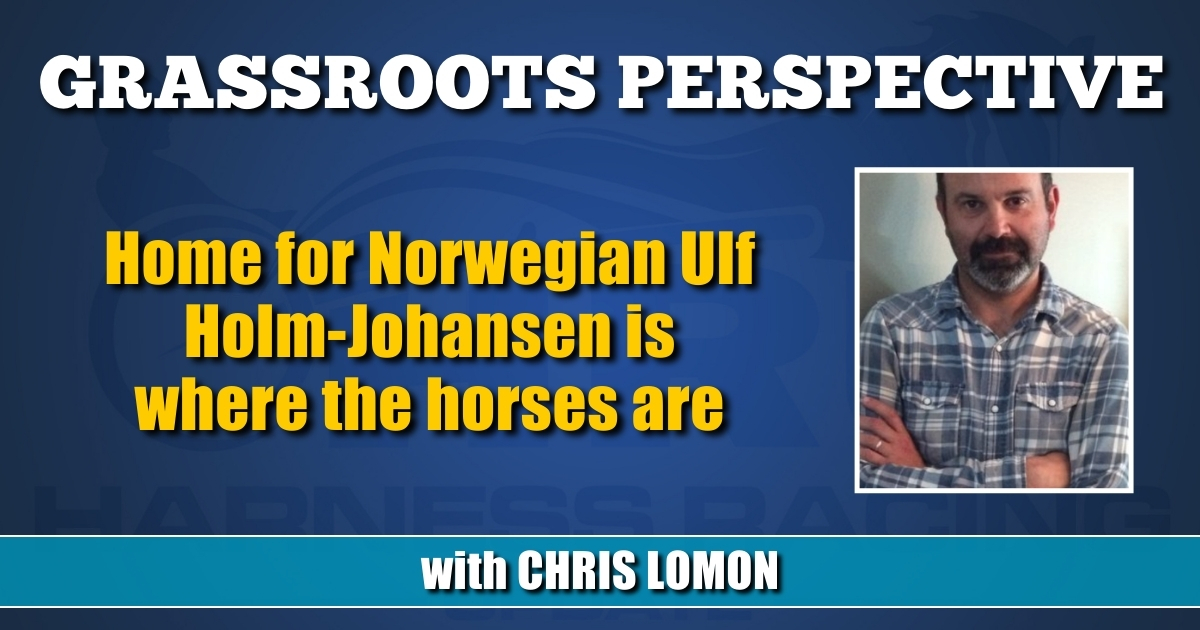 Home for Norwegian Ulf Holm-Johansen is where the horses are
by Chris Lomon
The places, faces and races have all changed, but Ulf Holm-Johansen's love of all things standardbred racing has very much stayed the same.
He has seen the sport as few others have, a horseman who developed an affinity for horses and horse racing during the 1950s in his native Norway.
"I would go to the racetrack with my older brother back in the 1950s. My brother built a hobbyhorse farm, which was difficult because only five to six per cent of Norway is tillable land, but the rest is lakes and rocks. I was a student in the 1960s and finished my Master's degree in the U.S., but whatever I was doing, I always had an enjoyment of horses and the racing itself."
During his time in the U.S., Holm-Johansen wrote letters to several horsemen looking for a broodmare. Delvin Miller, an icon in standardbred racing, responded to Holm-Johansen.
"He was a very kind man, a gentleman. He had a mare who was blind in one eye, but I took a chance and bought her. Her name was Tarport Sis, who was by a trotter named Pompano Flash, out of Florican. So, I brought her to Norway in 1974, along with my wife and son, and she had eight foals. I kept some but all of them raced. I also took a teaching job in Halden, a Norwegian city near the Swedish border."
Living in Halden had its privileges, including proximity to a plethora of Scandinavian racetracks.
Holm-Johansen was a frequent visitor to them all, as a trainer, owner and fan.
"I had access to six Norwegian racetracks and three in Sweden. I could go to all of them and still sleep in my own bed. The distance travelling between the countries is quite short. There were times when I would get home around two in the morning, but I was very lucky to be able to go to so many racetracks without having to drive too far."
After 35 years in Norway, Holm-Johansen sold the two horses he had in his native land, and along with his family, headed to the U.S. — Minneapolis, specifically — in 2008, where he has rekindled his connection with horse racing.
"It was serendipity that Running Aces opened in 2008. I went there in 2009 to help the Jensen family, who are horsepeople from Iowa. One year later, I saw this filly by the name of Candy Is Dandy. She is by Revenue, who I used to watch race in Europe and I really liked him. Her dam was Dandy Hanover, so she was very well bred. The people that owned her wanted to sell her, so I bought her. I figured if it didn't work out racing, I could always breed her. She was very small, but her foals have been excellent. One of them, a colt called Liquorskwikker, was a 2-year-old champion."
Holm-Johansen doesn't have the same number of horses he once did, but the 79-year-old, now retired, is still enjoying plenty of success at Running Aces.
At first blush, the win totals and earnings are modest by comparison to his contemporaries, but that hardly provides an accurate barometer of Holm-Johansen's training talents.
A lifetime UTRS of .319, a win average hovering around 19 per cent and a top-three average of 49 per cent, presents a much clearer picture of his abundant abilities.
It's even more impressive considering how Holm-Johansen views his racing participation.
"I'm in this for the hobby. I don't make a living out of doing this. I like to have them prepared with the goal of finishing in the money. What I'm doing is trying to have fun."
And he most certainly is.
"I really am. I don't want it to ever be a chore. I love the horses and the horse always comes first. The horse comes first, the sport is second, and then it is money."
Horses such as SB Madam Secretary keep Holm-Johansen happy.
A 4-year-old trotting daughter of Tom Ridge, SB Madam Secretary, bred by Deborah Hofsaess, who co-owns with Holm-Johansen's wife, Susan, is his current stable star.
In 28 career starts, the bay has six wins, six seconds and five thirds, along with nearly $65,000 in earnings, and a beaten time of 1:56.3 when she was three.
"She's not big, but she has such a sturdy body. She's also very consistent. Last year, she won four races in 14 starts. She finished second in her first start [July 2, 2019, at Running Aces] and just missed winning."
It's horses like SB Madam Secretary, and pacer Rojo Caliente, who is competing the open fillies and mares at Running Aces, that make the hard work and long hours worthwhile.
Cleaning stalls, bandaging, feeding – Holm-Johansen does it all with the help of his wife.
Operating a small operation – he currently trains four – comes with a laundry list of challenges, but Holm-Johansen is very much in his happy place when he's around horses.
"My wife, she retired a few years ago, so she helps me out. We work well together and we both enjoy it."
Holm-Johansen, who played soccer, hockey, and was an amateur boxer during his days in Norway, still heads to the gym on a regular basis.
Those visits keep him in shape for his longstanding sport of choice.
"It's a good hobby. It tires you out, it's not cheap, and you have to take chances, but my wife and I really enjoy it. We had a house in Minneapolis, which is about a 45-minute drive from Running Aces. What we did last year was sell the house and bought a townhouse five minutes from the racetrack. I want to focus on the meet here. I'm too old to get on the road and do all sorts of traveling."
Home, for Holm-Johansen, will always be where the horses are.
"I'm very happy to still have them in my life. I feel very blessed."