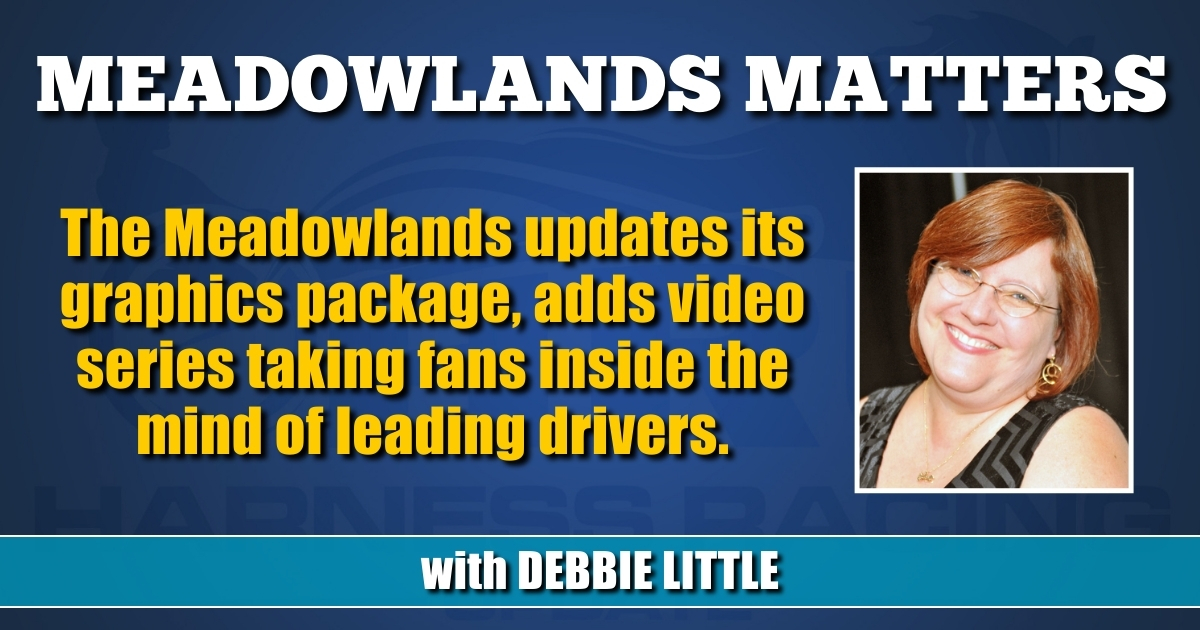 The Meadowlands updates its graphics package, adds video series taking fans inside the mind of leading drivers.
by Debbie Little
New graphics, and an informative video series keep The Meadowlands on the cutting edge.
Big M director of TV, Oz Colon, was tasked by chief operating officer/general manager Jason Settlemoir with updating their graphics package, which had been in place since 2013.
The new package with a bright, Broadway-marquee feel, debuted on May 28 and pays homage to the early days of The Meadowlands while still demonstrating a cool, current vibe.
"The old Meadowlands used to be blue and yellow back in the day, so I tried to bring it back to that color," said Colon, who as a child remembers seeing those colors on a track program.
A detail-oriented Colon wanted his vision to be appealing to the masses, so once he arrived on a color scheme, he showed the three finalists to Settlemoir and about a half-dozen co-workers, ranging in age from their 20s to their 50s.
"My thing is this, if you have something that's vibrant and pops out, people are going to look at it more and maybe wager more," said Colon. "You want the people to know where your signal is automatically so if it pops, they can say that's The Meadowlands. And it differentiates it from everybody else that's up on the screen."
In addition to the graphics, The Meadowlands simulcast show also features the new video series "Inside The Driver's Mind."
The series came about as a result of the recently-concluded Meadowlands' task force.
"While we were on the [task force] calls and I'm listening to the exchange, it occurred to me that maybe we are guilty of under-informing our customers, particularly the new ones," said Meadowlands director and administrator of stake races Nick Salvi. "So, I brought it up to Jason. I said to him I think it would be beneficial if we just took a few of the guys and let them expound on the things that we take for granted because we are exposed to it all the time and we've seen so many races."
Salvi picked the six topics and the drivers he thought would best explain each one and had Meadowlands racing and simulcast manager Andrew "Shades" Demsky serve as videographer and editor.
"I threw together the animation Inside The Driver's Mind, [Salvi] saw it, he loved it and we kind of rolled with it from there," said Demsky. "I really think it's something that doesn't necessarily exist, yet. I like to try to do content that's new and fresh in harness racing. As much as we want to believe it could be geared towards a casual fan, I think a lot of those videos, the end product, was more for the horse player so they can get a sense of what they think they're seeing versus what the driver's actually doing."
The drivers and topics for the videos are:
Scott Zeron — Preparation for racing
Tim Tetrick — Posture in the sulky
Yannick Gingras — The importance of being forwardly placed
Andy McCarthy — Strategy, covered or uncovered
Dexter Dunn — Positioning strategy early in the race
Andy Miller — Steering the horse
"Yannick is always leaving the gate and putting his horses into position so he seemed logical for that," said Salvi. "Zeron is a real preparation guy, because I know Scott puts in a lot of effort and work and thinking before the race actually begins."
The videos are a combination of driver explanations and race footage showing what they're talking about.
"It was really great to do, to give any type of insight, because a gambler might not know how we look at races," said Zeron. "For The Meadowlands to have that transparency was great. Hopefully, it was informative enough."
Zeron has only watched a few of the videos, but felt that Tetrick talking about posture in the sulky was very important.
"What I hear from non-educated people that are just friends that go to the racetrack, is it looks like everybody is slowing their horse down leaning back like that because it looks like we're pulling them back," said Zeron. "And Timmy explained exactly the way he does it, which is his comfort thing of leaning back and aerodynamics but also, he likes to keep the bit in their mouth to trick them into doing it without knowing they're overexerting. So, he described it really well.
"I think you can't give the bettors enough and what I know about these drivers is nobody is opposed to doing interviews and giving this information. So, if you utilize drivers and trainers more often the transparency thing is much easier."
It was important to Salvi and Demsky to keep the edited videos at 90 seconds or less to make sure the people watching didn't lose interest.
"Some of the things that compelled me to make my choices were what was being discussed on the task force and one of those things are horses drifting out in the stretch allowing others to pass inside," said Salvi. "And I know from my background racing horses that they don't always just go straight just because you want them to. So, we wanted to address that and we asked Andy Miller to talk about that."
Miller's video is currently being edited and is expected to start running shortly.
In addition to being shown on the nightly simulcast show, the videos are on the track's YouTube channel as well as other social media platforms.
According to Settlemoir, the graphics and videos have received very positive feedback from The Meadowlands' fans, who are not afraid to share their opinions.
YOU MAKE THE CALL
If you think you've got what it takes to call a race, here's your chance.
The Big M will play host to a race announcer workshop taught by the voice of The Meadowlands, Ken Warkentin, on Saturday, July 10.
There is a $25 fee, which will be donated to the Harness Horse Youth Foundation and the class size is limited to 30.
For more information or to sign up, contact Matt Zuccarello at 516-314-0478 or mzuccarello25@gmail.com.