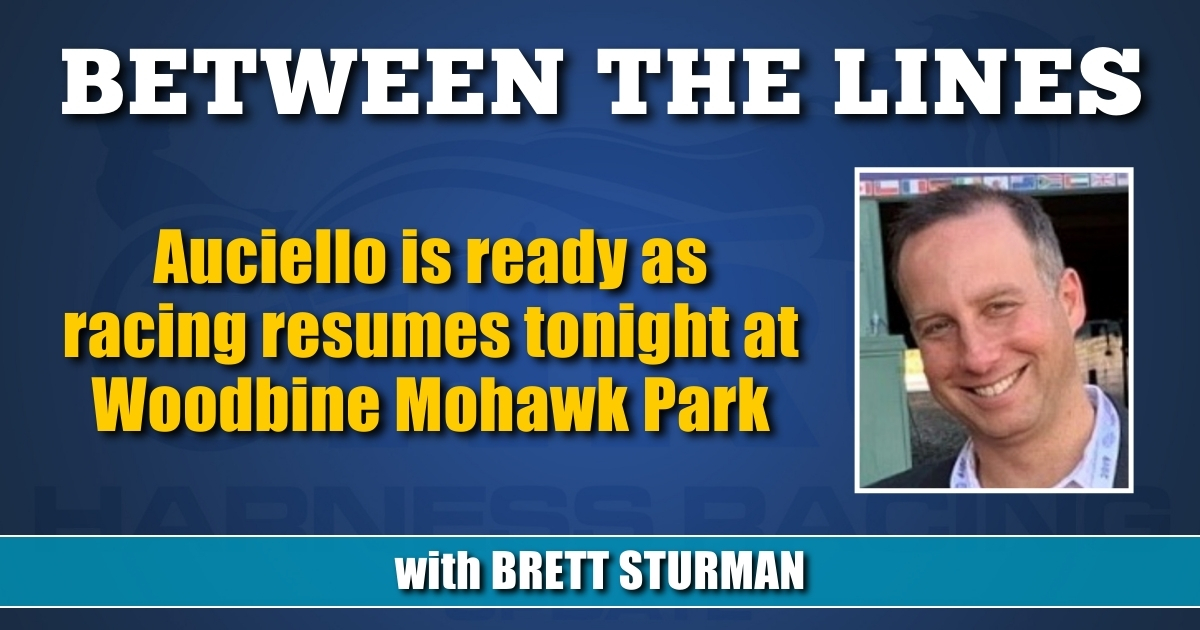 Auciello is ready as racing resumes tonight at Woodbine Mohawk Park
by Brett Sturman
For the first time since April 2, live harness racing will be conducted at Woodbine Mohawk Park tonight, (June 11). The latest emergency brake imposed by the Government of Ontario as a necessity to combat COVID-19 caused racing to be suspended for nearly two-and-a-half months. Prior to the middle of February, there was another preceding two months of lockdown throughout Ontario, so all told, live harness racing at Woodbine Mohawk Park and elsewhere across the province have only raced for about six weeks this entire year.
This time, the resumption of racing should be permanent. All the top Canadian drivers who ventured to the U.S. during the most recent lockdown are back for the Mohawk card this weekend. That includes Doug McNair who became an increasingly live driver at a series of east coast tracks including the Meadowlands, as well as drivers such as Jody Jamieson, Louis-Philippe Roy, Bob McClure, and others. The top conditioners have loaded up the entry box as expected also, and that includes trainer Carmen Auciello who has six horses in-to-go Friday; two of which are in the feature.
In addition to his entries at Mohawk throughout the weekend, some Auciello horses who had been racing in the U.S. will also continue to race at Yonkers, The Meadowlands and at Pocono Downs. Others have been shipped back to Ontario and are ready to resume racing there.
"I try to cater to my owners," said Auciello. Most of my owners are Canadian and they're up here and they like having their horses race here for the most part. So, I brought back a few that are racing this weekend like Majestic Virgin, Trafalgar, Points North, Go West Go Fast, Need Arocket, while some are going to stay (in the U.S.) for the time being. I think it's a bit of both. If they're doing well down there I'd like to try to keep at least 15 or 20 horses there. Some of the horses I've brought home, but I did leave 14 down there right now which is a good number. I've got three employees there and that's enough to keep everything rolling."
Traditionally, Auciello has been hands-on between his barn in Canada and his U.S. contingency, but the pandemic has presented what seems like never-ending challenges.
"Before COVID-19 hit I used to come down once a month for 3-4 days, and it just gave me the ability to sit behind a horse, sit behind any new ones we might have got and feel them out, see where they're at, make some adjustments with equipment, vet work, shoeing, etc., and I couldn't do that," he said. "When COVID-19 hit I hadn't gone (to the U.S.) since February 2020 until April of this year, which made things tough. Since the end of April, though, I've spent six weeks helping out as much as I could down there and we've had a good run. We had 25 horses racing for the most part of the six weeks. And now that I'm gone, an easier number to maintain there is 14 or 15. I have my stable (in Ontario) back to where it usually is between 60 and 70."
It was certainly beneficial for Auciello and his team that they were able to maintain some degree of normalcy for the horses that were able to come down and race in the States. But more problematic were the horses that remained in training in Canada that weren't racing. It was a conundrum that Auciello described as a tough situation.
"It's tough because, on one hand, I'm trying to keep the owners' bills down as much as possible and giving them breaks as much as I can. But on the other hand, I'm trying to keep them in shape and keep them trained up, going good miles once a week so that once we are ready to start, they're going to be ready to fire. It was tricky balancing that because I didn't want to have to lay any people off and try to keep everybody that could work employed. But it's hard to pay everybody and do everything if you're not charging full bills on the horses.
"I've lost a ton of money over this past year and a half with all these shutdowns but those are the sacrifices I've had to make just to try to keep the barn full. Because if you don't help the owners and they can't afford it then everybody's in trouble. I've done the best I can and just hope that as we start racing, we can all make some money again."
With six horses entered for tonight at Mohawk and another eight on Saturday, Auciello likes his chances to start fast, just as he did when racing resumed from the last shutdown.
"I can say pretty confidently that everything I have on Friday and Saturday are ready to go. All of them would have either had a qualifier or have been racing in the U.S. I trained all my Friday entries Wednesday and they were all really good, so I think Friday is going to be a really good night. And Saturday, it's similar in that the ones that I have in all qualified last week and a couple of them are coming back up from the US. The couple that I trained this week were really good. I think they're all in pretty good spots too, where they look like they can be competitive."
As racing is about to pick back up, Auciello finds himself neck and neck with trainer Richard Moreau atop the trainer standings at Woodbine Mohawk Park. The two powerhouse stables are easily 1-2 in starts, wins and purses, where Moreau leads the way with 28 wins compared to Auciello's 24. Asked whether he thinks he can contend for the top spot as the season goes on, Auciello said, "I think so. I think this is my year. I have a lot of nice horses and a lot of good clients that are willing to invest money. It's hard to find good horses right now, though. We're still looking for a couple more top-end horses, they're just hard to find. Richard (Moreau) seems to have that turnover. He seems to have a lot fresher horses coming in and out than I do. But my goal is just to at least get to where he is, if not surpass him. I'm pretty confident that it's going to be a good race. I got off to a really good start in February and I think I was ahead of him for a while but then he bounced back. But Richard and I are good friends; we get along really well. It's always a kind of friendly competition. I want to kick his ass and he wants to kick my ass; it makes things interesting."