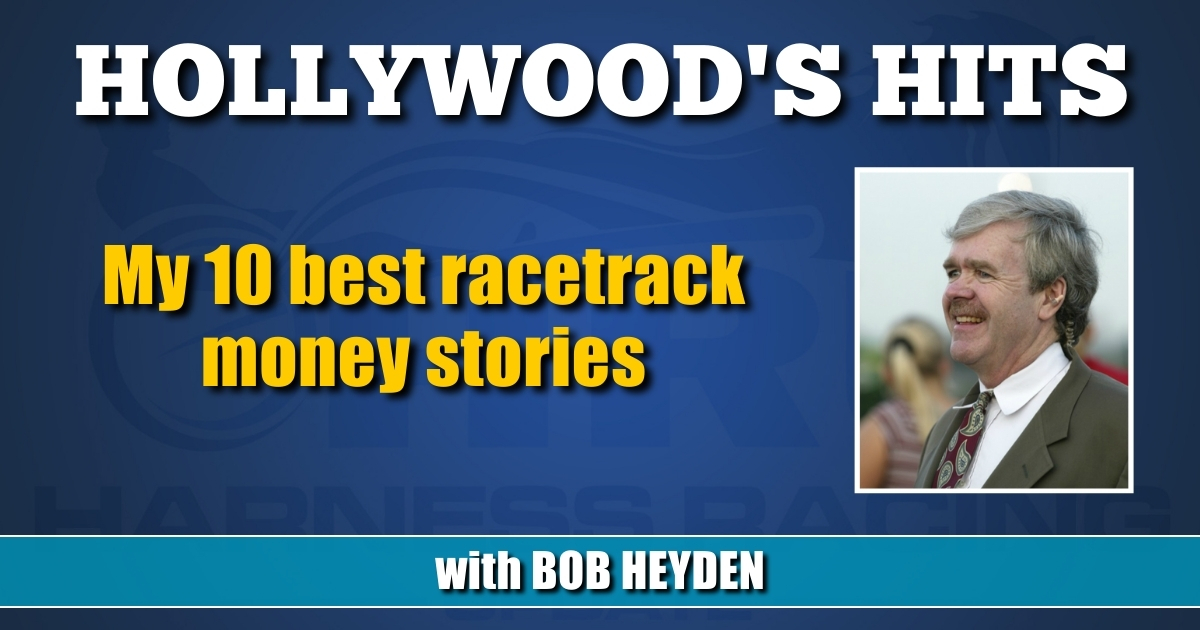 My 10 best racetrack money stories
by Bob Heyden
If you have been around a while, no doubt you will have stories from the track. There are Damon Runyon-esque characters everywhere. Here's a peak at my top 10 stories from my college days at Rutgers (while the Meadowlands was under construction) to today.
10. One of the regulars in Pegasus was a boxing promoter. He always sought out opinions never having much of a clue himself. But that was okay. He was a decent enough guy. One day in the spring of 1989, he goes in on a Pick 6 carryover at Garden State Park that wound up with a final pool of $106,000. He had six partners. (I wasn't in). They catch it for $17,000+ each. The guy who organized the pool also made all the picks. Everyone couldn't peel off $500 or $1,000 each for him fast enough. When it came the boxing promoters' turn, he did not tip. When asked why he said, "I will, once I make a HIT!"
9. Rutgers in 1977 or 1978 in my last or next-to-last year there. Three of us made the trip to the Meadowlands, but we missed the first half of the card. It came time for the last race and the lines were outrageous – 30-35 deep. So we all got on a different line with plenty of time to talk about it. We narrowed down to four horses, two of them longer shots. Norman Dauplaise was driving one of them for sure. Back and forth and back and forth. I had about $26-$27 on me. The other guys the same. We kicked around the idea of a four-horse box in the trifecta — $8 each — but it died on the vine. We all wound up making our own bets — win and place with a couple exactas. Everybody won between $80-$150 or so. Oh, the trifecta box we didn't play $27,000 with Stomin' Norman on top.
8. This wasn't so much a betting story, but one of deluding the bettors' money. It was around 2006 and Sam McKee and I were broadcasting from the Meadowlands Clubhouse. A well-dressed guy was talking to Sam a time or two and at the end of the night showed him something on his dinner bill. Not demonstrative, just kind of pointing it out. A few minutes later I asked Sam what it was, because Sam had gotten up to see someone about it. It was a $450 dinner tab with a $50 cake cutting charge. Thankfully, Sam had it erased.
7. Heroic Hanover and Shelly Goudreau at the Meadowlands in the spring of 1981 Meadowlands. The horse had been having some bad luck-and the Meadowlands crowd at that point did not know how supremely talented Goudreau was. So I stepped up and bet him one week, not fazed by the 12-1 morning line. Working in the restaurant business at the time, I had a handful of $5 and $10 bills that I bet to win and place. He won $66. When I went to cash — at two different windows — the second time I had three piles, trying to keep things separate. The clerk was obviously not preparing for me to tip him, which I did — I think $40 or so. The millisecond I handed him the $40 he insisted on 'recounting' the piles and — shocker alert — two of them were short and he 'fixed' them.
6. Clubhouse level circa 2008. Ken Warkentin and I are on the set. Fifteen minutes or so to post and a guy is approaching the set. The word "creepy" came to mind immediately. "Oh, no," I said to Ken and he said pretty much the same. The man asked me for a couple of picks and I figured the best way to deal with this was to give him a couple of clunkers and that would be that. I did. The first one finished seventh. A few races later the second one I gave him hangs on by a nose-at $20.60! Now I know this guy has to return at some point. An hour goes by, nothing. Ninety minutes, nada. Finally, with a couple of races left on the card, he resurfaces. Slowly he approaches the desk as if he is figuring out on the fly what to do. He doesn't want any more picks it appears. He pulls up next to where I'm sitting and says, right before quickly exiting, "He didn't win by much!"
5. In the spring of 2004 or 2005 during Sunday afternoon racing at the Meadowlands, I did some pre-game work and was heading to the paddock afterwards. I saw a young lady I knew working the concession stand. I look at the program again, find my best pick and get her a $5 win ticket. I hand it to her and then go to the paddock for a couple of hours. The horse wins $11.60. I pass her stand on the return trip and she waves me over. "This horse won right?" she asked. "Yes, it did" I answered. "How much is the ticket worth?" she asked? "About $29," I responded to which she answered, "that's all?"
4. In 1974 at Yonkers, I was working at Scholastic Magazines in Englewood Cliffs, NJ in my last year in high school. Three or four of us from work headed over to Yonkers on a midweek night. Joe was making his first ever racetrack visit. Joe was known to throw one or two back every now and then, so when we pulled into the parking lot, he said, "Is this the Big A?" So you kind of get an idea of who I was with. Race one in those days a $3 triple ticket was the minimum at Yonkers. Jack Richardson won the opener with a good-priced horse. There was a tight photo for third. Joe's ticket goes on the ground. But because he had never been there to any track before I felt I better double check. Sure enough, he's involved in the photo. He wins it and a $897 trifecta which is just under the tax threshold. We go with him to cash and he refuses to play another race and spends the rest of the night on the beer line.
3. A photographer in the 1980s was pretty friendly with most of us in the Meadowlands press box. He would on occasion have us put a bet in for him. $5 here… $10 win there. It was one of those scenarios where he pays you when he sees you again — maybe. But pretty harmless. What's a week or a month or two among friends? It was about two years of this. Not much of an issue really. One Friday night he wants $10 to win and place on a horse that does win and pays $17 or so. Guess who was sitting there the very next morning at 9:15 for qualifiers?
2. Joe the Milkman. In the late 1980s or so during the fall thoroughbred meet at the Meadowlands, Joe called one September evening and asked if I can put in two $20 early daily doubles for him. I said yes. He'll see me later. One of them rolls in at $134. That is $1,340 minus my $40 outlay so he just picked up $1,300. He shows up an hour later and gets his money. Not a penny my way. Zippo. But to be honest I didn't think too much about that at the time. All of a sudden he is bringing in women and showing them around the press box. Never even looking my way. A month goes by. Joe again. He asks me to place two $20 doubles. They both lose. He owes me $40. He does not show up that night or any night for the rest of the meet. Four years go by… no joke. I am walking in the Paramus. NJ mall on Route 4 one day and Joe is heading right towards me. He reaches in, takes out $40 and says, "I've been trying to call you."
1.I remember the winter of 1990 like it was yesterday. The initials of the mutuel clerk in question were MM. I will leave it at that. I used to see him in the halls down near the offices once a week or so for years. In those days we were racing at the Meadowlands six days a week. He would often shout out to me, "Bobby, who do you like?" "Bobby what do you have for me? For 18 months or so I would occasionally shout something back. Some were good picks, some stunk and his bottom line could have been up $400 or down $500. I don't know. But it was negligible. One night, I know it was a Wednesday because the Trendsetter series had a bunch of divisions that night. For reasons which to this day 31 years later I still don't understand, I pulled him aside and circled 5-6 races for him. Bombs in three of the races. Well, everything rolls in. The daily double I told him to backwheel was $260. One of the second tier horses I told him was a must-use was second at 70-1. Unbelievable night. I did well myself. I don't see MM the next day or the next few days after. A week goes by. Nothing. But I know where his window is on the Paddock Level, so I wander by there. He's not there. In those days mutuel clerks often worked the very same window. I asked the guy at the next window where MM was. "He's on vacation" Oh. "A planned vacation?" I asked. "No, just all of a sudden-like". Oh, really. This can't be, I thought. The next night I went down and asked the same guy where MM went to. "Hawaii," was answer I got. "Isn't he supposed to be back? It's been 8-9 days." "He called to say he's staying an extra week." I don't say a word. Five or six days later I am in publicity before the races and in those days there was only a small glass hole to look through to see inside. It's MM. Tanned and ready. This is January remember. He's calling me outside the office, waving me out. I go out and he says, and I quote, especially since these were THE last words we ever spoke to each other, "Bobby, I need a horse!"