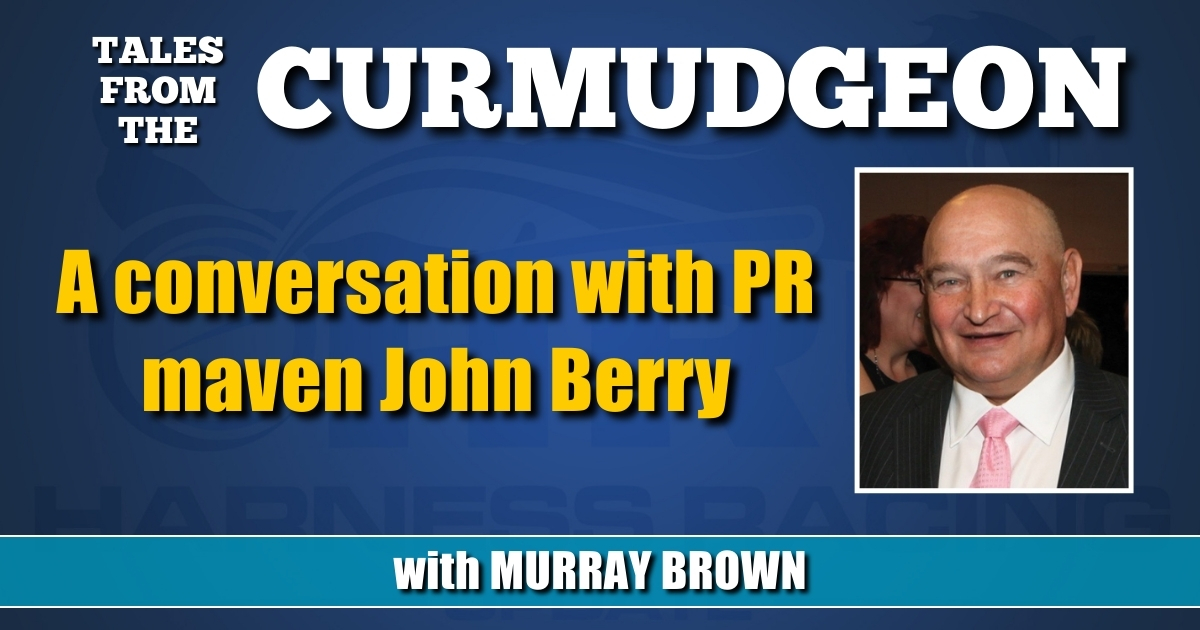 A conversation with PR maven John Berry
by Murray Brown
I have been fortunate enough to interview persons in just about every phase of harness racing. They include breeders, trainers, drivers, owners, gamblers, grooms and those from track management.
One area I've yet to touch upon — and one in which I, myself have been intimately involved — has been in the area of publicity and public relations.
My good friend Wally Hennessey called me a few weeks ago and suggested that I write a column about his good friend — and the good friend of just about everybody who knows him — John Berry.
John, who is known to be quite humble in his involvement in our sport has a long history going back to his first writing some 57 years ago. He has been involved in publicity, public relations and just about every other facet of promoting our sport — almost, but not quite as long as yours truly. He said that rather than admitting to our true ages of 78 and just about 80, we should convert them to Celsius which would come to 25 and 26. As for me, I'm okay with that.
How did John Berry become involved in the sport that was to become his life's destiny? On Aug. 22, 1959, he was at the Bryn Mawr Bowling Alley in Chicago. He describes himself as a pretty good bowler. He was Illinois State Singles Champion in 1970. On that August day, he bowled a three-game series of 774 and won $15.
He thought he was walking in pretty high cotton. He was just a kid and winning $15 bucks was a pretty good payday.
He was approached by a man named Luke who told him that he owed him. He said that he had made a pretty good wager on Berry and felt that he should share some of the gains with him. Berry felt awkward about taking the man's money and turned him down. Instead, Luke invited him out to dinner to which Berry was agreeable.
They went to a place that Berry had heard of, but had never been to. It was called Sportsman's Park. It seems that Luke was pretty well known there. He had a box near those of Gene Riegle, the Grahams, the Pletchers and many others. The feature race that night was the American National headlined by the great Senator Frost driven and trained by Dick Buxton. Berry bet his $15 on him and he won — what Luke said he would do. John Berry was hooked. He instantly loved this sport called harness racing.
Something else that Luke told Berry was that in the very next race there was a young trotter who he thought could become even better than Senator Frost. That horse also won. His name was Su Mac Lad and he was trained and driven by John Peat.
That was the last race that Su Mac Lad had for his Illinois connections. Irving Berkemeyer was a prominent owner in the Stanley Dancer stable. His major occupation was as a funeral director. Somehow he had convinced Dancer's right hand man Dick Baker to go to Chicago to pick up a new hearse. While he was there, he asked Baker to look at this trotter that was for sale. Baker was also in attendance that evening. He liked what he saw and Mr. Berkemeyer bought Su Mac Lad for $35,000.
In his first start for Dancer, he unfortunately made a break. From that point forward he was at or near the top of trotting for the next five years.
While this was happening, John Berry became involved in the more mundane chores of everyday life, but his advocation had become the sport of harness racing. After completing school, he went to work in a brokerage house.
"I did alright, but I didn't like it. I just didn't have the right disposition to handle the ups and downs of it," Berry said.
From there, he became a salesman in a family-owned furniture business. As with the brokerage business, he did okay, but he didn't like it at all.
But this job had a hidden benefit. Two thirds of his territory included the states of Ohio, Illinois, Kentucky and Indiana. They all had harness tracks. That suited John just fine.
On his many sojourns to Sportsman's, Park, Berry met Don Stevens, one of the finest people he and I ever met. At the time, Stevens was employed at the track, but went on to become a prominent owner in the sport and, among other pursuits, a person at least partially responsible for the development of future Hall of Famers Tom Crouch and George Segal's interest in harness racing.
Stevens was involved in doing charity events which also coincided with the promotion of harness racing.
Berry took his cue from Stevens and began doing charity work at rehabilitation institutions, all on a voluntary basis.
He would assign a horse in a race to each of the patients. That would be that person's "drive" in the race.
He specifically recalls one event at the Johnston R Bowman Rehabilitation Center. One of the "drivers" was a stroke victim who had been unable to speak since her stroke six months before. Her horse won. Although extremely difficult, she spoke with great happiness for the first time since her life-altering episode. The feat rendered the doctors and nurses who were witness to it speechless.
Harry Porterfield, a well-known television personality on CBS in Chicago heard of the story. He was doing a show called "Someone you should know" and called upon John Berry to appear on it saying, "If this is what harness racing can do to make miracles, it's something that has to be told."
Don Stevens told Berry, "You need to get involved professionally in harness racing. You hate selling furniture and you love racing. That's what you need to be doing."
Stevens told him that he needed to go see Stan Bergstein. Berry did and was helped by Bergstein to get a job with the Illinois Harness Horseman's Association (IHHA), all the while continuing his charity gig with hospitals and rehab centers.
From IHHA, he became publicity director at Balmoral Park.
After a few years at Balmoral, Berry was offered a position with the New Jersey Standardbred Breeders and Owners Association. Among his several responsibilities at the NJSBOA, the one he was proudest of was helping in getting all the major races at the Meadowlands, Freehold and Garden State Park on the local Public Broadcasting System's channel. It began with a relatively small donation by the NJSBOA to the PBS station. A relationship was formed and it grew. Eventually, that became the genesis of the harness racing TV shows, proving once again that from little acorns, tall oaks can grow.
After three years with the SBOANJ, Berry was invited to join the United States Trotting Association (USTA) and worked with the northeastern tracks from an office in Freehold, NJ.
Eventually, the USTA wanted him to make a move to Columbus, OH
Berry saw that as a deterrent to serving the tracks with which he had become involved and wouldn't move.
"Ironically, I had just turned down an offer from the legendary Frank Defrancis to go work with him at Freestate Raceway because he needed me immediately. I felt that I couldn't leave USTA without giving adequate notice."
Berry has done announcing, morning lines, TV commentary, even some work in the race office at several tracks including Balmoral, Freehold, Garden State, Plainridge and Pompano.
He also was partially responsible, together with the late and sorely missed Bill Galvin, co-hosting the first Grand Circuit event on Canadian television live from The Red Mile.
Sometime in the interim, Berry decided to go to auctioneer's school. He has sold just about everything that there is to be sold from horses to domain names as an auctioneer. It was with the latter that he achieved his claim to fame as an auctioneer. He believes that it still is the largest price ever for a domain name. He was selling them at an event in the Venetian Hotel in Las Vegas. He sold the web name "sex.net" for the price of $450,000.
John, you've done a whole lot of things in this business of ours but you are best known, at least presently for your work at Pompano Park.
"I first came to Florida in 1986 to work at Pompano Park. I worked there from '86 through '88. I then went to work for Eric Cherry at his fledgling National Raceline. That was often my voice you might have heard while checking on race calls and race results. I came back to Pompano in 2004 and have been with them ever since."
Would you care to talk about some of the highlights of your years at racetracks?
"Two things come to mind. I was doing a live handicapping show at The Meadowlands one night and couldn't split two horses — the six and the seven. So I predicted a dead heat. It was a dead heat. I thought it was just like Babe Ruth calling his home run shot in 1932.
"One night at Pompano, we had a pop up series and the six entries were so evenly matched that I made the morning line 7-2 on all six — the first and only time in pari-mutuel history that this happened. So a nondescript race for four claimers got all the headlines. Mission accomplished."
Speaking to you about our sport and our breed, one cannot be helped but be impressed by your great love for them.
"I am a great history buff when it comes to the harness horse. I truly believe that they are the greatest of all equine breeds. Their combination of great looks, great ability and sound disposition is unequalled. Their greatest asset, perhaps more in the past, than today was their amazing stamina. Way back when, a standardbred actually raced a hundred miles. It wasn't unusual to see horses race into their twenties. Neither was it surprising for harness horses to race five heats or more in a single day."
If I asked you to pick just one favorite horse, who would it be?
"That's not an easy question. I've loved a lot of horses through the years. I suppose that if push came to shove it would probably be Albatross. He did some things, especially as a 2-year-old that no horse ever will do. He was an iron horse. He raced full seasons at 2, 3 and 4 without the slightest bit of unsoundness, at least none of which that I was aware.
"My favorite race of all time was the world record for slowest race set by the 3-year-old Scotsdam on March 17, 1962 at Maywood Park. Winter was in a war with spring with snow, sleet, rain and a freezing temperature. Scotsdam won the race in 3:38.3, the slowest pari-mutuel mile in history."
How about some of your favorite horsemen?
Curly Smart: "Curly was one of my early favorites. I first met him in 1961. He said to me, 'The next time you are in the area, look me up. We'll have lunch.' That's something that we did for several years. He was a truly delightful man. One time, I was on my way from Columbus to Cleveland. I somehow lost his phone number, so I called information. I asked the operator for the number of T. Wayne Smart. She answered, 'Oh, you mean Curly.' Everybody in Delaware or around there knew Curly."
Dave Magee: "I became friends with him before he became the star that he was destined to be. I told him what was coming, but in his mild, aw-shucks manner he told me he had a long way to go."
Any other horsemen in the Chicago area?
"Quite a few including but not limited to Walter 'Butch' Paisley, Del Insko, Bob Farrington, Bobby Williams and Dwayne Pletcher. I'd often jog horses for Gene Vallandinghsm."
How about horsemen in your Florida years?
"Of course, Wally Hennessey, also Peter Blood, Mickey McNichol and Lucien Fontaine. It's one darned shame and injustice that Loosh isn't in the Hall of Fame. I have to also give great praise to Tim Tetrick and David Miller who have come down here each of the last few years to drive in competition against each other. We've got two young drivers down here Braxton Boyd and Joe Chindano Jr who I believe will be heard from."
You've also been a fairly prolific writer through the years.
"I'm pretty sure it's that area that got me into the Communicator's Corner of the Hall of Fame at Goshen. I've written for numerous publications. I'm proud that I've won a national and four regional Hervey awards. You name a harness racing journal past or present in my lifetime and chances are that I've written for it."
Presently at Pompano you co-host the daily evening racing program with Gabe Prewitt.
"It's a great honor to share a microphone with Gabe. He's just fantastic. I know of nobody in the game that is any better. He knows the sport from just about every viewpoint possible. If our great sport has a future, I'm sure that Gabe will be a leading component of it."
You've had some serious health concerns for some time. Would you care to speak of them?
"I was diagnosed with polycystic kidney disease in 1988 and I am in stage 5 now. It's considered renal failure, but I have a good attitude about it and I still try to go full speed ahead. I am on the waiting list for an artificial kidney being developed by UCSF Medical Center."
Have a question or comment for The Curmudgeon? 

Reach him by email at: hofmurray@aol.com.