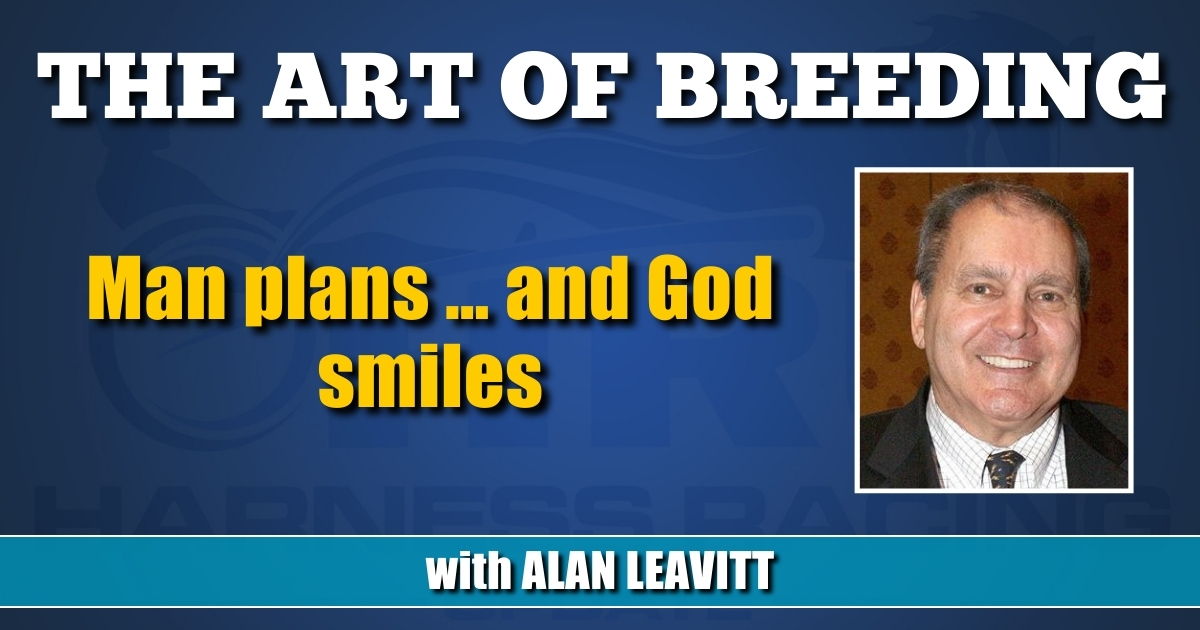 Man plans … and God smiles
by Alan Leavitt
It's safe to say that a certain amount of brain power is exercised every time a standardbred mating is planned, and the more valuable the horses involved, the more thought goes into the choice of mates. There are those of us who study pedigrees, genetics, epigenetics, etc., etc., and so forth before finally deciding on exactly who bred to whom will produce the best horse you ever saw. And yet, there's an old saying from the Garment Center that says: Man plans and God smiles. And it's true in all our walks of life, including the breeding of horses.
Adios was foaled in 1940, by Hal Dale, out of Adioo Volo, by Adios Guy. He was a top racehorse, earning $33,329 and taking a time trial record of 1:57 ½. Early on, he was trained and driven by Rupe Parker, and when Rupe's health failed, he turned Adios over to Frank Ervin. In those days every, trainer was also a driver, and Ervin was one of the best at both jobs.
Parenthetically, it was this kid's privilege to know Frank Ervin, and to listen to his stories was a true privilege.
At the end of his racing career, Adios was owned by Harvey Warner of Warner Bros. Hollywood fame. He consigned him to a Tattersalls mixed sale, and dispatched with his horse a movie extra in a cowboy hat with instructions to make sure he made $20,000, or bring him home.
At the time, Delvin Miller was one of the top trainers in the business, such as it was, but he wanted to get into breeding. Adios caught his eye, and he was encouraged to buy him by a nameless old-timer who said, "He'll get fillies like you can't believe."
Miller found a backer who said he'd put up the money to buy Adios, then lived up to his role by backing out the night before the sale. Miller, frantic, finally found another money man just hours before the horse walked into the sales ring.
The sale quickly devolved into a two-way battle between Miller and the guy in the cowboy hat. The battle went on and on, with Delvin almost wearing out one of his fingers as he kept bidding in 100's. Finally the cowboy hat bid $20,000, and that was all she wrote, as far as he was concerned. Delvin raised his faithful finger to signal a hundred dollar raise, and George Swinebroad, then not yet the legendary auctioneer he became, took it for a thousand and hammered Adios down for $21,000.
There was never a more fortuitous horse purchase, and there never will be. It is impossible today to understand the dominance Adios enjoyed as a pacing sire through the late '50s and then the '60s. It was a usual thing for the first five finishers in all the 2- and 3-year-old pacing stakes to be sired by Adios. That included the Fox Stakes, the number one 2-year-old race, and the Little Brown Jug, for 3-year-olds. Not only did Adios also dominate the free-for-alls, horses such as Adios Harry and Adios Boy quickly rewrote the record books as far as time was concerned.
Miller stood Adios at his farm outside Arvella, PA, which he called Meadowlands. Harry Harvey was his farm manager. Harvey had previously been one of Miller's second trainers, and among his driving accomplishments was winning the 1953 Hambletonian with the great mare Helicopter. Harvey was a top horseman, and his daughter, Ellen Harvey, is one of the finest people I'm privileged to know.
By the time Adios was 15 years old, he was so overwhelming as a sire that two-thirds of him was purchased by the Hanover Shoe Farms and Max Hempt, who operated Hempt Farms. They each bought a third of the horse, and Miller kept the remaining third. The deal was based on a total value of $500,000, an unimaginable amount to pay for a horse in those days. As Miller later told me, he gave his sale proceeds to Roland Harriman, a senior partner at Brown Brothers Harriman, and Harriman invested it in Polaroid stock, which made Miller and his wonderful wife, Mary Lib, financially secure for the rest of their lives. There are a few of us left who knew Mary Lib, and she positively glittered. I can still remember some of the jokes she loved to tell, but that's for another time.
In any case, it's past time to get back to God and his smile. During Adios' heyday, there was a top race filly named Countess Vivian, who lived at Delvin's farm and was bred every year to Adios. She was well bred, by King's Counsel, out of Filly Direct, by Billy Direct, and she earned $43,262 on the track, with a 3-year-old record of 1:59. These amounts seem like peanuts today, but back then they were all that was available, and it took a good horse to win them.
According to the USTA, Countess Vivian was owned by Hugh Grant, another of Delvin's racing owners. Grant was a wonderfully generous man who made a college education possible for a large number of well-qualified young people whose parents couldn't afford the cost of a college education themselves. That was not something widely known during Hugh Grant's lifetime.
But somehow my memory is that Countess Vivian was raced and then owned as a broodmare by someone with the last name Christy, from Columbus, OH. In any case, Countess Vivan lived at Meadowlands Farm, and she was bred every year to Adios. She hit the jackpot with her second foal, a filly born in 1957, named Countess Adios. Trained and raced by Delvin Miller, at 3 Countess Adios won the first two legs of the Triple Crown, the Cane and the Messenger, whipping all the colts. She earned a total of $303,932, with a record at 3 of 1:57.3. Interestingly enough, Countess Adios raced free-legged, and then at 4 Delvin switched her over to the trot and gave her a trotting record.
Countess Vivian never reached the same level again as she did with Countess Adios, but she and Adios continued to turn out nice horses that could go fast and make money.
That was so until 1959. As usual, Countess Vivian foaled a nice filly by Adios. But when it was time to breed her back, Adios had suffered a problem that necessitated shutting him down in the breeding shed. So Harry Harvey had to call Countess Vivian's owner and explain that their mare was ready to breed, but Adios was out of commission.
"Have you got anything else there she could be bred to," her owner asked.
"Well," Harry said, "We've got another stud here called Dale Frost. He was a good free-for-aller for Delvin up in New York."
"Doesn't sound too great," the owner said, "But he's better than nothing, so go ahead and breed her to him."
The result of that pick-up mating was a colt named Meadow Skipper. And all Meadow Skipper did was raise the level of the American pacer to heights that we had only imagined before. And while that was happening, you can be sure that God was smiling as he looked down on us mortal horse breeders who thought we knew what we were doing.