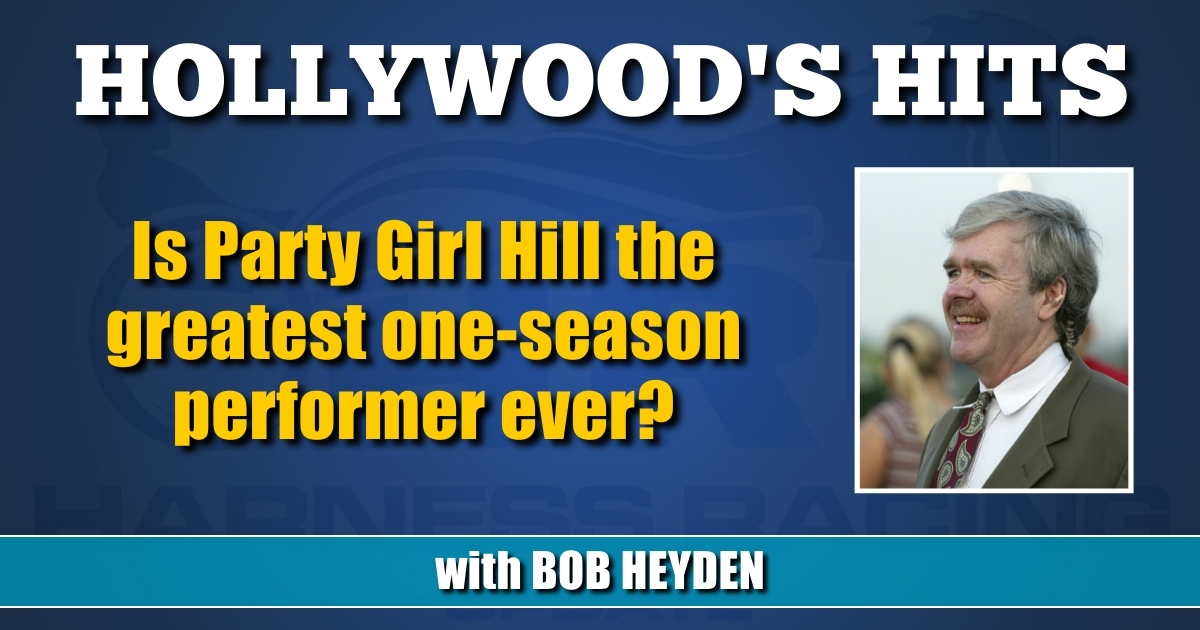 Is Party Girl Hill the greatest one-season performer ever?
by Bob Heyden
Party Girl Hill, now retired due to injury after a one-season blur, is very likely at the top of the list of those who excelled in a single racing season.
She won the Tattersalls in 1:47.2, the identical time as Tall Dark Stranger to whom she will be bred.
She put on maybe the greatest Jug Day performance ever — male or female.
She had just the lone blemish in the Breeders Crown.
She was beyond spectacular.
Here's a look at some others who were also spectacular in a single-season career:
In 1958, Merrie Annabelle posted a 13-0-3 in 23 starts as a 2-year-old trotting filly. Her impact was so profound the race in her name (now renamed the Jim Doherty Memorial) is for the very best freshman trotting ladies.
In 1984, Praised Dignity posted the record for the most money made in a single season for those who raced only one. As a 2-year-old pacer the Bill Popfinger trainee banked $1,194,715, almost half of it finishing second to Nihilator in the richest ever event — the $2,161,000 Woodrow Wilson.
In 2001, Western Shooter was, to these eyes, the best male to ever race in just one season. He won the 2001 freshman Breeders Crown and then the Governor's Cup in dynamic fashion in 1:50 for trainer Bob McIntosh and driver John Campbell. Unfortunately a virus ended his life before we could see him ever again.
In 2002, Broadway Hall was a perfect 9-for-9 for Jim and John Campbell and Jules Siegel — including winning the Breeders Crown for freshman trotting colts — before an injury sidelined him from competing any further. He did somewhat make up for his own Hambletonian absence when he sired both the 2011 Hambletonian winner Broad Bahn and the Hambletonian Oaks winner Bold And Fresh.
Village Jasper did not race at 2, but in 1997 came back at 3 for the richest ever sophomore (only) season by those who did not go any further. He banked $1,057,595 (following in the fine tradition of other Bill Wellwood "Village" horses such as Village Jiffy and Village Connection) in just that lone year.
Dream Of Joy in 1999 won $826,601, winning just three races. But she picked just the right ones — the Breeders Crown, the Merrie Annabelle and the Goldsmith Maid. The Per Eriksson trainee was driven by Jim Meittinis. She could not make it back at 3 after that sparkling freshman season.
Meanwhile in the breeding shed…
Party Girl Hill and Tall Dark Stranger will be matched together in the breeding shed, bringing them even closer together than they were when they each won their Tattersalls divisions in 2020 in 1:47.2. They finished the year as the two top finishers in Horse of the Year balloting.
Injuries are part of the game
Party Girl Hill joins a list of some major notables who saw their careers end prematurely due to injury.
Wiggle It Jiggleit earned close to $4 million at 3and 4, but issues cropped up and more or less curtailed any activity at 5, 6 or 7.
Western Ideal, who George Segal referred to as his best sire ever, missed his entire 3-year-old season of 1998 due to a sliced tendon at 2. He did make it back and was the Older Pacer of the Year in 2000. And his first crop produced the three leading 3-year-old earners: American Ideal, Rocknroll Hanover and Cabrini Hanover.
Tarport Hap was the greatest female pacer in the sport in 1977. But she died on the track during a race on March 12, 1977. She finished the year 8-for-10 all versus the boys and was voted
Older Pacing Mare of the Year.
Four Starzzz Shark suffered a career ending injury in 2004 on Hambletonian Day. He was the Older Pacing Horse of the Year with a 1:47.4 mark.
Jennas Beach Boy is still the only pacer to win three straight Breeders Crowns (1994-1996). He missed the entire summer of his sophomore season due to injury, but came back with a vengeance setting the all-time 3-year-old world mark of 1:48.4 on Sept. 30 of 1995 as he marched toward the second of three straight division titles.
Quiz
Q. Who holds the record for the most consecutive driving titles at the Red Mile?
A. Joe O'Brien — 10 (1969-1978).
Those were the days…
1980 Kentucky Derby purse $336,000
1980 Woodrow Wilson purse $2,011,000
2021 Kentucky Derby purse $3 million
2021 No Woodrow Wilson (2012 was the last one and Captaintreacherous won it by a city block)