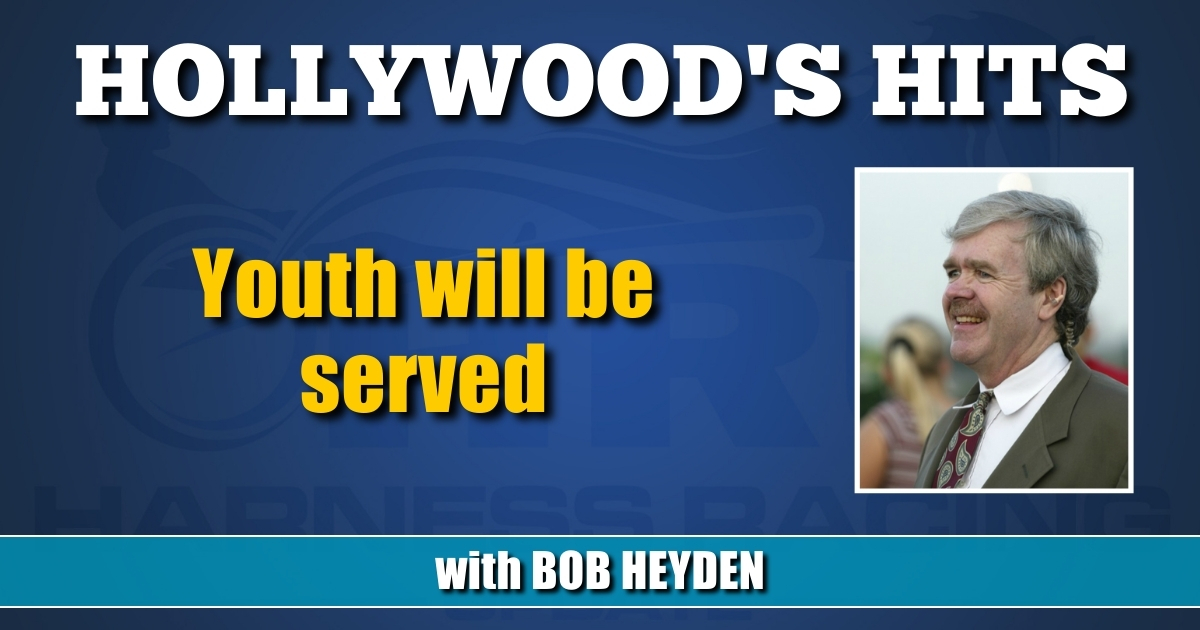 Jesse Yoder's double-gaited world record at the age of 22 is just one of many incredible accomplishments by young drivers.
by Bob Heyden
Who on earth sets a world record at age 22 — and as a provisional driver no less? Jesse Yoder did so at Harrah's Hoosier Park in March with Joe Joe Joe in a 1:54.4 trotting mile, giving him the new double-gaited standard of 3:45.1 since Joe Joe Joe owned a 1:50.2 mark pacing.
This brought back some memories. Let's take a look drivers younger than 25 who stepped up their game while their careers were just getting going:
Susan Looney was 16 in 1984 when she won at the Meadowlands with One For All. JoAnn King's daughter is the youngest to ever win a race at the Meadowlands, and that is not likely to change with the rule changing shortly after prohibiting 16-year-olds from driving there.
Kevin Lare, at age 17, is the youngest male driver to win at the Meadowlands. He was also winning opens across the river at Yonkers at age 18.
Doug McNair was 18 when he won the Battle of Waterloo for $300,000 in 2008 with Trail Boss.
Walter "Butch" Paisley was 18 when he drove in the 1959 Hambletonian making him the youngest driver then and now to ever drive in that race. He finished 12-15 with Algiers Eblis.
Erik Adeilsson was 20 in 1995 when he finished seventh with Easy Lover in the Hambletonian at the Meadowlands. He is the youngest driver to try it in since the Hambletonian moved to New Jersey.
Ryan Anderson was 20 when he won the Breeders Crown of 2000 (3YOFP).
Peter Haughton was 20 years in November of 1974 when he set the world race record for females of 1:54.4 with Handle With Care taking a $50,000 test at Hollywood Park versus the males, including the defending Horse of the Year Sir Dalrae.
Ron Pierce was 21 when he won his first two Meadowlands races in July 1977. He then took a decade or so before making his way back to East Rutherford.
Richie Silverman was second in the 1985 Woodrow Wilson the year he turned 21.
Andrew McCarthy was 22 when he drove Muscle Hill in a qualifier and to victory in a division of the Simpson.
Haughton won the Kentucky Futurity at 22 with Quick Pay, making Haughton the youngest to ever win a Triple Crown event.
Jimmy Takter was just 22 when, while working for Nordin Stable, he won his first Meadowlands race driving Baltic Speed in a New Jersey Sires Stakes event in 1983.
Tommy Haughton was 23 when he was the regular driver for Final Score the 3YOCT of the year in 1980 and the Hambletonian runner-up.
Scott Zeron was and is the youngest driver ever to win a Triple Crown pacing event — 2013 with Michaels Power in the Jug. Zeron was 23, two years younger than the winning sire, Camluck.
John Campbell was 24 in 1979 when he led the nation in earnings with $3,308,984. It was the first of his 16 titles.
Montrell Teague was 24 when Wiggle It Jiggleit dominated in 2015 for the sport's last $2 million single season and HOY honors.
Haughton dominance
In 1974, in all of standardbred racing, there were 17 races carrying a pure of $100,000 or more and eight of those (47 per cent) were won by a driver named Haughton. Billy won five and Peter won three.
Billy won four with Armbro Omaha — the $104,350 Adios, $132,638 Little Brown Jug, the $151,043 Messenger and the $100,000 L K Shapiro. His other six-figure win came in the $160,150 Hambletonian with Christopher T.
Peter's three came with Keystone Smartie in the $113,350 American Classic and Armbro Omaha in both the $117,095 Keystone Gabriel and the $150,00 Prix D'Ete.
The nine other six-figure races were won by nine other drivers:
$200,000 Roosevelt International won by John Chapman with Delmonica Hanover
$125,821 Yonkers Trot won by Delvin Miller with Spitfire Hanover
$109,550 American Classic won by Jim Dennis with Savoir
$101,598 American National Maturity won by Herve Filion with Otaro Hanover
$121,822 Cane Futurity won by William Herman with Boyden Hanover
$112,380 Dexter Cup won by William Wellwood with Surge Hanover
$100,000 Fox Stake won by Glen Garnsey with Alert Bret
$100,000 Kentucky Futurity won by John Simpson, Jr. with Waymaker
$141,562 Realization won by George Sholty with Wayne Eden
Can anyone top this?
It's unofficial, but can anyone document whether or not any track has ever been able to say the following?
Harrah's Hoosier Park in the first two weeks of April — and not even with a full schedule, yet — had three different drivers that had five baggers:
John DeLong — 5
Sam Widger — 6
Trace Tetrick — 7, twice
Do Horses of the Year race in April?
Some did, but not a lot. Here's a look at some names and those who gave it a go in the fourth month of the year:
2019 — Shartin N won the Matchmaker in April the year she took down year-end honors.
2015 — Wiggle It Jiggleit was active from early on in his standout HOY season.
2011 — San Pail won the Glorys Comet in Canada in January, rested a bit and qualifed back a couple of times in April.
2004 — Rainbow Blue got her HOY season in 2004 off and with a bang with a sweep of the Blossom Series. This came after three qualifiers in March, two at Dover and one at the Meadowlands. Her incredible season saw her go 20-for-21.
1995 — C R Kay Suzie had a lone prep at Spring Garden Ranch in 1995 in April, then dominated her division from there.
2001 — Bunny Lake had three qualifiers between Saratoga and the Meadowlands in 2001. She would win her final 19 starts to cement HOY honors over undefeated Syrinx Hanover (12-for-12) and a couple of tough hombres named Real Desire and Bettors Delight.
1993 — Staying Together was an iron horse. The year after Bob McIntosh went undefeated with HOY Artsplace, the trainer came right back with Staying Together who was 3-4 in races in April after getting his season underway in March.
1991 — Precious Bunny. He would set a new earnings record, but his first three starts all came in conditioned tests for less than $10,000.
1990 — Beach Towel, the year he topped $2 million for a single season, started at Rosecroft in April in a pair of preps there and one open.
1989 — Matts Scooter had a pair of wins and a second starting in the Graduate, the Levy and the Cornell at Freehold.
1986 — Forrest Skipper went unblemished in 1986 and had a couple of early scores came in April, the Graduate twice and the Cornell at Freehold.
1983 — Cam Fella had five April starts at four different tracks — three wins and two seconds.
1982 — Cam Fella started three times in April at Los Alamitos in the Spring Championship Series, taking two prelims but finishing 7th in the $300,000 final.