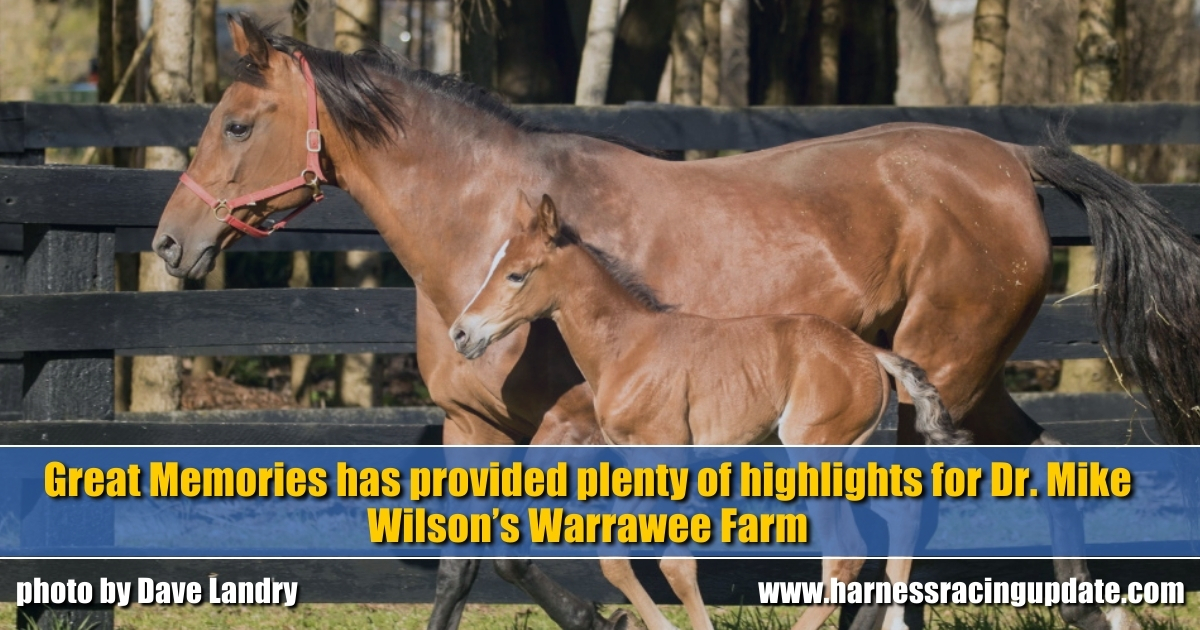 Great Memories has provided plenty of highlights for Dr. Mike Wilson's Warrawee Farm
Canadian Horse Racing Hall of Fame 2021 inductee
by Chris Lomon
The great memories provided by Great Memories keep getting more impressive.
Although her racing career was cut short early, the bay mare, now 20, still found a way to make a lasting mark on the standardbred world.
A daughter of Canadian Horse Racing Hall of Fame (CHRHF) 2000 inductee Apaches Fame and out of Armbro Emerson daughter Save The Memories, Great Memories, through her time in the breeding shed, has produced a steady stream of standout pacers to date.
Her latest accomplishment comes in the form of a prestigious honor, namely, induction into the CHRHF.
"It was a very pleasant surprise and a feeling of how lucky we are to still have 'Memories,'" said Dr. Michael Wilson, who operates Warrawee Farm in Rockwood, ON. "I also had a thought of fondness for the late Harry Rutherford who became a friend of almost everyone who met him for 10 minutes or more. He was a great horse breeder."
Purchased as a yearling for $10,000 by Kenneth Fraser and Duane Marfisi, who also trained the filly, Great Memories' racing career was all of one start, a sixth-place finish, eight-plus lengths behind the winner, at Flamboro on May 8, 2004, just over a week after crossing the line fourth in a qualifier at the same venue.
She was scratched out of a race one week after her initial start and never lined up behind the starter car again.
Eventually, Great Memories, bred by fellow CHRHF class of 2021 inductee Jim Bullock at his Glengate Farm in Campbellville, ON, would hit her best stride, albeit in a much different arena.
Although she never made a trip to the winner's circle and the number beside her purse earnings total reads zero, the offspring she has produced are anything but picture-shy, and money-in-the-bank.
Her success story, however, could have turned out much differently than it has. As Wilson recounts, the sum of $1,000 was what kept Great Memories in his name.
"Her first foal was quite small and not an impressive performer and led me to decide to sell her after her second foal was born. I wanted $5,000 for her and the highest bid was $4,000 so she stayed with us."
No need to ask if he was glad she did.
"How many mares produce two world champions?" quipped Wilson.
Great Memories' numerous success stories are headlined by a pair of pacing heavyweights in the form of Warrawee Needy and Warrawee Ubeaut.
A winner of 29 races and more than $1.25 million, Warrawee Needy was built for speed. At 2, he posted a 1:49.4 mile, a 1:48.4 mile at 3, and was the fastest in the world at 4 (1:46.4) for trainer and CHRHF inductee Carl Jamieson.
Feted as the 2011 O'Brien Award winner for 2-year-old pacing colts/geldings, Warrawee Needy finished his nine-win rookie season in style by capturing the Ontario Sires Stakes Super Final at Woodbine Racetrack.
As a sophomore, he was just as impressive. He notched the record for 3-year-olds with a 1:48.4 performance. One year later, he took an Aquarius Series leg, his U.S. Pacing Championship elimination and his William Haughton Memorial elimination at the Meadowlands, in world record time.
In her debut campaign, Warrawee Ubeaut won seven of 12 starts and banked a division-leading $646,995 en route to divisional honors in the U.S. Her triumphs included the $600,000 Breeders Crown and $207,000 Kentuckiana Stallion Management Stakes. Her head-turning 1:48.3 victory in a division of the International Stallion Stakes at Red Mile made her the fastest 2-year-old pacer, male or female, in harness racing history. At 3, Warrawee Ubeaut duplicated her lifetime best, again at Lexington, and won 12 of 19 starts for earnings of $1,066,415, including an eight-race win streak.
Notable wins included the Breeders Crown, the Jugette elimination and final, where she equaled the world record for a 3-year-old pacing filly over a half-mile track. Her 2019 performances were recognized with a Dan Patch Award for her age category. As a 4-year-old, she added a Roses Are crown and boosted her lifetime bankroll to nearly $2 million by season's end.
Great Memories' 10 racing age progeny have earned more than $4.2 million with four horses – Warrawee Needy, Warrawee Ubeaut, Warrawee Vital and Big Bay Point – breaking the 1:50 barrier and two surpassing the $1 million earnings mark.
"Her second foal, [Big Bay Point], was a good horse, but the next, in the mare when we tried to sell her, was an outstanding 2-year-old, Warrawee Needy, and the world's fastest as an aged horse. After that, she produced Warrawee Ubeaut, the world's fastest 2-year-old, and I'm told that of the 25 fastest-ever 2-year-olds, she was the fastest and she was the only filly. I have never confirmed that. Since, she has produced Warrawee Vital. Again, I'm told the fastest 3-year-old son of Captaintreacherous in 2020 against some pretty expensive competition."
If Wilson had to settle on a single attribute that Great Memories' offspring have acquired from her, it all comes down to one word: speed.
"If had to give one, it would be how she passes on fabulous 2-year-old speed and how that speed continues to improve as the horses get older… true hybrid vigor."
As for the personality of his newly minted hall of famer, Wilson offers a compliment and a warning.
A majority of the time, the marvelous mare is a delight to be around. On certain days, it's best to give her some space.
"For 90 per cent of the time, she is wonderful with horses and people," Wilson said. "The other 10 per cent… be careful."
Wilson is looking forward to the day he can read the plaque at the Canadian Horse Racing Hall of Fame, the one that bears the name of a horse who has provided her connections with memories to last a lifetime.
What will go through his mind when he sees it for the first time?
"For a farm of only 15 mares to have a second mare as an inductee, whether we will ever get another one, and how justifiably proud my farm manager, Duane Avery and the many people that have worked with us might feel."