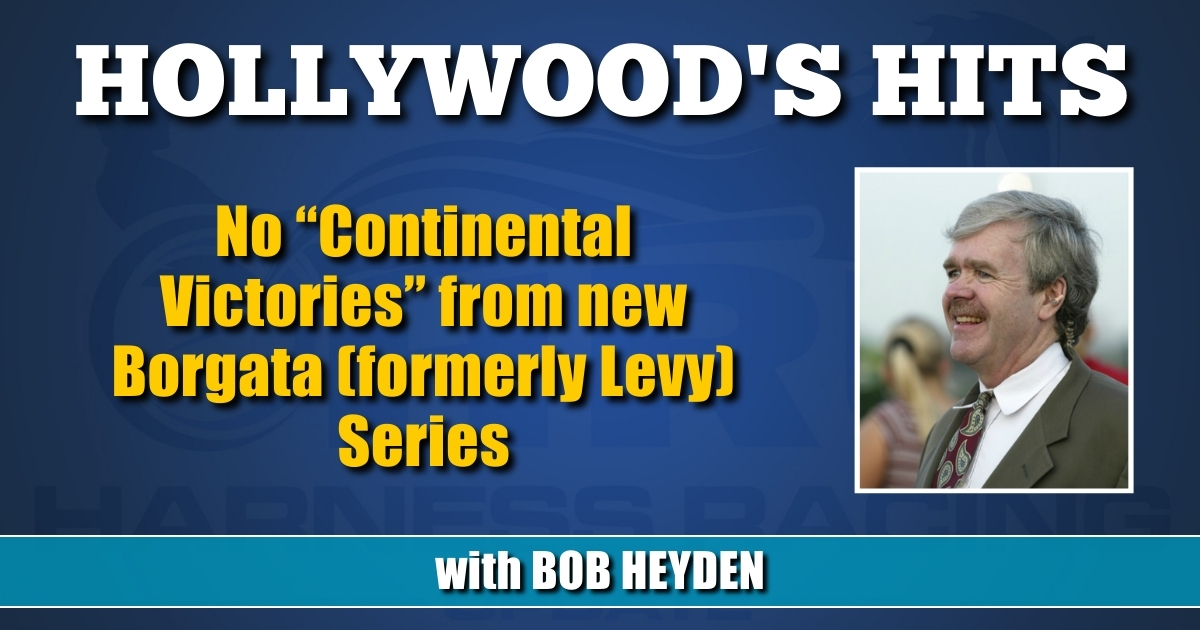 No "Continental Victories" from new Borgata (formerly Levy) Series
by Bob Heyden
Pardon me for thinking about Carol King's "So Far Away" from her now 50-year-old album Tapestry.
I was watching round one of the MGM Borgata Pacing Series Monday at Yonkers and in all five $40,000 legs, not a single winner was bred anywhere near North America.
Third race — Let It Ride ($2.30) bred by N. F. Nixon and Mrs. M. Carson of New Zealand (approximately 9,000 miles away).
Fourth race — Lyons Steel ($11.40) bred by Joseph Lyons Mound of England (3,385 miles away).
Fifth race — San Domino A ($3.30) bred by Brooklyn Lodge Aberdeen Pty LTD of Australia (9,902 miles away)
Sixth race — Hesa Kingslayer N ($4.00) bred by K J Carville of New Zealand (8,940 miles away)
Seventh race — Leonidas A ($4.00) bred by Roger Bazley of Sydney Australia (9,935 miles away).
The sub-feature also continued this trend.
Eighth race — Keep On Rocking A was bred by Fred Crews of Australia.
Marty Tannenbaum would be very proud. The former boss of Yonkers was helpful in importing none other than Cardigan Bay, the original Wonder From Down Under-who in September, 1968 surpassed $1 million lifetime while racing in North America. He campaigned for five years at the very top level on the Yonkers Roosevelt circuit.
Tim Tetrick on pace?
No, not the Meadowlands Pace which he has captured five times — for the earnings record all time.
Tim Tetrick is currently third, but is 17 years younger than #2 David Miller. Tetrick turns 40 on the 22nd of November this year.
Let's assume that he is right around $238-$240 million lifetime at that point. John Campbell with $299 million plus is the all-time leader. Here's a look at the top five drivers ever but only while in their 40s. If Tim duplicates any one of these while in his 40s, he will have it.
#1 David Miller — $109.5 million
#2 John Campbell — $94.7 million
#3 Brian Sears — $92.8 million
#4 Ron Pierce — $86.5 million
#5 Mike Lachance — $78.8 million
Will we ever see this again?
Will we ever again see three freshman all over $1.1 million in the same season?
It happened in 1990 when Artsplace earned $1,180,271, Die Laughing earned $1,142,322 and Miss Easy earned $1,128,956.
Artsplace would go on to a Horse of the Year season — undefeated no less in 1992 — and a $3 million+ career.
Die Laughing would do what only Nihilator had done prior — back up million-dollar seasons at 2 and 3.
Miss Easy would set the all-time female earnings mark of $1.777 million and that would stand 19 years until Put On A Show broke it in 2010.
$100,000 claim anniversary
On March 16, 1979 at the Meadowlands, Taurus Romeo — a 7-year-old trained by Thomas Fay, Jr. — became the sport's first $100,000 claim. Bill Faucher took over the training.
35 years since the last HOY with a time trial mark
Time trials used to be commonplace. Cam Fella at 3 and Niatross as a sophomore took their lifetime mark in a time trail. But not since the 1:50.3 TT for Lucien Fontaine's Forrest Skipper in 1986 has the Horse of the Year done so.
Upcoming birthday milestones
Rod Allen turns 65 on April 6. Rod won the Meadowlands Pace in his lone appearance and had multiple Hambletonian drives. He campaigned 1995 HOY C R Kay Suzie, the oldest living HOY at 29 today.
Andrew McCarthy turns 35 on March 31. Now in his 14th year locally, his brother Luke just went 1-2 in the Miracle Mile Down Under and 28-year-old brother Todd is making a huge impact in the New York/New Jersey Metro area. Dad John, now 62, still trains 15.