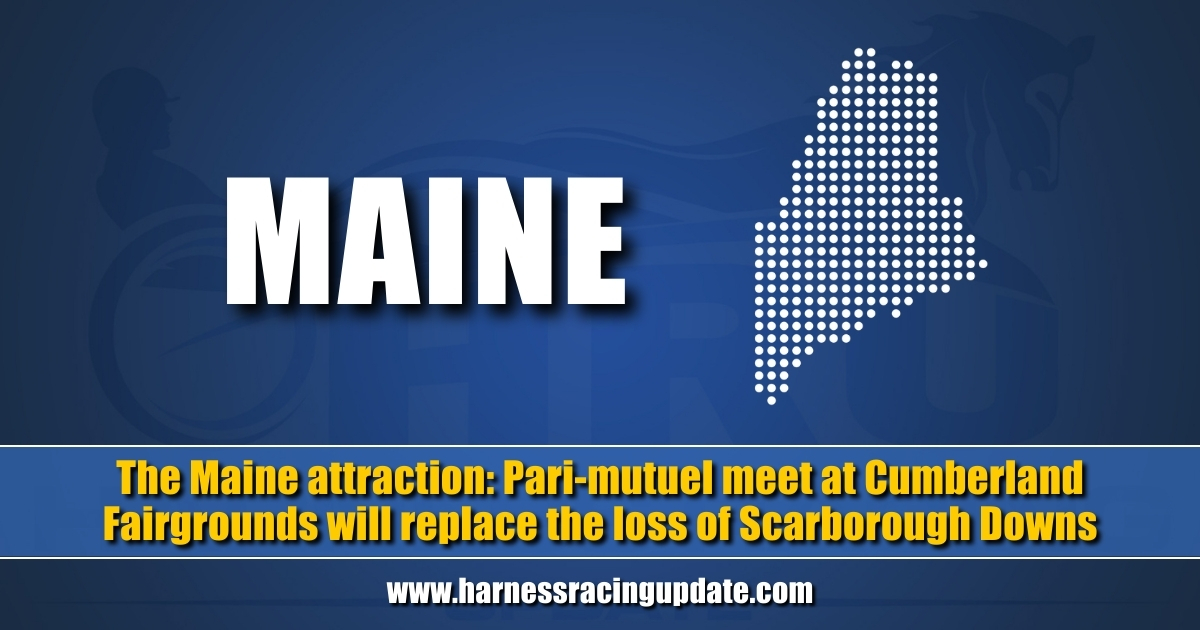 First Tracks Investments puts non-racino plans in motion to replace the loss of Scarborough Downs in Maine with a pari-mutuel meet at at Cumberland Fairgrounds.
by Melissa Keith
When Scarborough Downs held its final live races last November, there was pessimism about where racing was headed in Maine. When the Maine Harness Racing Commission (MHRC) licensed First Tracks Investments, LLC to operate the state's second commercial track, the Feb. 8 approval seemed to secure the sport's future, albeit not in one location. Young entrepreneur Michael Cianchette is leading the company's efforts to create what he termed "a nice, orderly transition for harness racing in Maine, hopefully to get to the point to set up for the next 200 years of what it's going to look like."
Henry Jennings is executive director of the MHRC. He told HRU about the emerging landscape in the local industry.
"We have eight pari-mutuel fairs in Maine, and none of them ran last year," he said, noting that all 2020 fairs were cancelled due to COVID-19 and the Oxford Fair had already discontinued racing years before the pandemic due to rising costs. "Essentially, there are two entities that will operate out of Cumberland [Fairgrounds] next year: The Cumberland Farmers' Club, which owns the property and holds the fair, are going to run their regular meet, COVID willing, in their regular time frame, which is towards the end of September."
The second "entity" is the inaugural meet approved for First Tracks Investments. It is a 56-day pari-mutuel meet slated to run from Saturday, May 8, 2021 through Saturday, July 31, 2021, then take a break to allow the fair season to take place as usual, with a few dates mixed in at Bangor. First Tracks will resume racing Wednesday, Nov. 3, 2021 at Cumberland Fairgrounds, with its last race date of the year set for Dec. 31.
"For the first time since I've been involved, the two commercial tracks will not race at all during the fair season," said a pleased Jennings, correcting himself to mention a few fair-season dates at Bangor that will not conflict with fair dates. "They basically moved all of their racing to fit around the fair season. It's huge, really. There's really not enough horses to have a commercial track going at the same time as a fair track."
Scarborough Downs is completely out of the picture, except as a temporary OTB location doing double-duty as a COVID-19 vaccination site since early February. Wex Inc., a financial services company, has built a 200-square foot office building on the track property; further redevelopment will follow. "That track is not going to be available for racing," confirmed the racing commission representative.
Cianchette comes from a family well known in Maine racing circles. His grandfather, Kenneth Cianchette, worked with brothers Ival "Bud" Cianchette, Chuck, and Carl to transform their father's construction business into a hugely successful enterprise in the 1940s. The 72-year-old company is now 100 per cent worker-owned, evolving from Cianchette Brothers, Inc. to Cianbro Construction, keeping the founders' influence in its name.
Ival "Bud" Cianchette turned to standardbred horses for relaxation in 1962. He converted a family cattle farm in Pittsfield, ME to Chinbro Farm, a standardbred nursery with its own half-mile training track. "Right around the late 1960s, I was interested in encouraging Maine breeding. Before that, Maine had pretty much become a dumping ground for old horses. There was no impetus for people to want to breed and raise horses in Maine," he told one interviewer. Maine's standardbred breeding program developed through his work, and his own racing stock helped build its numbers and reputation: Chinbro Knoxvel (p, 4, 1:59.0h; $60,611) became the fastest-ever 2-year-old Maine-bred (p, 2, 2:00.1h at Scarborough Downs) in 1988; S K Hurricane (p, 4, 1:53.0Q; $176,567) became the fastest-ever Maine-bred performer in 1995. Later on, the dedicated horseman served as track president at historic Bass Park (Bangor Raceway) and invested to keep it operational when the track was threatened with closure. He passed away in 2009.
"Can you imagine what would happen if we had Maine horses broadcast all over the world?" asked Michael Cianchette, addressing industry participants at a January 2021 meeting. It's a contemporary question that echoes Ival Cianchette's efforts to elevate the Maine industry.
Jennings said that COVID-19 slowed the process a little, but First Tracks is moving ahead. "Michael has been clear about what his intent is, although his ability to follow through on that intent has clearly been hampered by the pandemic," Jennings said. "His intent is to build a new track, but not at that location [Cumberland]. In fact, he and his dad [Eric] are real estate developers, and they actually had the option to buy Scarborough Downs before, but that option expired and another group got in and snapped up the option underneath them."
What makes the development one to watch isn't just that it's bringing new life to Maine's standardbred industry. It's the actual business model, which is not slots-dependent.
"He's not counting on building a casino, because you need legislative approval for that," explained the MHRC executive director. "His plan is to develop a site that would include a track, but to be much more diversified in what the larger facility would be all about. So, even within the structure of the track, I think they have the idea they might hold concerts; they might hold other types of racing, snowmobile or whatever it is. Long-term, maybe a conference centre, maybe some other pieces related to entertainment or conferences and things like that. So his plan is to develop a complex of sorts that includes a track. The track would be the first piece."
Michael has publicly stated that he is looking to purchase property in York County, and will be able to "speak more candidly" about the track location once that happens. "The goal would be to secure the land in the next couple of months," he said in late January.
But no new racetrack was built in a day, or even a pandemic year. That's where Cumberland Fairgrounds enters the conversation, said Jennings.
"[First Tracks] is basically leasing Cumberland Fairground while the fair is not running, as an interim placeholder to keep the dates and keep the industry critical mass," Jennings said. "If you lose those dates, then you start to get to a tipping point where things could go south, quickly."
Maine already faces a battle to retain horses and horsepeople because of a competitive neighbor.
"A lot of people go to Plainridge, but it's a gruelling day to drive to Plainridge and back with a horse trailer," Jennings said. "To be a viable industry, we really need a southern Maine track."
Michael isn't planning for First Tracks to make a permanent home at Cumberland, but the venue works well until another home is found for the new track.
Maine Harness Horsemens' Association (MHHA) president Mike Cushing said that with 150 horses stabled there, most of which raced at Scarborough Downs and Plainridge last season, the Fairgrounds is a good place to bridge the gap between Scarborough and a new facility.
"It will be two years [racing at Cumberland], actually, because the company is newly-licensed pari-mutuel," he said. "They've actually been interested in this for several years, but they were only interested in southern Maine and didn't want to intrude on Scarborough. That property had been sold four, five years now, but we managed to get a couple more years out of it, until it needed to be developed."
Cushing said that while some horsepeople were reluctant to accept losing Scarborough Downs as a pari-mutuel venue, he's seen most change their views after Michael's most recent presentation, conducted via Zoom.
"It is very exciting, and the family that is the primary, First Tracks, the Cianchettes, is a family that is pretty rich into Maine harness racing," Cushing said. "I think it was Mike's idea to give this a go, and his father was all on board because they grew up being part of the business. They've been very respectful to all of us involved. They actually have a vision of doing things their own way a little bit. We're enthusiastic, because with all the tracks that have closed since I started at this, the only ones that are ever opened new are because a casino brought them on."
First Tracks expressed intentions to operate "no casino, no gaming" pari-mutuel harness racing at Cumberland and then at a new location in southern Maine, said the MHHA president.
"Their plan is to make it a tourist destination, or sort of a multi-faceted business, where they want a hotel and a convention centre and they have some other possibilities that they would like to do with it. Harness racing is just the main component, sort of a unique part to the development."
The future track will likely be ⅝-mile and located not far from Scarborough Downs, in a popular coastal tourism area.
Jennings said that while it won't be a racino, there will be more than live racing to bet on at the proposed First Tracks facility.
"The simulcast part of it is an important piece for him. I think his vision is to have a very upscale venue that would attract people to the simulcast place," Jennings said.Then there's another possibility for on-site wagering: "In front of the legislature is the question about sports wagering that has never made it all the way through the legislature, but has come close."
Jennings added that racing would remain at the forefront of the business, regardless of the legal terrain for sports betting in the state.
"I think the general view is that sports wagering isn't necessarily a lucrative operation on the wagering side itself, but it is a big draw as far as bringing people to the facility. The vision is an upscale multi-faceted sports bar that's on a track: When there's racing there, all the better. When there's not racing there, you've got simulcasting and you've got potentially sports betting," Jennings said.
The dream is for a reimagined standardbred racing attraction, unencumbered by slots and other distractions that commonly do little to build handle. "If you have a facility that in itself is enough to attract patrons, there's a vision that you can have a successful business that will not necessarily require being subsidized to the level that harness racing is subsidized by casinos, by and large across the country," said Jennings. "Casinos moved in and essentially took away the wagering dollars that were [previously] relegated to horse racing. That's certainly the case in Maine."
While slots have saved the racing game in many jurisdictions, decoupling currently looms large everywhere.
"There's political pressure all the time on that [model]," the MHRC executive director told HRU. "The revenue is taxed against the slot machines in Maine. I don't know how they do it in other states, but slot machines are apparently the biggest part of the take, as far as the casinos go. There's constant political pressure to divert that revenue stream to some other favorite cause. So I think that our strategy is to try to be prepared. The legislature periodically scolds the [harness racing] industry about not becoming more self-sufficient, so I think [the First Tracks project is] all in that vein of trying to be more proactive and looking for new markets."
The Cianchettes have not acted alone, reaching out to the operators of Sacramento, CA's Cal-Expo to find out how to develop a market for the new east coast track's simulcast product. Management company Golden Bear Racing LLC, led by principal Christopher Schick, "runs an operation out there that has no casino money," said Jennings. "They do that by very skillfully positioning their video feed into slots where there's a dearth of horse racing. So what they're trying to do is fill in all the slots where there's nothing to bet on." The Maine version has been dubbed "Black Bear Racing LLC", a nod to a populous and popular animal in the state.
Cushing said that for First Tracks Investments/Black Bear Racing, reaching out to horseplayers (and prospective horseplayers) will mean "a focus on getting back to night racing and things of that nature" so that on-site entertainment and simulcasting both find success.
Back when Lewiston Raceway was Maine's premier racetrack, Cumberland was used to bridge the gap between the race dates scheduled for Lewiston and Scarborough. For the MHHA president, temporarily allocating Scarborough's former pari-mutuel dates to the Fairgrounds makes sense. In his view, Cumberland is more than ready: "It's an older grandstand than Scarborough; it's probably half of the size of Scarborough. It is enclosed. The paddock is three buildings that house four races each. It's a really outstanding facility. It's way more than what you need for a fair meet."
First Tracks Investments brings a welcome development on the east coast racing scene. "I race half [my horses] at Plainridge so I can afford to stay in Maine," said Cushing. "It's tough. We're in it more for the passion and the love of the game and a love of horses than we are financial riches, that's for sure. Not all are buying it, but it's not that the world is ending because Scarborough closed. In my opinion, we are in a better place today than we were five years ago. That's kind of a rarity in this sport in North America. I believe we've been afforded an opportunity here, for a new beginning, and I'm quite motivated."
Moving on with a familiar name leading the way could prove a winning equation. It's a departure from the regular racino formula, one that bears watching — and wagering.