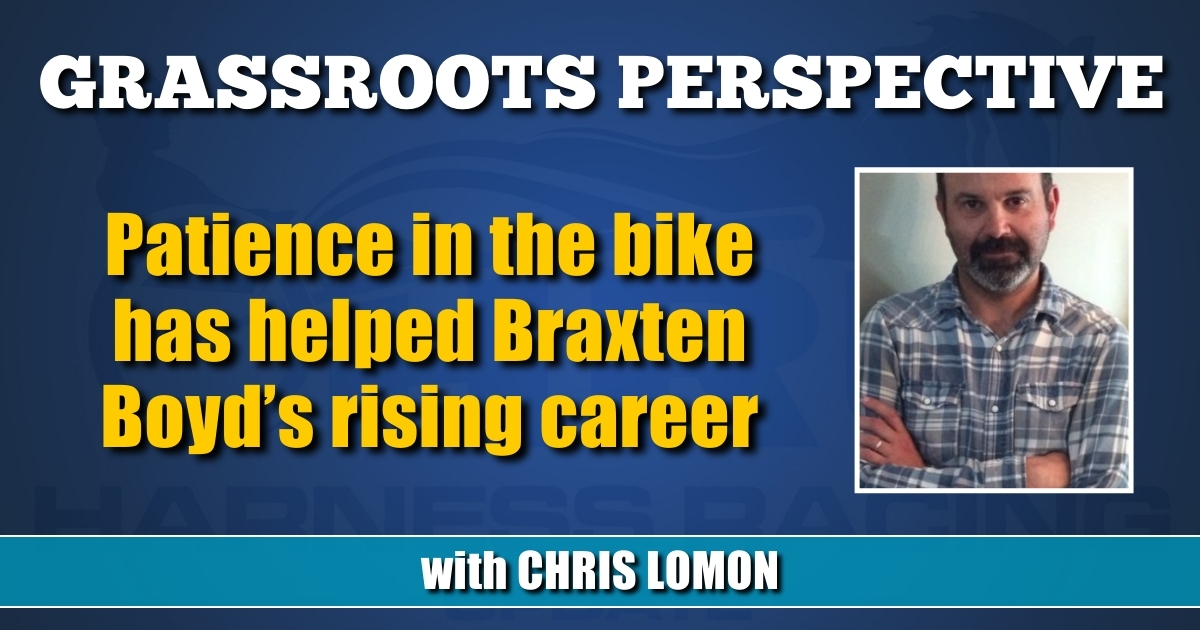 Patience in the bike has helped Braxten Boyd's rising career
by Chris Lomon
Whenever Braxten Boyd talks career highlights, the "cookie monster" quickly comes to mind.
The veteran pacer, a horse bred and owned by Brett Boyd Racing Inc., wasn't exactly a longshot when the starting car gate sped away from the field assembled for the first race at Running Aces on Aug. 18, 2019.
With his young driver sitting in the race bike, Bestinthebusiness, at 5-1, got away quickly and assumed command, holding a one-length lead after the opening quarter. After the duo yielded top spot at the half, they were back in front and holding just over a length advantage at the stretch call.
At the wire, the pair had a crafted a length score and with it, Boyd had notched his first pari-mutuel win.
The victory was even sweeter considering the milestone came with his father's horse.
"He's our family horse. In every way, he's part of our family. We bred him and he's done so much for us, helping our family reach new heights in the business. He's a once-in-a-lifetime horse."
And a horse, now 13 years of age, that no doubt lives up to his name.
"For us, absolutely. He is the best in the business. He's pretty funny. He's a cookie monster. It's sort of, 'Give me my treat and leave me alone.' He's a good one though."
The same can also be said of Boyd.
An accomplished athlete at Hillsdale High School in Michigan, he figured out early on in life that he would one day find his way to a standardbred career.He was around seven or eight when he started jogging horses with his father and jogged his first one alone at the age of 10.
After learning the ropes from his father, Boyd worked under the tutelage of Gene Miller in Minnesota.
Starting out in 2017, he saw limited action in his first two years, winning two races and posting a pair of seconds from six starts.His first official win came July 6, 2018 at the Eaton County 4-H Fair in Charlotte, MI, when he drove Megatron to victory.
In 2019, Boyd won eight races and had 34 top-three finishes from 91 appearances. Last year, he recorded 48 wins from 429 starts.
In 2020, he set career best numbers, posting a record of 48-60-60 in 433 starts good for earnings exceeding $300,000 and a UDRS of 0.234.
Boyd, currently competing at Pompano Park, has had plenty of backing from longstanding horsepeople along his journeys.
"I would say the biggest challenge for me was just getting started. I'm lucky enough to have my own horses, so hopefully, people can see what I'm capable of and have faith to put me on their horses. It's pretty cool to see how far I've come because at the beginning, I didn't get a catch drive [at Pompano] until about a month after I came down to Florida. [Long-time trainer] Cassandra Uppal, she was the first person to give me that opportunity. I did pretty well and they started naming me on more of their horses. She really gave me that kick-start out here.
"It was the same thing when I was at Cal-Expo last winter. I was lucky enough to have Quentin and Kim Schneider put me on basically their whole barn there. They were okay with me learning. They knew I was new to driving and they were willing to accept the rookie mistakes I made. They helped me out tremendously. It was the same thing at Running Aces. I wasn't driving that much, but strange as it sounds, COVID helped me out because some of the drivers weren't allowed to come back at a certain point with the pandemic protocols."
Boyd said he is grateful to have his own horses to drive.
Currently, he has eight with him – racing four – in the Sunshine State.
"I'm lucky to have my own horses and have capable ones too. They allow me to show people I can get the job done because they're good enough to get the job done. Every horse in my barn is completely different. I have three horses that are comparable in that they can al pace about :52 on their good days, and :53 on their bad days. But you have to drive all three of them differently. They all go the same speed, but they all require a different approach. It's a good bunch to have."
That group includes Bestinthebusiness, who has 241 lifetime starts, 51 wins, and 127 top-three finishes.
In 2020, the son of Another Mile (MI), a 38-time winner, won three races and had five seconds from 14 dashes.
"He tore a suspensory, so he's been on the shelf, but we'll get him ready to go to Tioga."
For now, Boyd will focus on elevating his skill-set in the sulky, picking up invaluable lessons from each drive.
What's the most impactful lesson the soon-to-be 21-year-old has learned so far?
"To be patient. It's hard, at my age, to be patient. You just want to race and go, go, go. That's the worst thing to do. The biggest lesson is to be patient – be patient with your horses, be patient when you're driving."
A talented golfer, Boyd has also taken some of what he's learned on the golf course and incorporated it into his daily life at the racetrack.
He sees several connections between the two sports.
"When it comes to driving, you have no choice but to take things race-by-race just as you take things hole-to-hole in golf. If you let one race ruin your night and you have five horses to drive, you're going to drive all those other ones badly. If you drive one badly and it bothers you, it could potentially set the table for a bad night. And that's not fair to the horses, the owners and the trainers. When it comes to golf, you can't let one bad shot or one bad hole ruin your round."
As for what he's most proud of in his career to date, Boyd points to a particular horse.
"On February 7, I was able to win with a horse called Reys N A Ruckus [a 6-year-old pacing son of Mattarocket]. He's a good boy. Just seeing him grow over the past year has been very rewarding. He wasn't doing that well and he's really taken a liking to my program. He's won eight races for me since last June. He's been very, very good to me. That's one of the greatest things I've experienced. His owner [Geno Sullivan] is an incredible guy. I know he thought the horse had the potential that he's showing now. He might even have more potential than he has now. He works hard every time he's out there."
Just like the man in the race bike.