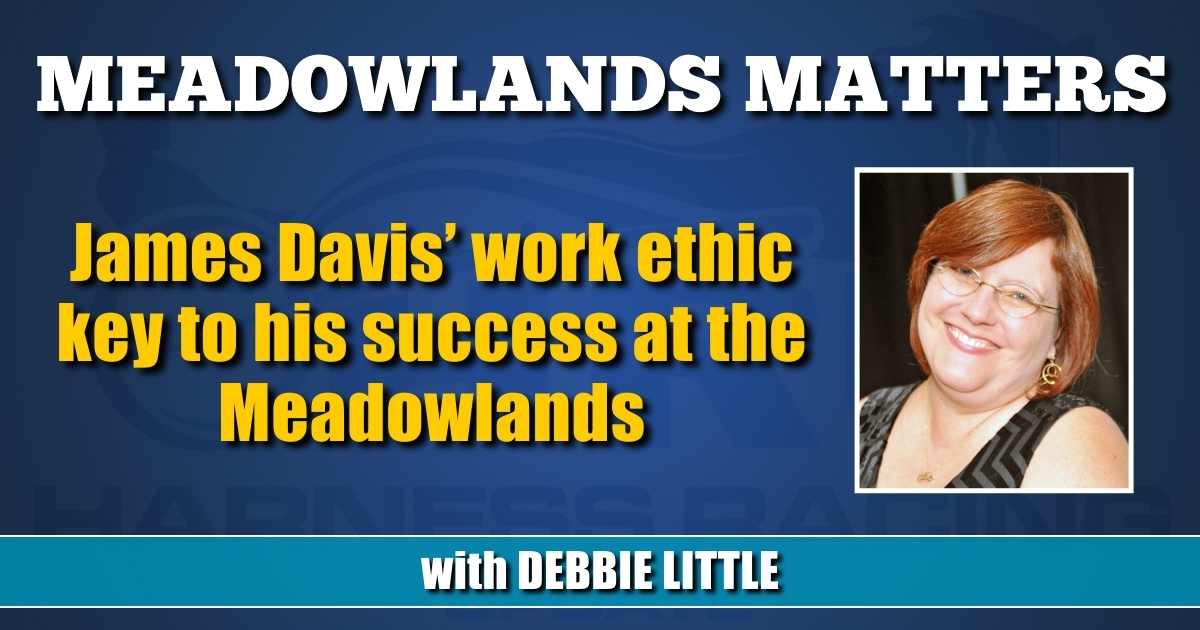 James Davis' work ethic key to his success at the Meadowlands
by Debbie Little
This is the second in a monthly series of profiles of members of the team at The Meadowlands that matter.
Even though James Davis has only been an assistant security manager at The Meadowlands since December of 2020, he's definitely not the new kid on the block, because this is actually Davis' second tour of duty at the famed mile oval.
One evening in 1991, a 23-year-old Davis was at The Meadowlands Fair, which was set up in the parking lot of Giants Stadium next to the racetrack, and what happened that night would change the direction of his life and career.
"It was posted that they were hiring [at the racetrack] so I put in for a part-time position in the security department," said Davis. "I saw it was really diverse at the racetrack and the opportunity opened up for me because I was part-time."
At that time, both the stadium and track were part of the Meadowlands Sports Complex, which was owned by the State of New Jersey and operated by the New Jersey Sports and Exposition Authority.
In 1993, the year after he married his wife Mary, Davis was approached about a job change.
"I was asked if I wanted to go on the backstretch, which was a Grade 1 full-time position in the backstretch area with more pay and it was the right timing," said Davis. "So, I went to the backstretch until 2011 when it was privatized and Mr. Jeff Gural bought the track."
During his time on the backstretch, Davis moved up through the security ranks.
"First, I did patrol, then I was promoted to desk clerk, then to sergeant, where you drive around and check the guys that are patrolling," said Davis.
Meadowlands security officer Darren Polite first met and worked with Davis years ago on the backstretch.
"He was my sergeant," said Polite. "It was like a big family back there. We all knew each other, the horses, the trainers, the barns and we all knew our jobs, especially James. He was a stickler for the rules. He made us all better. You're only as good as your team. If you're not good, your team's not good. That's what he believes in."
There is no question that Davis enjoyed his time working on the backstretch but his wife may not have always felt the same way.
"I used to come home and my wife would be like 'Put those clothes and boots out on the porch'," said Davis with a laugh.
"When I started working there, you'd see the horsemen and their love for the horses and you'd see how they'd take care of them [at all hours] then you'd see actual races and you'd start talking to the trainers and owners and the grooms that actually lived out there and you became attached," he said.
His hard work did not go unnoticed, and in 2011, he was offered yet another opportunity.
"I was approached by the HR department – because of my work ethic I was told – and asked if I wanted to go to Bayonne, which is an Off-Track Wagering facility called Winners as Assistant [Security] Manager," said Davis.
Again, Davis was diligent and was promoted to Security Manager at Winners Bayonne.
Most people would think that when the pandemic hit last year, and the racetrack and Winners Bayonne were forced by the state to close, that all the employees got a three-month break. In most cases that would be correct, and although Davis would have loved to have spent more time at home with his daughters Courtney and Brianna, who are currently attending the University of Pittsburgh at Bradford and Stockton University, respectively, security doesn't get time off.
"During the pandemic, when everything was closed down, I worked in the surveillance room at the racetrack," said Davis. "[Once everything opened back up] I was asked again to come up to the Meadowlands Racetrack because there were people out sick in the barn area where you have to sign in the horses with health and Coggins papers and I have knowledge of that so I was asked again to come up and assist."
Once again, Davis' good work was noticed by his superiors.
"He did work intermittently at my location so I had an opportunity to see his work style, his work ethic and then when the position in my department became available, I went to my Assistant General Manager [Marianne Rotella] and said, 'I want James here,'" said Tom Ciccone, the Meadowlands' security director. "He's the kind of guy we need. Very professional. Well spoken. Knowledgeable. Has a lot of experience and time at The Meadowlands and so I lobbied to get him transferred from [Winners Bayonne] to the position of assistant [security] manager at the Meadowlands Racetrack. Jim has been a vital part of my security department. His work ethic is second to none. His commitment to the company and the security department is second to none. He's a team player. He's a good example and role model for everyone."
Since Davis was security manager at Winners Bayonne and is now an assistant at the racetrack, it could be seen as a step down, but that's not his point of view.
"I don't see it as a demotion. I see it as a promotion because it's a larger facility," said Davis.
Since returning to the racetrack, life has not been perfect for Davis. His mother, Bernice, died from COVID-19 on February 15 and he also missed some time after he contracted the virus.
But through everything, Davis continues to be a consummate professional, which now includes dealing with all the state restrictions due to the pandemic, including mask wearing, which not all patrons always adhere to.
Davis remembers one specific incident where a patron who had his mask pulled down was given a verbal warning.
It just so happened that Meadowlands chief operating officer and general manager Jason Settlemoir was walking the floor, as he often does, and saw the patron pull down his mask again.
"I enforce rules and regulations, policies and procedures, and when Mr. Settlemoir said he took it down again, since I had already warned him, I escorted [the patron] out, personally.
"I look for vigilance. I look for the security guards to patrol the areas and report suspicious activities and unruly patrons. So, we can nip it in the bud so to speak and remove parties that are being a little abrupt and cursing a little too much. Pretty much I do things as a reminder. 'If you continue to do this, I'm going to have to ask you to leave.'"
Settlemoir said he appreciates Davis and said he's a "hard working, dedicated employee."
In the short time they've worked together, Ciccone also acknowledges what Davis brings to his team.
"Our dress code for the security department was a little relaxed and Jim came in with almost a full-on suit and when I told him to dress comfortably, he came in dress shoes, dress pants, a shirt and tie and a jacket," said Ciccone with a chuckle. "And we're wearing khakis and polo shirts. That's Jim, he's a professional. He's old school, meaning you come to work dressed like you're going to work."
Ciccone has six assistant managers, both full-time and part-time, and is proud of their diversity, since of the seven, only two are white.
"The good thing about it is, between the staff, between us, there is no color," said Ciccone.
That diversity is important when you consider that it appropriately reflects the diversity of the patrons of both the racing and sports book.
"What the security [department] does is secure the safety of the patrons as well as the employees and makes it go smoother for all of the departments," said Davis. "It gives me pride to know I'm there and doing what I'm supposed to do through the years. That's why I'm there and I believe the work that I do makes it easier for other departments.
"I believe with structure and rules and regulations that's what keeps a company going. Without structure, even in families, things could go left or right without any control. You don't want total control, but you want things to work accordingly to move to that goal that everybody wants."