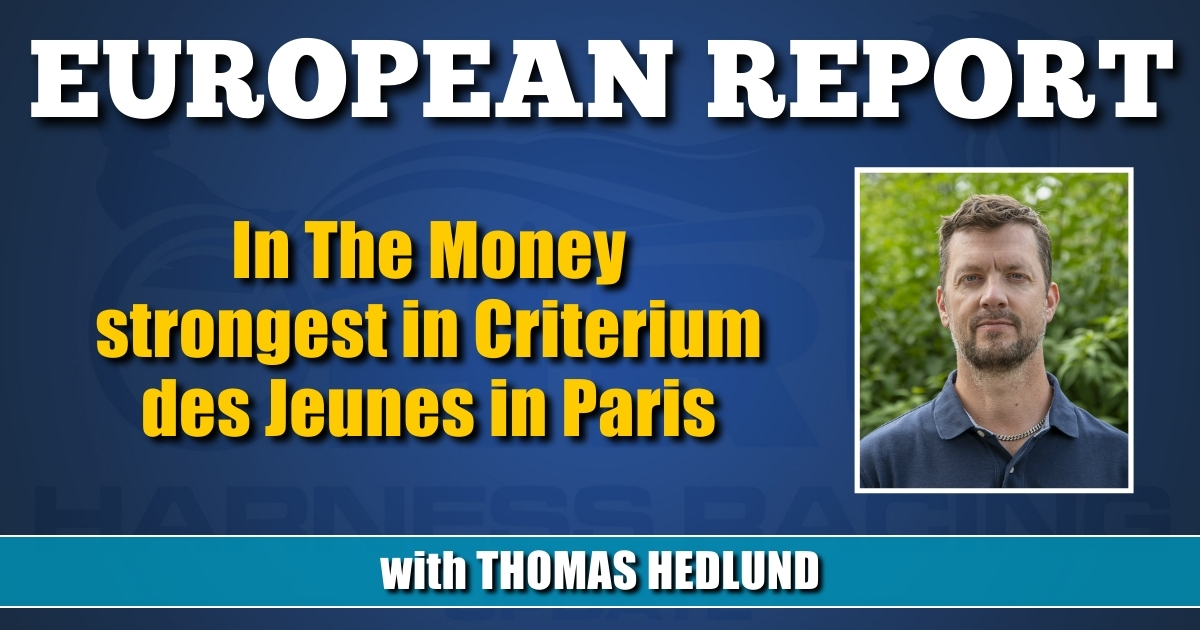 In The Money strongest in Criterium des Jeunes in Paris
by Thomas Hedlund
The $205,000 Criterium des Jeunes for 3-year-old trotters was held at Vincennes in Paris on Sunday (Feb. 21) afternoon and the event was definitely worth seeing with optimistic drivers pushing the pace to high levels throughout the race.
Philippe Billard's Ideal Ligneries had to defend himself in several turns in front and when Inoubliable, who was one of the favorites in the race, connected on the leaders outside after three quarters of a mile, the pace was pushed really high, which resulted in two horses unable to fight for the victory when the home stretch waited.
When first choice Italiano Vero attacked with less than a half mile to go in the 1.3-mile race, the pace once again reached a high level and leader Ideal Ligneries had to give up the fight for real, even if he deserved high grades in combat for finishing fifth.
Thierry Duvaldestin drove his In The Money (Cristal Money) carefully during the race's first half and the duo was seen sixth over. When the front runners ran out of power, In The Money used his speed and could easily disarm new leader Italiano Vero in mid-stretch. Thierry Duvaldestin collected his fourth trophy in the Criterium des Jeunes and this time he did it in a stakes record mile rate of 1:58.3 over 1.3 miles.
Field for Prix de Paris set
The $485,000 Prix de Paris over 4,150 meters (approximately 2.6 miles) is the last of three Grand Prix races at Vincennes during the winter meeting in Paris and the field of this year's edition was set on Thursday (Feb. 25).
Fifteen trotters are ready to climb the hill of Vincennes twice on Sunday (Feb. 28) and it's a strong field that chases the big trophy.
Prix de France winner Delia du Pommereux finished fifth in this race last year and she has great opportunities to improve this time.
Jean-Michel Bazire's Davidson du Pont went off stride at an early stage in the Prix de France and now the duo is looking for revenge. Bazire has been the king of Prix de Paris since his first win in the race in 2005. He can look back at six additional wins in Prix de Paris and he is the title defender since Belina Josselyn claimed the victory in 2019 and 2020, both times with Bazire in the bike.
Prix de Paris 2021
4,150 meters
Horse – Driver
1. Hard Times — Vitale Ciotola
2. Valzer di Poggio — Nicolas Bazire
3. Decoloration — Tony Le Beller
4. Feerie Wood — Alexandre Abrivard
5. Violetto Jet — Franck Nivard
6. Diable de Vauvert — Gabriele Gelormini
7. Etonnant — Anthony Barrier
8. Moni Viking — Pierre Vercruysse
9. Flamme du Goutier — Theo Duvaldestin
10. Chica de Joudes — Alain Laurent
11. Tony Gio — Yoann Lebourgeois
12. Carat Williams — Matthieu Abrivard
13. Delia du Pommereux — Eric Raffin
14. Bahia Quesnot — Junior Guelpa
15. Davidson du Pont — Jean-Michel Bazire