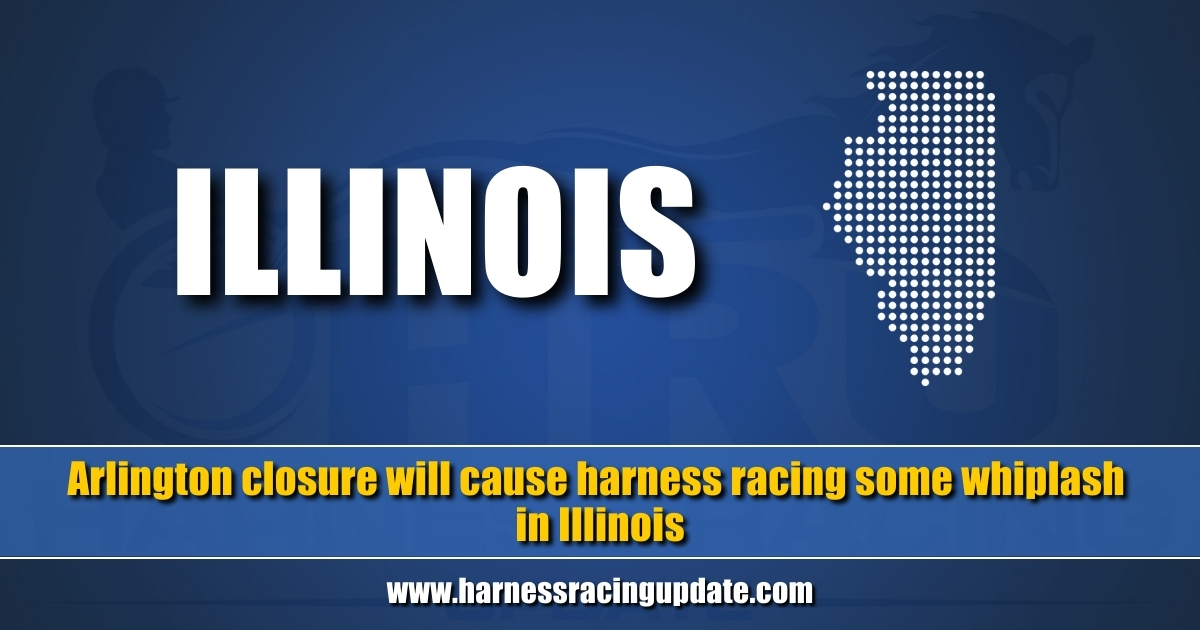 Arlington closure will cause harness racing some whiplash in Illinois
The venerable Chicago thoroughbred track will close at the end of 2021, likely pushing harness racing to a fall-winter schedule at Hawthorne.
by Neil Milbert
The projected sale and redevelopment of one of North America's most celebrated thoroughbred tracks, Arlington International Racecourse, at the end of its 2021 meeting, will have a whiplash effect on harness racing in Illinois.
Bill Carstanjen, chief executive officer of Churchill Downs, Inc. (CDI), announced Tuesday (Feb. 23) that Arlington's parent corporation will use the Chicago-based real estate firm CBRE to market the 326-acre site of the track which held its inaugural meeting in 1927.
Arlington's original grandstand and clubhouse were destroyed by fire in 1985 and when the luxurious rebuilt facility reopened in 1989 it was widely acclaimed as "the world's most beautiful racetrack."
The departure of Arlington will leave the Chicago metropolitan area with only one racetrack, Hawthorne Race Course, and that's the crux of the problem for harness racing. Since the sister tracks Maywood Park and Balmoral Park were forced out of business after their 2015 meetings, the thoroughbreds and standardbreds have been time-sharing at Hawthorne.
"We all suspected this would happen so it doesn't come as a surprise," said Tony Somone, executive director of the Illinois Harness Horsemen's Association (IHHA). "We've known for awhile that we need a second standardbred racetrack in the Chicagoland area. For the next couple years, Hawthorne will share the facility with us and the thoroughbreds. Until another racetrack is built we'll just have to hang on."
This year, Hawthorne will conduct a May 7-Sept. 26 harness meeting that is sandwiched between March 6-April 25 and Oct. 1-Dec. 31 thoroughbred meetings. When the thoroughbreds leave Hawthorne on April 25 they will move to Arlington for its April 30-Sept. 25 meeting.
If Hawthorne were to transition to a summer thoroughbred meeting and conduct standardbred racing during the fall, winter and spring in 2022, Somone believes "that would be a disaster" for the harness horsepeople. It would leave them without a Chicago base during the summer months and confine those who chose to remain in Illinois to the State Fairs at Springfield and DuQuoin and the county fair circuit.
"We have to be able to race at least part of the summer at Hawthorne," Somone insisted. "If we don't what would we do with our Illinois-bred stakes program?
"If we had to race 50 days at the State Fairgrounds in Springfield we'd probably be okay with that but there are a lot of tricky parts to make that happen. It's easier said than done."
A longshot possibility would be a meeting at the state's other track, Fairmount Park in downstate Collinsville, across the Mississippi River from St. Louis. It once was a dual-purpose track like Hawthorne, but ended harness racing after the 1999 meeting. This year Fairmount's thoroughbred schedule calls for racing on Tuesday afternoons and Friday and Saturday nights from April 27-Sept. 6.
The main reason Fairmount might not want to resume harness racing is because the 2019 legislation that allowed Illinois racetracks to conduct casino gambling and have race books also called for a harness track/casino/racebook in any one of six townships in Chicago's southern suburbs. Because of the location, it undoubtedly would lure many more harness horsepeople than Fairmount so the hassle involved in racing standardbreds for only a couple of years and then going back to a meeting exclusively for thoroughbreds probably wouldn't be financially worth the effort.
Rick Heidner, a video gambling entrepreneur and real estate developer, had planned to buy state-owned land in Tinley Park and build the racino with the support of Hawthorne, and the Illinois Racing Board granted him dates for an inaugural meeting in December, 2020. But, after the Chicago Tribune disclosed that Heidner had a longstanding business relationship with a banker with alleged ties to organized crime members, the state backed out of the land sale and the Racing Board rescinded the dates.
Although the COVID-19 pandemic has left the harness track that the legislature envisioned in limbo, the Arlington situation should be a catalyst for luring would-be investors. There also is the possibility that losing applicants for the new casino licenses in Waukegan and Chicago that are permitted under the 2019 law then will focus on getting the racino license in the south suburbs that will also enable them to conduct sports betting and open off-track betting parlors.
Meanwhile, Hawthorne and Fairmount are going full speed ahead in constructing the casinos at their tracks.
In stark contrast, Arlington chose not to apply for either a casino or a racebook after having pushed for their legalization for many years. Ironically, when Arlington's former owner, Dick Duchossois, merged the track with CDI in June, 2020 in a $71.5 million deal — and his privately-held company became the parent corporation's largest shareholder by far — there was a short-term string attached that would have allowed him to increase his holdings if the legislature legalized slot machines at the racetracks.
Since 2015, CDI has bought back the lion's share of the stock held by the Duchossois family and Dick Duchossois, who continued to be Arlington's hands-on chairman after the merger, has been relegated to the role of chairman emeritus, making him a figurehead at his beloved track.
A parallel development was CDI's 2019 acquisition of a 61 per cent interest in Rivers Casino in Des Plaines. Rivers Casino is the most financially successful of the state's 10 existing casinos and it is located only 10 miles from Arlington. Last week, CDI unveiled plans for an $87 million addition to house a more slot machines, a poker room, an events ballroom and new restaurant.
In addition, Rivers is bidding for the license for the new casino in Waukegan, a few miles from the Wisconsin border on the outer fringe of Arlington's market area.
Like the harness horsepeople, thoroughbred horsepeople, members of the Racing Board and officials of the Village of Arlington Heights (where the historic track is located) weren't caught off guard by Carstanjen's announcement. The handwriting was on the wall in 2019 when Arlington declined to apply for a casino license and last July it became almost a foregone conclusion when Carstanjen said in a CDI quarterly earnings call that "the land will have a higher and better purpose for something else at some point."
His statement this week said the 2019 law's tax regulations and requirements for a portion of an Arlington casino's casino gambling revenue for purse subsidies would make it "financially untenable."
However, in a seeming contradiction, Carstanjen reiterated that CDI is interested in trying to relocate Arlington's dates to either another location in the Chicago metropolitan area or elsewhere in Illinois.
"We are committed to Illinois thoroughbred racing and will consider all options in working toward opportunities for it to continue into the future," he said.
In no uncertain terms, in a counter-statement, Illinois Thoroughbred Horsemen's Association (ITHA) president Mike Campbell set the record straight: "Churchill spent two decades lobbying Illinois lawmakers for the authority to develop a casino at Arlington. But since purchasing the majority stake in nearby Rivers Casino, Churchill has all but abandoned any meaningful commitment and instead devoted itself to ensuring that Arlington could not become a gaming competitor to Rivers.
"The license is not Churchill's to move. Moreover, the notion that a seasoned gaming operator would relocate a racing license away from a state-of-the-art modern racing facility near the heart of the Chicago metropolitan region to some yet-to-be determined location is absurd.
"Churchill is just trying to obfuscate from the fact that it cares only about maximizing profit and will gladly sacrifice the spirit of the Illinois law and the livelihood of working Illinoisans to serve its greed."