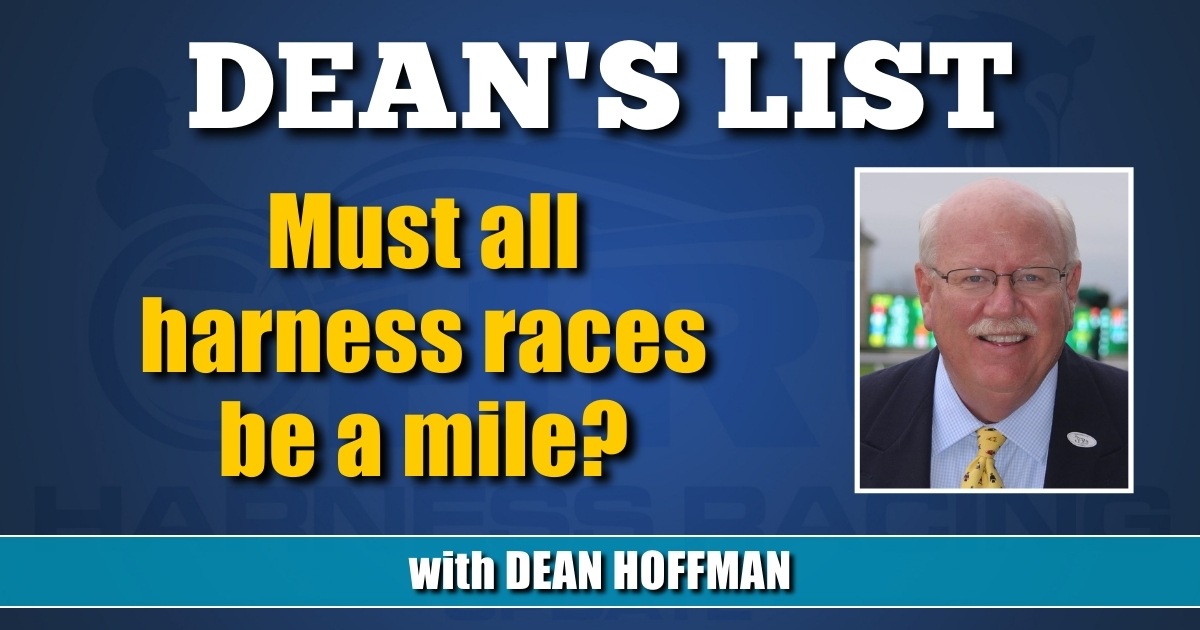 Must all harness races be a mile?
by Dean A. Hoffman
Biblical scholars recently revealed that when Moses came down from Mt. Sinai, he was carrying stone tablets with 11 Commandments, not the 10 Commandments which are so widely known.
Unearthed after centuries were the pieces of the 11th Commandment which read:
ALL HARNESS RACES IN NORTH AMERICA MUST BE AT ONE MILE
(For whatever reason, this commandment does not apply to trotting in Europe or to harness racing Down Under).
I have been a harness racing fan for more than a half-century, but often I liken an evening at a harness track to one-mile monotony.
Why? Because you have basically the same number of horses in each race, often with many of the same drivers, and they're racing at the same distance.
The fourth race often looks just like the third race did, and the fifth race will likely look pretty much the same.
How entertaining is that?
Yes, I know that the mile distance is the "standard" that was used to fashion a breed out of a motley crew of steeds in the 1800s. Horses performing in harness often had unknown or uncertain pedigrees, and to be eligible for registration they had to meet a "standard" time over a one-mile distance.
Horses that qualified were those used in breeding to improve the embryonic breed.
That was then; this is now.
I've been to harness racing in Europe and Down Under and one of the primary attractions to me is the varying distances. It's not the one-mile monotony of North American harness racing.
Last month, the Vincennes track outside Paris, often called "The Temple of Trotting," played host to the Prix d'Amérique, a race which, in non-pandemic years, likely has the largest crowd of any harness race. (And at the end of January, no less!)
One year before I went to Paris for the PDA, I encountered a life-long fan and devout bettor from my neighborhood and told him I was heading to Paris soon. He was unfamiliar with the Prix d'Amérique, so I told him, "There are 18 starters. There is no starting gate. Horses are assigned numbers for betting but the drivers can pick their starting position. The distance for the race is about 1-5/8 miles over a track that's a little downhill in front of the grandstand and then uphill on the backstretch."
He looked at me as if I'd just fallen off the turnip truck. He surely thought I was jiving him. It was seemingly incomprehensible to him that a harness racing could be contested at anything other than a mile distance — not to mention all those other weird factors.
But the Prix d'Amérique gets huge crowds, people who come from all over Europe for the great spectacle.
Many tracks in Europe are one-kilometer in circumference. That's basically a 5/8-mile track. A popular distance is 2,100 meters or just a bit more than two laps around the track.
I believe that when Hazel Park opened in the 1950s, it was the first 5/8-mile track. I am sure it was seen as a compromise between the tight turns of a half-mile track and the vast spaces of a mile track. (Remember: there were no TV cameras then to follow horses. You had to rely on your own eyesight).
I just wonder if someone mused, "Let's take one of the most exciting parts of a race [the start] and put it on the backstretch as far from the public as possible. Then let's take one of the most lackluster parts of a race [the second quarter] and put it right in front of the public."
You might think the mile races on a 5/8-mile track are not my favorites. And you would be correct.
I once suggested to a race secretary at an American race secretary meeting that he consider carding some 1-1/4-mile races.
His first question was, "Where would they start?"
It was obvious that he had never contemplated a harness race at anything other than the mile distance.
I told him they would start at the finish line and go two trips around the track; start and finish right in front of the public.
Longer races would allow race secretaries to include more horses. Instead of eight or nine starters, you might have 12-14 starters. That would assure more movement and action instead of single file racing.
People ask, "Twelve horses? And seven of them don't get a check? You're crazy!"
Who said that we need to pay only five places? I once surveyed racing officials in harness racing on purse distribution and no one ever gave me a satisfactory answer about why harness track pay five places.
Tradition, I guess.
But should pay only the first three finishers? Should we pay all starters? That's a debate worth having.
We all recognize that the public isn't buying what we're selling now. There are surely many reasons for that. Maybe harness tracks should offer more variety on the program with different distances, more starters, and perhaps a different purse payout.
What have we got to lose?