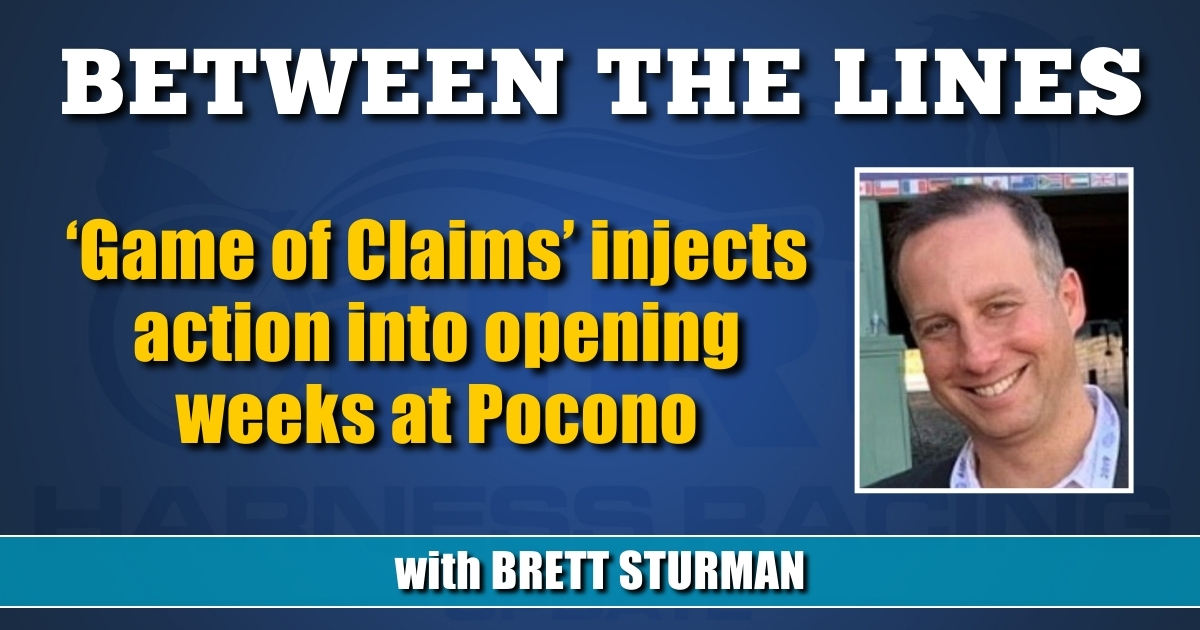 'Game of Claims' injects action into opening weeks at Pocono
Director of racing Rick Kane said nominations and entries are "way up" from last year.
by Brett Sturman
As The Downs at Mohegan Sun Pocono gives opening weekend a second try after being wiped out last Saturday due to a preceding snowstorm, one thing is certain: there's going to be a lot of claims being made.
That's because for the second straight season that coincides with a February start date, the first three weekends of the meet will be end-to-end with claiming series races, better known as "The Game of Claims" late closing series. Of the 14 races held on Saturday (Feb. 13), the first 11 are series races for $15,000 and $25,000 claimers. On Sunday (Feb. 14), 10 of the 14 races will be for the lower end $7,500 and $10,000-priced claiming pacers.
What makes these claiming series worthy of attention is that they have great appeal to many different racing interests. Everyone across the spectrum, including owners, trainers, drivers, bettors and the host track itself stands to benefit through the production of the series.
It makes me wonder why there aren't more claiming series elsewhere. In addition to Pocono, tracks in Ohio such as Northfield Park and Miami Valley have recently conducted similar progressive level claiming series, but the events seem sparse elsewhere. Which is hard to figure when you consider the amount of claiming activity that these series spur, and in turn have the benefit of producing excess tax revenues with each claim. Claiming series like the "Fight The Foe" from the early 2000s at the Meadowlands ceased long ago.
But back to Pocono. This weekend and the ones that follow is going to produce a good racing product, or at least a better product than there would be if not for the claiming series. The way the series works is that there are three preliminary legs and then a final. Through each preliminary leg, the claiming price increases. So, for the $25,000 event, as an example, horses start in the first leg for a tag of $25,000, then $27,500 and then $30,000. Horses earn points along the way to qualify for the final, which goes for $50,000 and where horses cannot be claimed at that point.
The structure of the series puts an emphasis on strategy. In last year's $25,000 claiming event, a horse named Trente Deo won his first leg. He raced again in the second leg but was claimed out of that for the second leg premium of an additional $2,500. Then, knowing he had enough points to qualify for the final, the connections sat him out of the final preliminary leg before racing in the final, and winning it. In those couple of weeks, the connections earned back a large percentage of what the claim cost.
Claiming action is frantic during these series, and so nearly every horse is out to win every week because not only are they trying to earn points for the series final, but also because there is a good probability that the horse will be claimed away from them and this is the current connections last chance to earn money with the horse. In most races you can take a week easy here or there and come back next week, but there's much more of an emphasis on the here and now in these series. Because of that, drivers are far more aggressive, and the races become more viewable and more importantly, bet-able.
In addition to a series final that has a purse equal to double the claiming price ($15,000 claimers race in a series final for $30,000), every preliminary leg has a purse equal to the base claiming price at the start of the series. It's rare that $15,000 claimers can race for a purse of $15,000 in three straight weeks. It goes similar for a $7,500 claimer that if it were to sweep the series, it would earn close to $20,000 in purse winnings in less than a month. Now, if a horse were that good to potentially sweep than it's almost certain he would get claimed at some point, but that all plays in to the series strategy and puts the added emphasis on a higher than usual level of competition in a rent-a-horse-for-a-week type of scenario. This is particularly true on Saturday in the $25,000 event in which seven divisions have been carded, as opposed to four divisions for the $15,000 variety. With seven divisions, it puts pressure on the horses to deliver a first or second in order to determine the claim or protect strategy in the remaining legs.
Pocono director of racing, Rick Kane, describes the creation of the series last year as a way to fill a void. "Last year, we opened up very early compared to when we normally open up. Usually we open the third or fourth week of March and now it's early February. So, we needed something to boost our numbers for the entries and it seemed like a logical fit to use a claiming series," Kane said.
The success of the series from last year was unmistakable. For instance, in just the first four days of the meet in February of 2020, there were 47 claims totaling over $800,000. And it's reflective of the setup for this year's series that start Saturday.
"The nominations and entries are way up from last year," said Kane. "It was a bit of surprise really, but obviously (the owners and horsepeople) liked what they say last year so a lot more people have jumped into it this year.
"This is a very active claiming track as it is. One year in fact we had over 900 claims. So, compared to a lot of other tracks, there is a lot of claiming activity here."