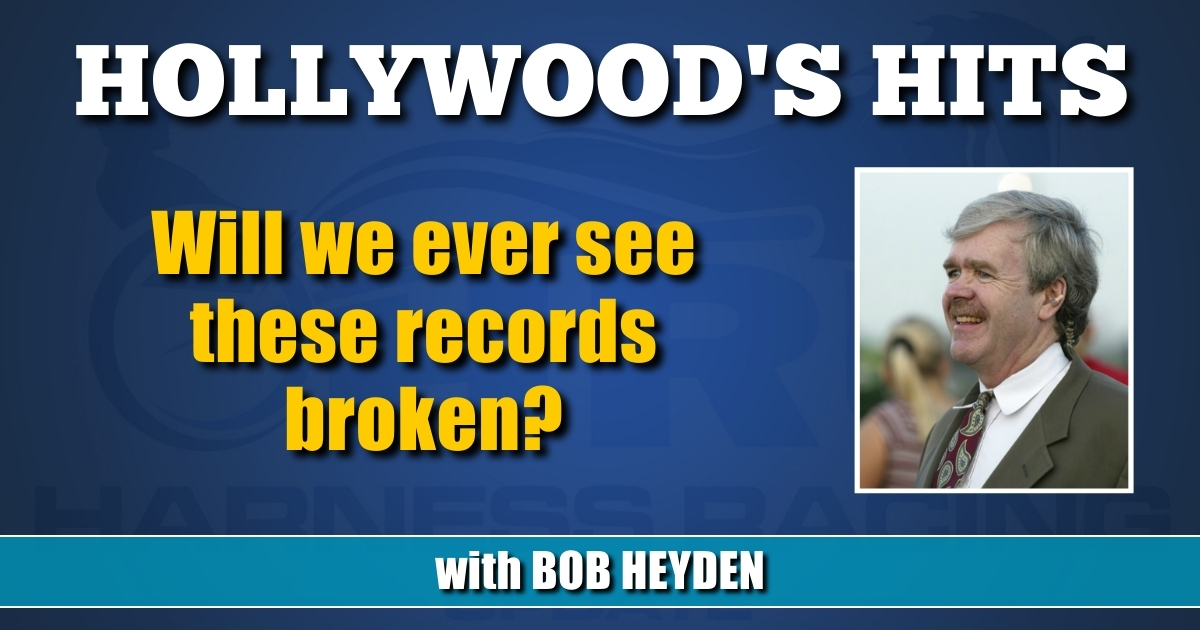 Will we ever see these records broken?
by Bob Heyden
Twenty-five things we may never see again in harness racing:
1. A $2,161,000 race. That was the purse of the 1984 Woodrow Wilson won by Nihilator.
2. Two drivers doming the Breeders Crown the way Brian Sears and Ron Pierce did from 2004-06.
Sears in 2004 — 9 4-0-0, $1,295,056
Sears in 2005 — 12 4-2-2, $1,647,026
Sears in 2006 — 12 3-1-1, $1,208,200
$4,150,282 Total 33 11-3-3 slate
Pierce in 2004 — 12 4-2-1, $1,365,375
Pierce in 2005 — 11 4-1-0, $1,311,150
Pierce in 2006 — 12 3-2-1, $1,103,750
$3,780,275 Total 35 11-5-2
To put it into perspective, Andy McCarthy led with four Breeder Crown wins in 2019 and Dexter Dunn with four in 2020. They combined to win 10-of-24 Breeders Crowns in that two-year span. If they swept all 12 Breeders Crowns in 2021, they would tie Sears and Pierce from 2004-2006 with 22-of-36 Crowns.
3. A 74-year-old driver winning the Hambletonian. That happened in 1952 when Bi Shively won with Sharp Note.
(Carl Allen was 73 in 2003 and appeared in his final Hambletonian to no avail with Holy Guacamole They finished fifth in their elimination and did not make the final).
4. A driver winning his first two million-dollar drives four days apart. Ron Waples did this in 1983 with Shannon Fancy in the Sweetheart and Ralph Hanover in the Meadowlands Pace.
5. It took three years to go from $200,000 as the richest ever purse to $300,000 (1974-1977). It took three weeks to go from the first million-dollar race to the first $2 million race between July and August ,1980 won by Niatross then Land Grant, respectively.
6. A driver beating Tim Tetrick's $19,752,066 driving season in 2008.
7. A driver surpassing Tim Tetrick's 1,189 driving wins in 2007.
8. A driver winning five straight Hambletonian Oaks like Yannick Gingras did from 2014-2018.
9. A driver winning six North America Cups in a single decade like John Campbell did in the 1990s — Precious Bunny (1991), Cams Card Shark (1994), Davids Pass (1995), Arizona Jack (1996), Gothic Dream (1997) and The Panderosa (1999).
10. There being three million-dollar races for pacing colts in 42 days:
June 2, 2007 — $1,000,000 Rooney at Yonkers won by Southwind Lynx
June 16, 2007 — $1,411,000 North America Cup won by Tell All
July 14, 2007 — $1,000,000 Meadowlands Pace won by Southwind Lynx
11. A driver winning 11 straight drives like Stephane Bouchard did March 8, 2003 — the last three at Freehold and then the first eight at Yonkers.
12. A female driver winning a Triple Crown race like Jacqueline Ingrassia did in 2000 when she won the Yonkers Trot with Goalfish.
13. A horse earning more than Foiled Again's $7.6 million.
14. A driver winning the Hambletonian or Meadowlands Pace five straight years like Ron Pierce did from 2007-2011.
15. A trainer winning 13 races like Bruce Ranger did on Sept. 5, 2009.
16. A driver winning eight straight driver earnings titles like Billy Haughton did from 1952-1959.
17. A driver winning the first three million-dollar races after he turned 50 like Buddy Gilmour did when he won the1984 Meadowlands Pace with On The Road Again, the 1986 Meadowlands Pace with Laughs and the 1986 Woodrow Wilson with Cullin Hanover.
18. A trainer winning three Triple Crowns in a five-year span like Stanley Dancer did with Nevele Pride in 1969, Most Happy Fella in 1970 and Super Bowl in 1972.
19. A driver winning five million-dollar races with horses he had never driven before in a race like Mike Lachance did with Safely Kept in the 1992 North America Cup, Straight Path in the 1998 NA Cup, Mach Three in the 2001 Metro, All American Theory in the 2003 Meadowlands Pace and Amigo Hall in the 2003 Hambletonian.
20. A driver winning 1,076 races in a single year with fewer than 3,000 drives like Walter Case, Jr. did in 1998 when he had 2,993 drives that year with an amazing 976 coming at Yonkers alone.
21. A driver matching this Bill O'Donnell stat: On Aug. 16, 1984, he won with trotter Fancy Crown, who would be that year's Horse of the Year and, on the same day, winning the richest race ever (the Woodrow Wilson) with Nihilator, who went on to be the next year's HOY.
22. A driver winning his first four Hambletonians after turning 50 like Billy Haughton did with Christopher T in 1974, Steve Lobell in 1976, Green Speed in 1977 and Burgomeister in 1980.
23. A driver winning on 58 straight nights at the Meadowlands like Brian Sears did in 2007.
24. Three drivers matching this one: Randy Waples, Tim Tetrick and Brian Sears finished first or second in the Hambletonian final and drove a different trotter to be named Horse of the Year from 2011 through 2013:
2011 — Randy Waples was second with Whiskey Tax in the Hambletonian and drove San Pail who was that year's HOY
2012 — Tim Tetrick won the Hambletonian with Market Share the same year his drive Chapter Seven was the HOY.
2013 — Brian Sears won the Hambletonian with Royalty For Life and the HOY award with Bee A Magician.
25. A driver surpassing Cat Manzi's career record of more than 95,000 drives.