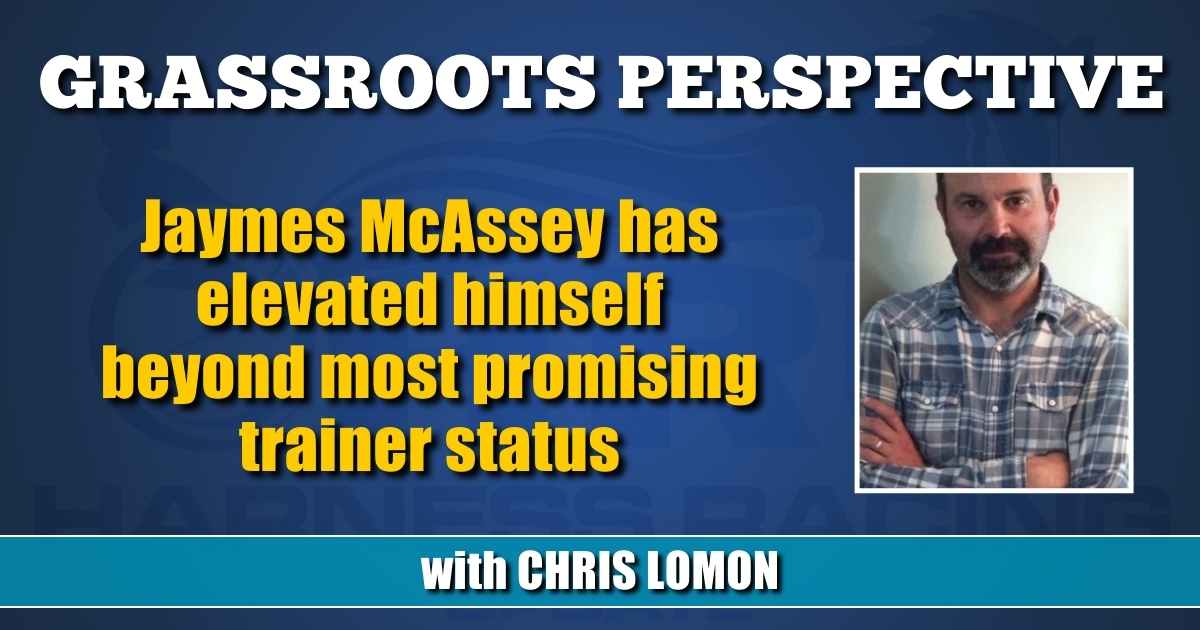 Jaymes McAssey has elevated himself beyond most promising trainer status
by Chris Lomon
You won't find the name Jaymes McAssey in the promising standardbred trainer category any more.
There was a time, not so long ago, when the Massachusetts-born horseman was heralded as someone to keep tabs on, a rising star in the horse racing ranks.
A glance at his rookie campaign in 2017, a year that yielded 29 wins from 126 starts, 67 top-three finishes, $180,955 in purse earnings and a UTRS of .367 certainly backed up any talk of McAssey being labeled a promising talent. That same year, he earned the Peerless McGrath Award at Saratoga, given annually to the track's top up-and-coming trainer.
"It did end up surpassing my expectations," said the native of Franklin, MA. "I don't want to say that I had bad horses, but I didn't have top horses. A lot of them came to me from other barns. So, to have the year we did, it was a pretty good feeling. The horses we had, a lot of them stepped up and we were able to have a solid year."
None of it was beginner's luck for the horseman who worked as an assistant to trainer Jordan Derue, and with Shawn and Alicia Gray in their stable before going out on his own.
It was, in fact, quite the opposite.
In 2018, he boosted his win total to 42 and his earnings mark to $305,517. One year later, McAssey starters recorded 51 wins and over $456,000 in earnings.
Despite a pandemic-impacted 2020 season, he once again notched 51 wins, accompanied by an impressive .323 UTRS.
How exactly did McAssey, whose brother Jesse is also a trainer, achieve such lofty statistics year after year?
It came through meticulously plotting out his solo training career path, opting for a carefully constructed plan rather than rushing into the conditioner ranks.
"I'm not very good at losing," McAssey admitted. "I probably could have done this a few years before I did it, but there's a lot that goes into the job. It's a lot of money and you have to have people behind you. Mentally, I don't think I was ready, to be honest. When you work for somebody, you obviously know there are expenses, but you don't actually really know everything that goes into it. You have to work with the owners, pay the grain man, and so many other things – there's so much more that goes into being a trainer than what you see. You have to be ready for it."
Now, in his fifth season as a full-fledged trainer, he's feeling more comfortable in his craft, guided by an open mind when it comes to sharpening his skills in the barn and at the racetrack.
Each year has provided him with new opportunities, new horses, and new lessons learned.
He remains grateful for the horses he had in his first campaign and what they taught him.
"When you have to work with horses that have certain issues or need to be worked on a lot, that teaches you more than you could ever know. My dad always had cheaper horses and a small stable — $1,500 or $2,000 claiming horses – and you understood early on that you could educate yourself a lot and become a better trainer by working with them."
McAssey, who currently has 15 horses in his stable, points to a particular horse that embodies the approach of his stable.
A 7-year-old daughter of Shadow Play (ON), Gottalovemyshadow, has 92 starts to her name, winning 19 races and amassing $210,775 in lifetime earnings.
The chestnut mare has reeled off 10 consecutive top-four finishes, including four trips to the winner's circle.
"She's actually exceeded expectations. I've dropped her in class so that she could some confidence and then we could move her back up again. She shows up wherever I put her, whatever track she goes to – she's kind of what my barn represents. She always shows up and even though she doesn't win every week, she's always close, she always performs, and gives it her all. She's probably that horse that spells out what I like to represent myself as."
McAssey doesn't need to ruminate when asked what he's most satisfied with in terms of his career to date.
"I would say consistently. Our horses are very consistent. When they throw a bad start, we almost always know why, and we know what to do to fix them. Knowing your horse is the most important thing, where to spot them up and where to race them. That's when you are able to find that consistency you always strive for."
Top-three finishes isn't the only thing he's after.
Expanding his operation – he divides his time mostly between Saratoga and Plainridge – to compete at other racetracks on a regular basis is also a top priority.
"We're starting to get some better quality horses now and our numbers are getting up there. We're at 15 and I'd like to stay right around that. It's been nice to race at more tracks. Saratoga and Plainridge are my home bases, but I've been racing at Yonkers and The Meadowlands, and the horses are doing pretty well.
"Where I'm at, I'm happy. I'd like to expand to race more at Yonkers and The Meadowlands, but that will come in time. It's not going to be handed to me by any means. Where I call home, I think I've made a name for myself. But that only means you push yourself harder, you work harder, and you take every new thing you learn and add it into what you do."
McAssey's hopeful all of it adds up to achieving the one thing he's always chasing.
"I just want to mirror what we did last year, even though it was tough to gauge what to do with your horses because of the pandemic. It was just a horrible year, obviously. It comes down to consistency for me. I'd like to win more than we did last year, but if we can keep being consistent, keep our horses sound and keep chugging forward, that's the biggest thing."