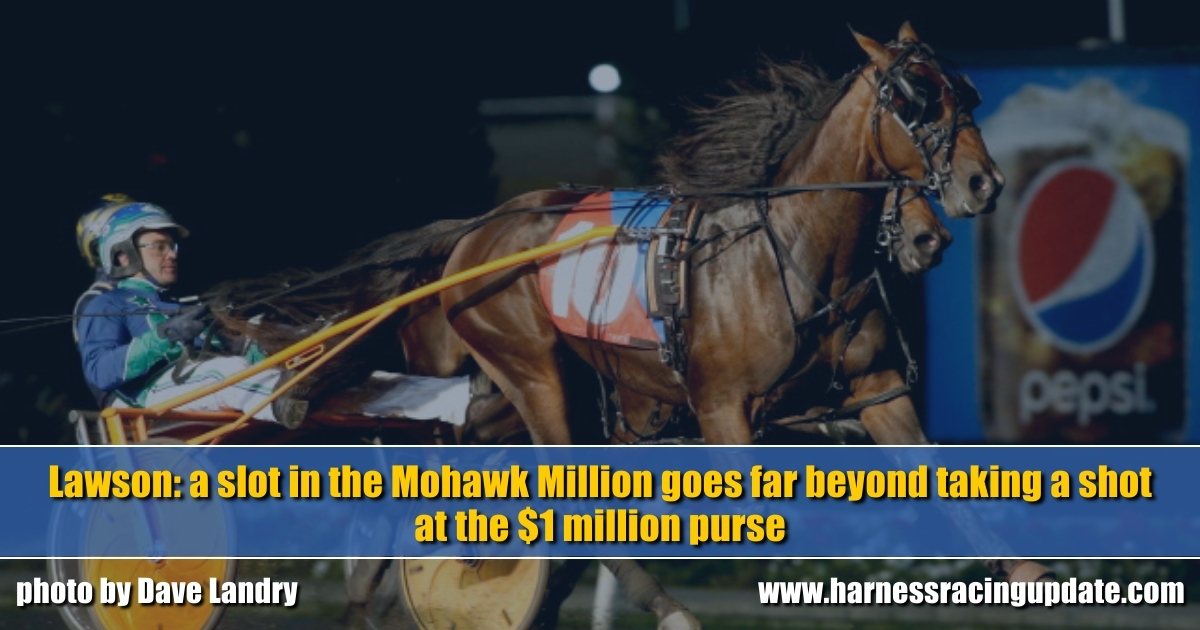 Lawson: a slot in the Mohawk Million goes far beyond taking a shot at the $1 million purse
With slots available and the deadline looming, the CEO of the Woodbine Entertainment Group said the race "brings notoriety and eyes on this sport at a time when it needs it."
by Dave Briggs
As the Feb. 15 deadline looms for owners to buy a slot in this year's Mohawk Million, Woodbine Entertainment Group (WEG) CEO Jim Lawson is encouraging those on the fence about whether to purchase a slot to consider the benefit the race has on the entire industry.
"Our view is that it's a great race. It brings notoriety to the whole sport," Lawson said Friday (Feb. 5) about the $1 million (Cdn) race for 2-year-old trotters that debuted in 2020 with owners paying $100,000 (last year it was $110,000 U.S. funds, this year it's Canadian dollars) to guarantee a spot on the starting gate. There are nine slots in total to be purchased, with a 10th going to the winner of the William Wellwood Memorial. Each slot is considered an entity that may be sold, traded or leased. The slot holder does not have to declare a horse for the Mohawk Million until the week of the race.
Lawson confirmed that there are slots available for this year's race, but the value of participating goes beyond having a shot at a million-dollar purse.
"It brings a lot of attention and focus on the sport… It raises the tide for everyone. People have to think of it that way, that it just improves the outlook of the entire industry, in terms of attention, in terms of reinvestment of that money, because it doesn't go into someone's pocket, that money generally goes back into the yearling sales to try it again.
"It's a concept that I think is sound. I think it can grow. I think people were pleased with it last year and… I hope people recognize not just the risk they are taking for themselves and the risk-reward, but that part of the reward is raising the entire harness racing industry – and certainly the racing industry in Ontario. It's certainly raising the prominence of Mohawk and we're going to do a bigger and better job this year promoting it and marketing it and hosting it than we did last year."
Last year, pandemic restrictions on spectators at Woodbine Mohawk Park curtailed WEG's plan to celebrate all the Mohawk Million slot owners as much as it had hoped. Lawson said he expects most people will have received a COVID-19 vaccine before the race goes to post on Sept. 25.
"We're going to be in good shape, I believe, to play host to the owners and show them our gratitude and give them a great weekend, like we weren't able to last year. We had grand plans last year to host them and I think we'll be able to do that this year," he said.
"If we get 70 per cent of our population vaccinated by mid-September, which I think is a reasonable estimate to be in that 60 to 70 per cent range by then, I think we've really got a shot at having a special night and getting all eyes on our product."
Crawford Farms, based in New York, has already purchased a slot for this year's race. Al Crawford said, "we bought a slot because we have a lot of promising 2-year-old trotting fillies and a couple of colts… (and) I think it is great to support initiatives in the sport that promote the sport through big events."
Connections of last year's winner, Venerate — led by trainer Julie Miller — made a private, undisclosed deal with slot owner Brad Grant to earn a spot on the gate and catapulted that victory into the Dan Patch Award as the top 2-year-old trotting colt of 2020 in the United States.
"In good times or bad times, winning a million-dollar race is incredible," Miller told HRU after capturing the inaugural Mohawk Million (full story here). "That's my wildest dream. I never even could put this on my vision board, to win a million-dollar race with a 2-year-old."
Miller was also effusive in her praise of Woodbine Mohawk Park for staging the first-of-its-kind event for harness racing and delivering a terrific show despite the challenges of putting the inaugural race on during a pandemic.
"I want to thank Woodbine and Mohawk for being progressive and trying something new and generating more buzz for the sport that I love," Miller said. "We're all fighting in a pandemic to keep people safe, so for Woodbine to still try hard to get this race going was unbelievable."
Crawford said what happened last year was another reason he was all in on buying a slot this year.
"If you look at what Brad Grant and Tony Alagna did last year with their slot, it shows they are very tradeable and even if you don't have a horse yourself for the race, you can still do well selling the slot to someone else that does."
The Mohawk Million is one of only three million-dollar races in North American harness racing, along with the Pepsi North America Cup for 3-year-old pacers at Woodbine Mohawk Park and the Hambletonian for sophomore trotters at The Meadowlands.
Still, not everyone is game on the Mohawk Million concept of purchasing a slot at a steep price. Diamond Creek's Adam Bowden bought a slot last year, but hasn't, yet, purchased one again this year.
"I don't like putting up that kind of money and not being able to attend. It was disappointing but expected last year, (but) 2021 looks very similar at this point," Bowden said.
Lawson said he is confident "the borders are going to open up this year" and spectators will be allowed back at the track. "I am optimistic that we're going to have a great weekend and we'll be able to host people. I'm optimistic about the sport and I'm optimistic that we and the economy are going to be able to rebound."
Still Bowden said he's, "going to take a wait and see approach. I like the concept but wish they could get corporate sponsorship to cover 50 per cent of the entry fee. The Pegasus at Gulfstream is running into similar issues when the entire purse is funded by the nine or 10 entrants. If the purse was $1 million and the entries were $50,000 each and a sponsor or two covered the remaining amount then it starts getting really interesting. The other issue is that it is trotters. They should do it with pacers instead. The competition is better, the division is much closer."
Lawson said the reason the Mohawk Million is a trotting race is because the track already has an established, high-purse race for 2-year-old pacers in the Metro and the hope was a trotting race would have a spin-off effect on the breeding of trotters in Ontario.
"Having a good trotter is really special and the hope was that it was going to encourage people to buy trotters and develop more trotters in Ontario," Lawson said. "As you know, trotting is a big sell in foreign jurisdictions and a lot of our wagering is expanding into Sweden and France and Australia and they like the trotting. So, an addition to our calendar, it seemed like the right fit.
Jim Bullock of Ontario's Glengate Farms was bullish on the concept last year and bought a slot, but said he has a practical reason for not buying one this year, so far.
"I don't have the apparent 2-year-old talent this year," Bullock said. "If the slots fill, I'll buy my way in later should my talent assessment prove to be wrong."
Lawson said he appreciates, "that there's only so many people with the stock and the quality that are going to step up with that kind of 2-year-old and make that bet, but we're hoping they do."
A $50,000 nomination fee is required by Feb. 15 when submitting a slot contract for the Mohawk Million. The remaining $50,000 is then due by June 1, 2021.
Any requests for information or purchases of a slot can be directed to Bill McLinchey, director of standardbred racing, at bmclinchey@woodbine.com.
"It's exciting having a young 2-year-old and thinking that they'll be able to make it into this race," Lawson said, "or it's exciting holding a slot and being able to barter for a portion of one of the top 2-year-olds for that race… It's really something that brings notoriety and eyes on this sport at a time when it needs it. We need some good stories."