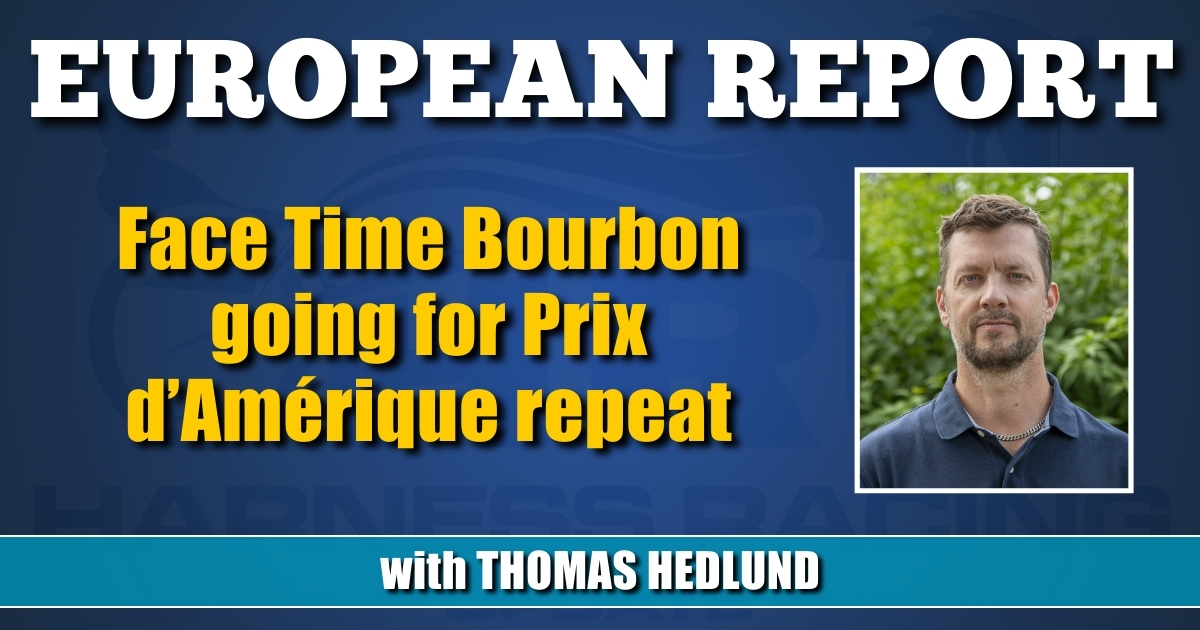 Face Time Bourbon going for Prix d'Amérique repeat
The field is now set for Sunday's $1.2 million event at Vincennes in Paris.
by Thomas Hedlund
The $1,212,000 Prix d'Amérique in Paris is scheduled for Sunday (Jan. 31) and the field was set on Thursday (Jan. 28) (full story here). Eighteen horses will chase glory on Sunday and title defender Face Time Bourbon (Ready Cash) will be the first choice in the race paired with driver Björn Goop.
The six qualification occasions ahead of the big Grand Prix race have created speculation about who will win the 2,700-meter race at Vincennes.
Champion trainer Jean-Michel Bazire is on fire with four contenders, with Davidson du Pont calculated to be his best shot.
Last Sunday, the $851,000 Prix de Cornulier monté race was held and on a sloppy Paris track and strong mare Bahia Quesnot (Scipion du Goutier) surprisingly claimed the trophy with Matthieu Abrivard in the saddle. The 10-year-old mare was already qualified for the Prix d'Amérique and she was, honestly speaking, not ascribed as a serious shot in Cornulier, but a smart ride and strong effort made the Junior Guelpa trotter a winner in the biggest race in the world for the genre.
Bahia Quesnot claimed the lead in the last turn and was attacked by the outside horse Flamme du Goutier when they turned for home. In fact, Bahia Quesnot was beaten at mid-stretch, but her courage is one factor that makes her such a great horse and she came back on the inside and won in a mile rate of 1:57.1 over 1.6 miles.
Ahead of the Prix d'Amérique, Bahia Quesnot is the richest trotter in the world when ranked by 2021 earnings thanks to her $382,000 payday in the Prix de Cornulier. Lifetime, she has collected $1,762,695 in earnings and that makes her the third richest horse in this year's Prix d'Amérique. Face Time Bourbon ($2,665,059) and Billie de Montfort ($2,848,371) are rank ahead of her.
Bazire's weapons in the race this year are Victor Ferm, Looking Superb, Valokaja Hindö and last year's runner-up Davidson du Pont, who is driven by the trainer.
When Face Time Bourbon won the Prix d'Amérique last year, he was 5 years old. This year's edition contains two horses with that age: French star Gu d'Heripre (Coktail Jet), who qualified via a victory in the Criterium Continental on Dec. 27, has shown qualities that makes him a serious threat against more merited trotters. The same can be said about the second 5-year-old contender, Power (Googoo Gaagaa). Power dominated the crop in Sweden as a 3-year-old and he came back strongly at the end of the last season with victory in the $485,000 Grand Prix de l'U.E.T. in Paris in October. Robert Bergh's Googoo Gaagaa son showed he was in good shape in his last performance, the $121,000 Prix de Croix at Vincennes, when he won on a sloppy track in nice style.
Vincennes' race cards Saturday and Sunday are filled with fields of great trotters, but due to the COVID-19 situation, Vincennes will not be the racetrack it usually is this particular weekend. The spectators have to stay at home this year, but still, a winner in one of the toughest harness racing events in the world will be crowned.
Prix d'Amérique 2021
2,700 meters
Horse – Driver (Trainer)
Victor Ferm – Christophe Martens (Jean-Michel Bazire)
Feerie Wood – Alexandre Abrivard (Laurent-Claude Abrivard)
Diable de Vauvert – Gabriele Gelormini (Bertrand Le Beller)
Gu d'Heripre – Franck Nivard (Philippe Billard)
Moni Viking – Matthieu Abrivard (Pierre Vercruysse)
Drole de Jet – Pierre Vercruysse (Pierre Vercruysse)
Looking Superb – Francois Lagadeuc (Jean-Michel Bazire)
Feliciano – David Thomain (Philippe Allaire)
Chica de Joudes – Alain Laurent (Alain Laurent)
Valokaja Hindö – Nicolas Bazire (Jean-Michel Bazire)
Power – Robert Bergh (Robert Bergh)
Tony Gio – Yoann Lebourgeois (Sébastien Guarato)
Delia du Pommereux – Eric Raffin (Sylvain Roger)
Vivid Wise As – Alessandro Gocciadoro (Alessandro Gocciadoro)
Davidson du Pont – Jean-Michel Bazire (Jean-Michel Bazire)
Bahia Quesnot – Junior Guelpa (Junior Guelpa)
Face Time Bourbon – Björn Goop (Sébastien Guarato)
Billie de Montfort – Jean-Philippe Monclin (Sébastien Guarato)