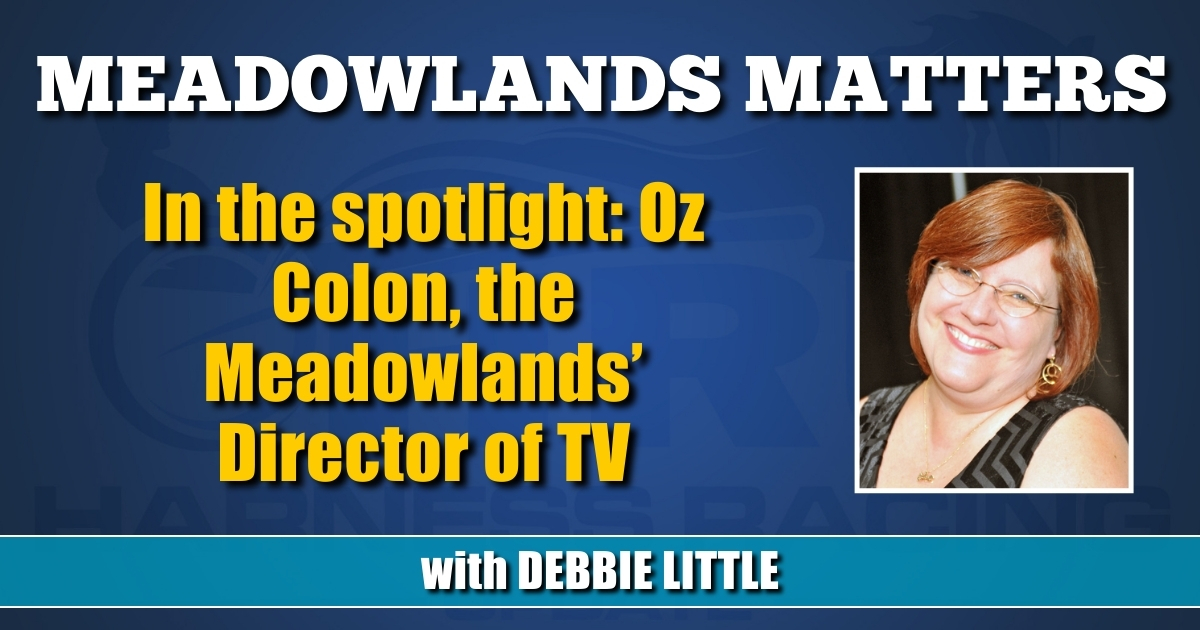 In the spotlight: Oz Colon, the Meadowlands' Director of TV
by Debbie Little
This is the first in a monthly series of profiles of members of the team at the Meadowlands that matter.
Director of TV is his title, but it doesn't scratch the surface of what the accomplished Oz Colon does night in and night out at The Meadowlands.
MeadGyver might be a better name for Colon – even though he's not working with chewing gum and paper clips – as he is expected to come up with immediate and creative solutions on the fly.
Marjorie Roman, assistant manager of closed-circuit TV at the Meadowlands, works with Colon and knows first-hand what is expected of him.
"Anything can go wrong at any time, especially during a live production, so he's had to go out of [TV Control] many times for different reasons – to change a TV, to fix an IFB [interruptible foldback earpiece] that's not working, or a tote board quadrant is out," she said. "Anything that's wrong he has to go out and be the engineer to fix it."
Colon, 50, has worked at The Meadowlands for more than half his life and is a second-generation employee.
His mother, Damaris Marrero, was a security guard at the mile oval a year after it opened in 1976.
While Colon was attending Old Dominion University in Norfolk, VA in the late '80s, his mom got him a part-time job at the track in the cleaning department, but it wasn't until 1991 when the stars aligned and put him on his current path.
"My mother was talking to John Latronica [head engineer and Director of TV] and he said, 'If your kid ever needs a job, let me know.' So, I said I'm interested in a job working in TV just to try it out because I was going to school to become a history teacher.
"He gave me a job in May or June of 1991 and I started off doing the retrieval system. In the old building, each floor had a retrieval system. People would call and ask for a specific race from the week before and we'd have to find the tape, find the race and play the race."
After a year, Colon learned how to shoot a handheld camera in the winner's circle and eventually went on to work every position in that department, including tower cam, graphics, tape to deck edits and directing.
At that time, the racetrack was overseen by the New Jersey Sports and Exposition Authority (NJSEA) as part of the Meadowlands Sports Complex, which included Giants Stadium and The Meadowlands Arena.
Being under the NJSEA umbrella afforded Colon the opportunity to use his TV skills for the Devils, Giants, Jets and Nets.
"The racetrack has been my catapult to do everything else I've done in the industry," said Colon. "When I first started shooting for the Giants and Jets, I used to be in a room with the NFL film guys. They were basically the ones who taught me how to shoot. They would guide me, because when I first went to shoot football, I didn't know anything about shooting football."
In addition to the regular season, Colon shot Giants and Jets playoff games as well as the Nets twice in the NBA Finals, and the Devils, who won Stanley Cup championships in 1995, 2000 and 2003. He shot the Kentucky Wildcats NCAA Tournament victory at the Arena in 1996 and still works for MLB Network, where he won a Sports Emmy in 2016 as graphics operator for MLB Tonight.
Colon has always been a straight shooter, which didn't always go over well when the track was run by the NJSEA.
"I don't lie," he said. "I don't say yes just because you say let's do something. So I got skipped over a lot. They put a lot of people in front of me that were there less time than I was because those people wouldn't put up much of a fight."
Things changed when Jeff Gural acquired The Meadowlands and hired Mike Newlin as the track's new general manager.
At that time, in addition to being one of the track's announcers, Sam McKee was also the Director of TV. Colon was already performing the duties as McKee's TV assistant but just didn't have the title, which changed when McKee had a conversation with Newlin.
"Sam told Newlin that I could do the job if he gave me the opportunity," said Colon. "[Then] I went in and told [Newlin] I'm not a yes man. I'm going to tell you if something can't be done. I'm going to be honest with you. I don't know if you like people that are brutally honest, but this is who I am and if you want to go another way I understand because it's happened before. But he hired me and made me assistant manager to Sam at the time.
"Then Sam passed on [in 2017], God rest his soul, and I got moved up. Jason Settlemoir asked me if I could do the job and I said I could and I've been Director of TV since Sam passed away."
In addition to Director of TV, Colon had already taken over the engineering job when Latronica retired in 2015.
"So, I'm doing three jobs in one," said Colon. "If something breaks in the building for TV I have to run around and do what I can to get it fixed. That's for the TVG feed, for the in-house feed and what we send out. It's fine with me. It's my job. I enjoy it."
Colon says his department is family and that they are small, but strong.
"I was proud when we won No. 1 simulcast," he said. "I'm happy this department is one of the best ones in the industry with the few people we have. Everyone compares us to Woodbine, but Woodbine has a lot more people working for them than we do."
Roman, who has worked at the Meadowlands since 1999, credits Colon with teaching her and making her better at her job.
"He'll take the time to teach you if you're willing to learn. He'll nurture the people who want to move up," said Roman. "He's got a great heart. He cares about what he does. He won't put something out that won't look good in his eyes."
Maybe Colon was destined to be a teacher, just not in the traditional sense.
"I never thought about going back [to become a history teacher] because I love this profession so much," he said. "Once I got into it, I loved shooting camera. All those experiences I wouldn't have had if I was a history teacher.
"I would have never won a Sports Emmy being a history teacher. I would have probably affected more kids' lives, but I'm pretty happy with the choice I've made. Harness racing got me to where I am now."