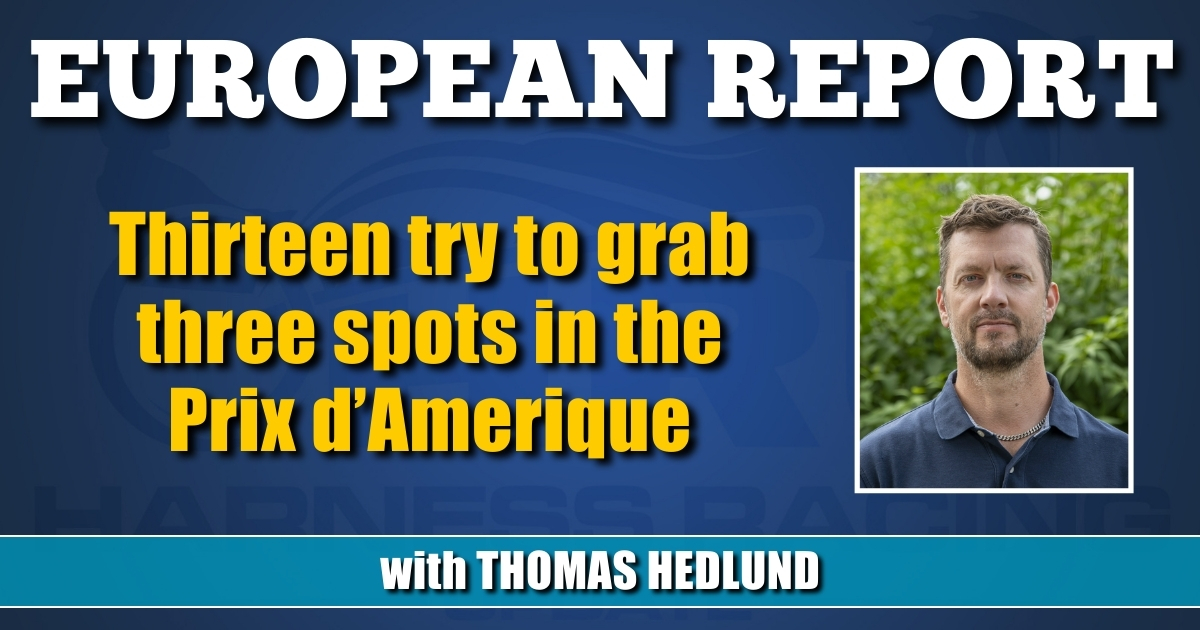 Thirteen try to grab three spots in the Prix d'Amerique
by Thomas Hedlund
The $135,000 Prix de Belgique over 2,850 meters is the last of the four B-races ahead of the Prix d'Amérique and 13 trotters while chase a top three spot in the race on Sunday (Jan. 17) at Vincennes.
Jean-Michel Bazire has four horses in the race and he has chosen Davidson du Pont as his drive while Matthieu Abrivard is entrusted behind Bazire's exciting charge Vitruvio, earlier trained by Alessandro Gocciadoro and Björn Goop.
The Prix de Belgique is, what the French people call, a true "repare-race" where it's an understatement that trainers and drivers aim for the bigger target two weeks later. It's not really forbidden to give the horses easy trips, or if you want to call it by its right name, passively tactical dispositions. Still, there are horses that need to be among the top three to secure their spots in Prix d'Amérique, respectively, so the Sunday's race can be spectacular for the fans.
Prix de Belgique 2021
Horse – Driver
2,850 meters
Victor Ferm – Christophe Martens
Feerie Wood – Alexandre Abrivard
Elsa de Belfonds – Nicolas Ensch
Fakir de Lorault – Francois Lecanu
Frisbee d'Am – Anthony Barrier
Moni Viking – Pierre Vercruysse
Looking Superb – Francois Lagadeuc
Feliciano – David Thomain
Delia du Pommereux – Eric Raffin
Tony Gio – Yoann Lebourgeois
Davidson du Pont – Jean-Michel Bazire
Vitruvio – Matthieu Abrivard
Billie de Montfort – Gabriele Gelormini
Top trotters at Vincennes Saturday's card
The $121,000 Prix de Croix for 5-year-olds is scheduled at Vincennes racetrack Saturday(Jan. 16) and it's a great field of top trotters that will gather around the track.
The Swedish team consists of Guzz Mearas, Aetos Kronos and Power and the trio will, among others, face Prix d'Amérique horse Gu d'Heripre, winner of Criterium Continental on Dec. 27 in Paris.
Jerry Riordan's Aetos Kronos raced very well in Paris in his last performance and once again, Jean-Michel Bazire will drive the Bold Eagle son.
The race will be contested over 2,850 meters.
Prix de Croix 2021
Horse — Driver
Grand Art — Adrien Lamy
Golden Mary — Matthieu Abrivard
Go On Boy — Romain Derieux
Gala Tejy — Thomas Chalon
Gelati Cut — Gabriele Gelormini
Guzz Mearas — Pierre Vercruysse
Gu d'Heripre — Franck Nivard
Green Grass — Mathieu Mottier
Aetos Kronos — Jean-Michel Bazire
Power — Robert Bergh
Golden Bridge best in Nice
Philippe Allare's Golden Bridge (Ready Cash) and David Thomain won the $145,000 Prix de la Cote d'Azur over 1.8 miles in Cagnes-sur-Mer at the French Riviera on Thursday afternoon (Jan. 14).
Jean-Michel Bazire-trained Valzer di Poggio was first choice in the race and had a strong runner up performance from position first outside, but in the home stretch, Valzer di Poggio had nothing to say when Golden Bridge was given full attack order from third outside.
Golden Bridge came home in mile rate 1:58 and this was Philippe Allaire's trotter's biggest success so far in the career.
Urlo dei Venti retired
Italian champion trotter Urlo dei Venti made his last start in his career in Rome on Wednesday afternoon (Jan. 13).
Urlo dei Venti (Mago d'Amore) has had some problems staying sound during the last two seasons and after the race trainer Alessandro Gocciadoro announced that the horse will end his career.
Eight-year-old Urlo dei Venti attacked the best horses in Europe as a 5-year-old and won $135,000 Prix de Luxembourg in Paris and $843,000 Gran Premio Lotteria in Naples. He even was first in the $372,000 Oslo Grand Prix the same year, but was later disqualified due to a positive doping test that showed triamcinolonacetonid in both blood and urine samples.
Urlo dei Venti has been one of the best Italian-bred horses in the European Grand Circuit show and he ended his career with 17 wins in 43 starts and a lifetime earnings of approximately $1,182,000.