by Dave Briggs
Michelle Crawford said the decision to donate 12 stallion breedings to be auctioned off at the Tattersalls Winter Mixed Sale at the Meadowlands on Monday (Jan. 18), with 100 per cent of the proceeds going to support standardbred aftercare organizations and facilities, is truly a lifetime in the making.
"Ever since I was a little girl I had a need and desire to be around horses. I have cared about their welfare for as long as I can remember," she said, adding that she and her husband, Al, are blessed to have the land at Crawford Farms in New York, along with, "the resources and strong devotion and will power to intervene and make a difference for many horses either during or after their racing and breeding careers."
Michelle said donating the breedings was a way to try to maximize their impact to help retired racehorses.
"Al and I always end up with some extra breedings," she said. "Sometimes I will donate them to the foundations just to sell them, but I figured let's do something where we talk to (sale manager) David Reid. We said, 'What can we do with this? Where are we going to sell the shares?' He was instrumental in talking with us and saying, 'Let's just sell the breedings and maybe it can be an annual thing and maybe other people follow suit.' We're definitely trying to lead the charge to get something going for this industry as far as promoting this aftercare situation that we have a lack of.
"Hopefully, people bid on them and they're still looking to breed their mares. I'm hoping people step up knowing it's charitable. Sometimes, instead of just giving them away or letting them sit there or putting them back in the pool, it will generate dollars and we can donate them.
"I have gotten an overwhelming response to our sale breedings… and have been offered many additional breedings for the aftercare cause. It warms my heart and I love how most of us want to help our athletes, we just need everyone to step up and we can make this happen."
The breedings being offered by the Crawfords are to: American Ideal, Crazy Wow, Devious Man (x3), Dover Dan, Racing Hill (x2), Roll With Joe (x3) and Swandre The Giant.
The full sale catalog is now available for the Tattersalls Winter Mixed Sale and can be downloaded now at http://www.tattersallsredmile.com/ or on the Equineline Sales Catalog app.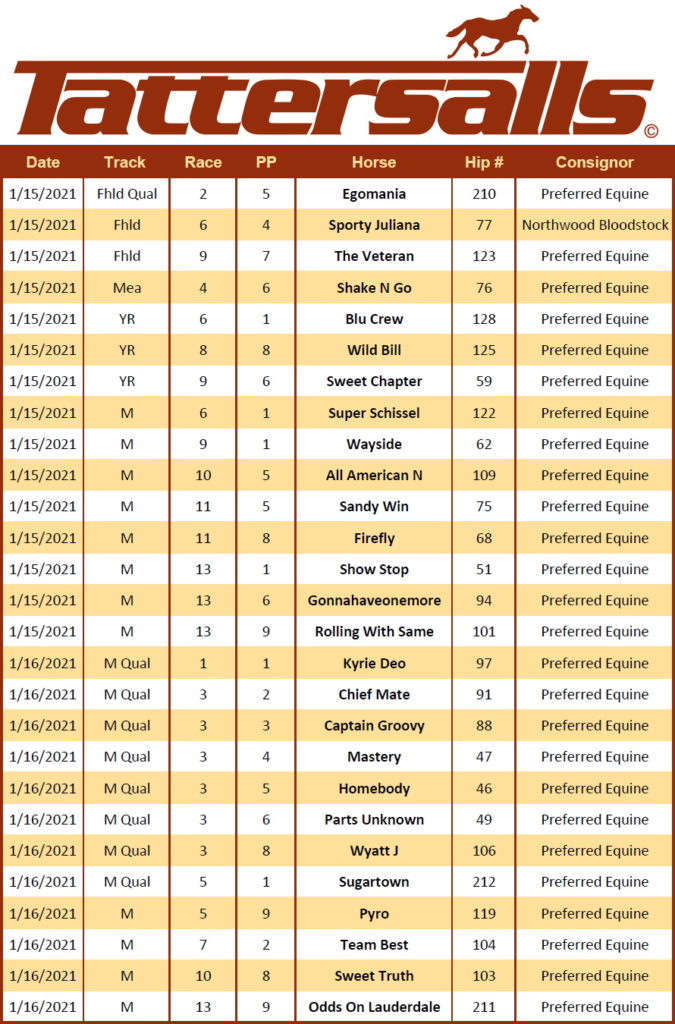 Michelle said she also hopes the donation will draw attention to the need for Congress to pass the Safeguard American Food Exports (SAFE) Act which would prohibit the slaughter of horses in the United States for human consumption, as well as the export of live horses for the same purpose (more information here).
"We need laws to protect them. It's one of those things I am passionate about and I'm going to keep saying it and pushing for it until it gets done," Michelle said. "We must pass the SAFE Act to stop the cycle and catch our horses before they fall. The reality is in my lifetime we cannot save them all from a horrible ending, but even if there's a system to save or humanely euthanize, it's our responsibility to have this program in place as an industry.
"Obviously, Washington is a mess and it's hard to lobby for the SAFE Act right now, but I've got Congressman (John) Katko in my corner and he's going to help push through the SAFE Act this year. It's something that needs to be done. Instead of always trying to save them, let's carve out a place to give them that path."
Michelle said while Crawford Farms is not a tax-exempt charitable organization, she has "become an interceptor, voice and advocate of horses that have ended up in horrific spots and work religiously with organizations to help them find funding, veterinary care and finally homes versus the 'slaughterbound' alternative."
As well, she has provided a home to many of her own retirees and recently started a program to use unwanted broodmares as embryo transfer recipients.
"We put out to the industry that we needed any mares that were young enough… that had no real purpose. They broke down, or weren't fast enough to race and you can't afford to keep them. Some of them we purchased. We really don't have a big budget for that, but when you start looking at the Embryo Transfer program and mares that, a) Can't carry, b) Are still on a race schedule or c) For whatever reason you want to get them on an earlier schedule because they're due so late. It's a great program. We've taken 11 mares in that now have a permanent home. They have care for the rest of their days. They were donated to this program. Now they have purpose. They're going to be mommies. They might not normally been mommies. I don't know where some of them might have ended up. Some of them, the owners were conscientious and donate them and now they're embryo transfer mares."
As well, Michelle said she and Al are also hoping to help anyone in the industry struggling financially through the COVID-19 pandemic. One of their companies, Fundex Solutions, can assist with Paycheck Protection Program (PPP) loans that can provide a business with aloan for 2.5 times its average monthly payroll (restricted to 100k a year per employee). The customer service email for PPP loan assistance is: ppploan@fundexsolutions.com.