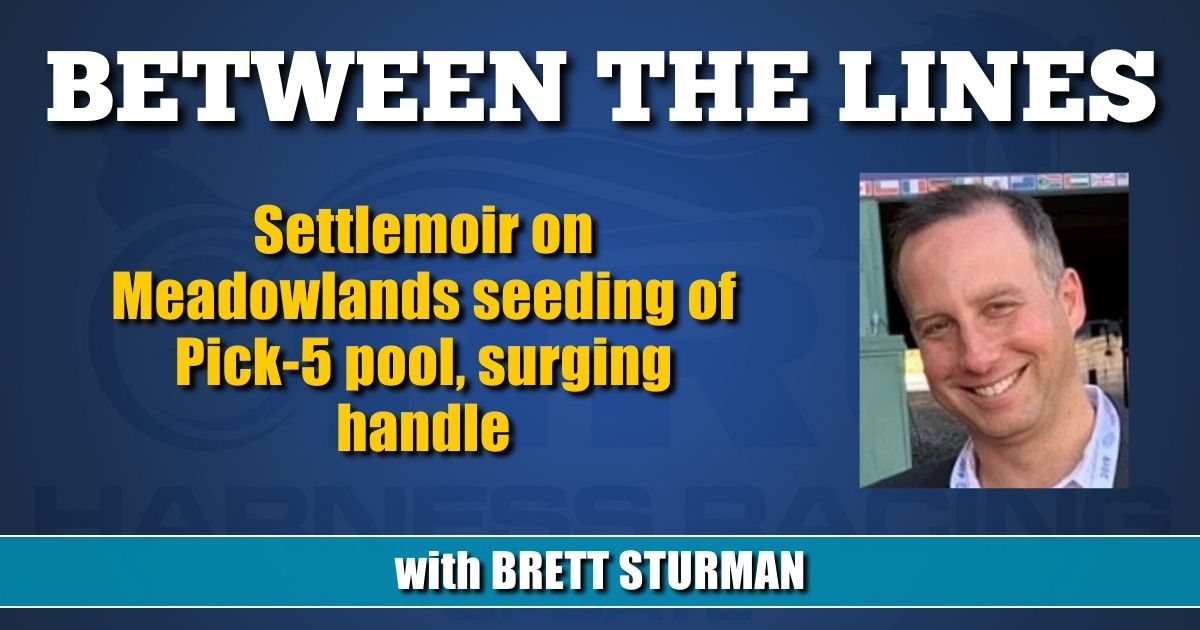 Settlemoir on Meadowlands seeding of Pick-5 pool, surging handle
The track is trying to build momentum coming off handle of $4.5 million last Saturday.
by Brett Sturman
Following last Saturday in which the Meadowlands handled over $4.5 million, the East Rutherford, NJ oval seeks to continue its wave of momentum into the new weekend. The Meadowlands has guaranteed that its Saturday Pick-5 wager to open the card at $100,000, but far more importantly, it has entered into agreement to seed the pool with a free $25,000.
Building from a handle figure of $3.7 million from two Saturdays ago, the Meadowlands benefitted in part from a perfect storm of circumstances last week that helped generate the $4.5 million handle – which was higher than the handle on any card from all of 2020 save for Hambletonian Day. For starters, most harness tracks are dark right now and of the few that did run last Saturday, only Cal Expo had direct overlap for most of the card. With no tracks racing the prior day on New Year's Day except for Freehold, there was growing pent up demand. And, the fact that a fresh wave of stimulus funds went out in the U.S. at the onset of last weekend, I'm sure that didn't hurt things either.
The biggest attraction though came in the form of a $46,731 carryover into the Pick-5 wager from when it went unanswered the prior week. The track guaranteed $150,000 into the Pick-5 that night and there was never a doubt that number wouldn't be reached. All told, over $314,000 of new money was bet into the wager and it handle throughout the night was buoyed by the interest in the Pick-5.
Explaining how the concept of seeding Saturday's Pick-5 came to be, COO & GM of the Meadowlands, Jason Settlemoir said, "Jeff (Gural) called me on Monday and said why don't we seed the pool with $25,000 and see if the SBOANJ will split it with us as a goodwill gesture and thank you to our customers for wagering over $4.5 million last week on our product. I called (SBOANJ president) Mark (Ford) and got it worked out that we would split it – it's a team effort here moving forward. And at the end of the day, we're always looking to give back to the customers. We did the free past performances that we've got a deal worked out for and were able to put those online. We actually have another exciting project that we're working on with TrackMaster and there will be more details to come out about that soon."
Estimating from recent data, perhaps the seeded $25,000 will attract between $250,000 and $300,000 in new Pick-5 money. In addition to the $314,000 of new money last week on a $47,000 carryover, Pompano Park has recently seen two separate carryovers of about $20,000 each in their Pick-5, and each of those attracted roughly $200,000 of new money.
The Meadowlands is likely to lose money solely in the Pick-5 sequence, but the thought is that getting more eyes on the product early in the card can potentially lead to gains in the bigger picture of the card. Settlemoir estimated that the Pick-5 would need to handle $600,000 to break even on the $25,000 used to seed the pool. He said, "We're all very cognizant that we're not going to get that in the Pick-5 pool. But if it helps for those five races and then people continue to stay tuned in and bet the product the rest of the night through race 15, then you might see something cyclical that drives handle throughout the card."
At this time, it seems like seeding the Pick-5 pool is a one-time event, though Settlemoir has an open mind. "Right now, I see it as a one-time trade-off," said Settlemoir. "Because you have to remember what it takes handle-wise to make that money back up and the purse account on our side and from our standpoint as well as the SBOANJ, we don't want to lose money. We'll have to see how it goes. If it goes gang-busters then we'll see if that's something we continue doing. And I remember back in the days when people used to do this all the time and then it kind of went away. We're in a good spot right now from a harness racing standpoint and that a lot of eyes are on the Meadowlands and we'll see how this works out."
Perhaps in part a goodwill gesture, there's also an obvious recognition that "free money" – either in the form of reduced takeout or carryovers or seeding a pool – leads to larger than usual handle. Racing with the wind at their back right now, seeding the pool is a way to keep strong handle up. In promoting free money however it can, the Meadowlands is replicating a formula that works.
Rhetorically speaking, Settlemoir said, "Who doesn't like free money? And when you're seeding the pool you're starting off with that free money."
Asked whether he senses a change at all from elsewhere in the industry regarding a more concerted effort to improve handle, Settlemoir said, "I do see a little bit of a shift from a couple of other racetracks. Gabe (Prewitt) does a great job down there at Pompano and we certainly understand it from the bettor's standpoint. And I think at the same time that these are the tracks that you're going to see flourish – the ones that give back to the customer through any of these methods, including lower takeout. The customer is there week in and week out and when they have an opportunity to wager into free money, that's important."
Going as Race 1 on Saturday, here is my $0.20 Pick-5 ticket: Cost $16
5-9 / 4-6 / 2-3-6-8 / 7 / 1-3-6-8-10