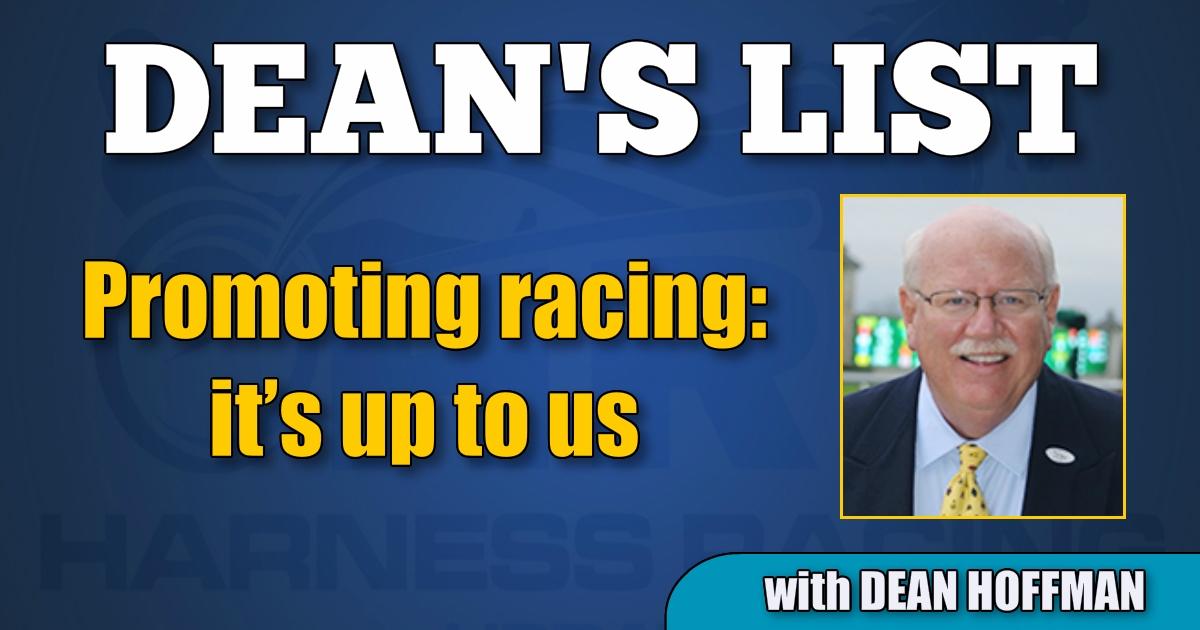 Promoting racing: it's up to us
by Dean A. Hoffman
In the early summer of 1980, I climbed on a small private plane at an airport in central Ohio and greeted the two pilots as we awaited the fourth passenger.
When my traveling companion arrived, he greeted me and said, "Dean, I heard that Dick Buxton won a race in 1:59.3 on Saturday night at Scioto Downs. Pretty fast mile."
Coming from someone in harness racing, that comment would be routine, but the speaker was William B. Saxbe, who in the 1970s had been a United States Senator, U.S. Attorney General, and the U.S. Ambassador to India.
(Saxbe was Attorney General when Richard Nixon was president and Saxbe famously said that Nixon denying any knowledge of Watergate was "like a piano player in a bordello not knowing what was going on upstairs.")
I was then Saxbe's speechwriter and we were flying to a university in Ohio where he would deliver the commencement address.
It struck me as unusual that Saxbe would know about a routine race at Scioto Downs, but it reinforces the fact that harness racing once had a much higher public profile than it does now. In the 1960s, President Lyndon B. Johnson was at Roosevelt Raceway to honor the track's anniversary celebration.
In that era, race results were in every newspaper and most major daily papers had a racing writer.
Looking through old trophy presentations photos, I have seen legends such as Jesse Owens, Cab Calloway, James Cagney and others in the winner's circle.
At Hollywood Park in California, the late Hall of Famer Doug Ackerman told me once, "It wasn't unusual to see a half-dozen major movie stars at the races each evening."
(I have a photo of my father receiving a trophy from screen starlet Connie Stevens after the pacer Best Of All won a major race at Hollywood Park in 1968).
That was then. This is now.
We probably won't find presidents or prominent politicians at the races too often. Ditto for big-name movie or TV stars. In fact, sadly, you probably won't see many people at all at tracks.
Can this be changed? Tracks owned by casinos don't see the need to promote racing because too many executives really don't want racing to be successful. Some would rather that racing just go away.
Many tracks no longer have publicity or marketing directors, although the adjacent racino usually has those positions well-staffed.
So, who's left to promote racing?
We are. It's up to us in racing to toot our own horn and promote our own product.
No, I don't expect owners and others in the sport to buy advertising on TV or billboards. But one thing that everyone can do is to serve as an ambassador for harness racing and bring friends, neighbors, and business associates.
It's an easy thing to do because you simply need to ask and offer to introduce them to racing. You can explain how harness racing works and what types of bets are available.
Information from a knowledgeable owner or fan is very important because tracks have often done a poor job of educating newcomers.
More accurately, tracks have nothing to educate newcomers. I have often said that if a person comes to the track for the first time totally ignorant of the sport, he all too often leaves with the same ignorance because tracks don't cater to newcomers.
Yes, there is often a brief explanation in the racing program, but when a newcomer confronts a page of past performance lines, it's like looking at an Amtrack schedule or a series of quadratic equations. What do all those numbers mean? Who knows?
You know what those numbers mean — and I know, too — but the first-time fan soon finds his eyes of glazing over. It's not an experience they want to repeat.
What's why existing owners or veteran are the best people to bring newbies to the track. They can patiently explain the hieroglyphics in the race program and the action on the track.
Decades ago, I met a young woman at Ohio State University whose family had harness horses and she knew the sport inside and out. Plus, she was extremely attractive. I suggested that Scioto Downs hire her as a "Greeter" who would welcome fans and answer any questions. Her appearance alone would appeal to the overwhelming male demographic, but she had the brains to go with her beauty.
Being a college student, she'd probably be anxious to earn extra money in this role, I emphasized to the track official.
He told me that they simply couldn't afford a part-time greeter.
If harness racing is to survive, it's up to the people in the game. I lived in Cincinnati in the 1970s after leaving a job as assistant manager at Stoner Creek Stud in Kentucky. My neighbors were a young couple with no children and a substantial income. I saw them as perfect prospects to be racing fans or even horse owners.
I even treated them to a night at Scioto once. It's was a couple hours up the interstate from Cincinnati to Scioto, but Scioto was then a showplace and first impressions count. (I didn't want to take them to nearby Lebanon Raceway, a far less impressive venue, for that reason).
This couple never took the bait, but I have taken others to the races in hopes that they might become fans first and perhaps owners later. I realize that some state harness associations have new owners' programs, but that doesn't preclude everyone from recruiting new fans and owners.
We all need to do this. If the people in the sport don't recruit new fans and potential owners, who will?