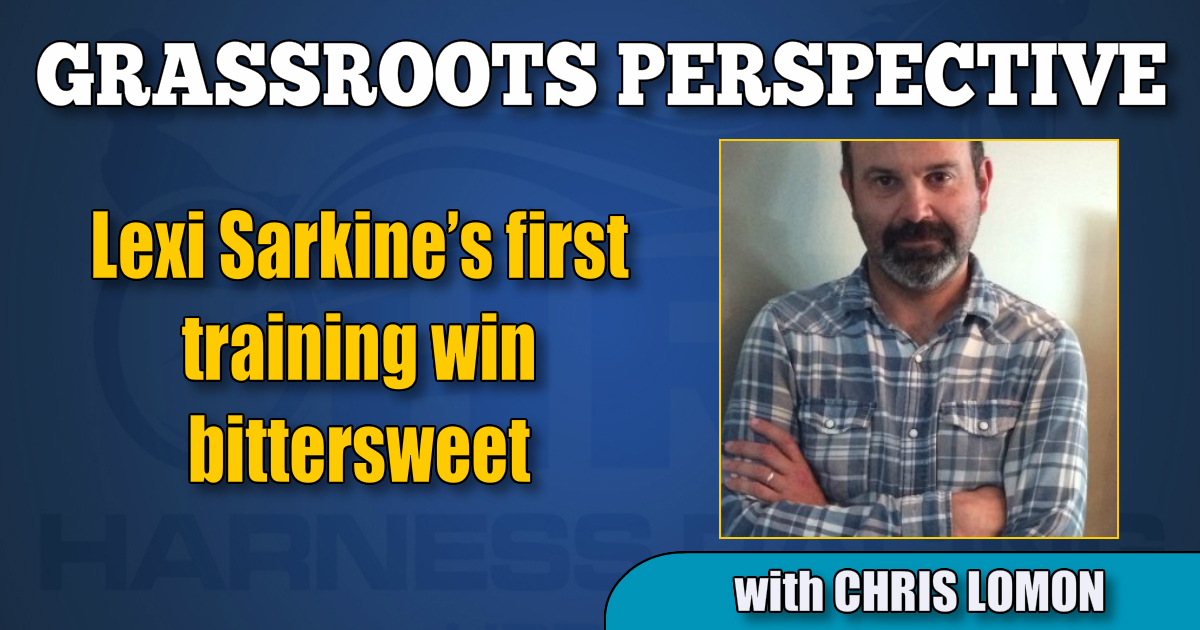 Lexi Sarkine's first training win bittersweet
by Chris Lomon
Lexi Sarkine's picture-perfect milestone moment came with an asterisk.
It was a scene she had played out in her mind several times over the past two years: the thought of celebrating her first win as a trainer
So, when Air Assault, a 5-year-old trotting son of Yankee Glide recorded a half-length win in 1:57.2 at Dayton Raceway on Dec. 4, it was everything Sarkine had dreamt of.
Well, almost.
The gelding, who sold for $10,000 at the 2016 Lexington Select Sale, went straight from the winner's circle to a new barn after he was claimed for $6,500.
Sarkine went from elated to deflated in less time than it took Air Assault, the 4-5 mutuel favorite, to complete his winning mile.
"It was a pretty bittersweet moment. My phone was blowing up afterwards, and everyone was congratulating me. Whenever anyone asked, 'How do you feel?' I always said that it was bittersweet. We've had this horse since he was a 2-year-old. It was pretty cool to win with him, but then he was claimed from that race. So, there was a lot of emotion in that winner's circle. I have a horse that's now a riding horse that used to get claimed all the time, so I know it how it feels. With him, I knew I would get him back and he would stay with me. This one… it hurts."
Perhaps even more so considering Air Assault won next time out for his new connections, another 1:57.2 mile, this time as the 3-5 choice.
Bred by Steve Stewart (Paris, KY) and Ernst Gerbaulet (Recklinghausen, GER), the well-traveled bay is closing in on the $100,000 career earnings mark.
Sarkine has both fond and painful memories of the hard-trying horse that won his first pari-mutuel start at the Red Mile on Aug. 5, 2017, in a $15,000 Kentucky Sires Stakes event.
"He's a pretty easy-going horse," said Sarkine, who is in a relationship with trainer/driver Mike Hollenback. "But he was a bit of a jerk when we got him. He bruised my ribs when he struck me as a 2-year-old. But then he chilled out. He's been a wonderful horse to have in your barn. He loves attention, he's great to train – there's just a lot of really nice things about him."
Sarkine has taken over the reins of lead trainer for the Hollenback stable for the time being while the horseman tends to their string of 2-year-old horses in Pinehurst (NC) over the winter.
While it took a little convincing to have her in the driver's seat, so to speak, for the Indiana-based pacers and trotters, she eventually got the green light.
"I thought, 'Finally!' It's a great feeling and I'm really enjoying it."
That wasn't always the case, albeit in the days leading up to her first horse racing gig as a groom.
When Sarkine went looking for a job in the sport nearly nine years ago, she wasn't initially sold on the idea of joining the standardbred world.
That, however, would quickly change.
"I've been in this industry since 2012. I actually found the job through Craigslist. I was on there – I have this little old riding horse – and I was looking to buy a couple of things. When you have a riding horse, you're always buying things you don't really need. But I found this job, as a groom. Originally, I thought it was for thoroughbreds. When they called me up and they said it was for harness racing, I thought it sounded a little bit boring. But I thought I'd give it a try. And I'm so glad I did. I love it. I love the horses and the people. It's in my blood now. That's how it all began. I started working for Mike and here I am."
And where she happens to be is in a very happy place.
Not surprisingly, it's the horses that make it special for Sarkine, who along with Hollenback, currently have 15 horses in their operation, split between Indiana and Pinehurst Race Track.
"It's a nice, peaceful thing to do, this job. Every day, it puts a smile on your face. I would lose my mind if I didn't have the horses in my life."
Now that she has a training win on her stat sheet, Sarkine has her sights set on tracking down another first, specifically, a driving victory.
Although it's a small sample size, a trio of starts in the race bike in 2019 yielded some encouraging results.
"I actually just started driving last summer at the fairs. I had three starts and ended up with two seconds and a third. My definite goal for next year is to get my driving win. I'd also like to keep doing the training thing because I really enjoy it. I love being around the horses every day."
Reuniting with Air Assault down the road and having him back in the fold is also on her list of things she hopes to accomplish.
Whether or not it happens, the veteran trotter is never far from her thoughts.
"He got claimed again after he was claimed from us, but I let the people know that if anything happens to let me know. I want to make sure he ends up in a good situation or in a good home. That's my goal, that he always has a happy life."
As for short-term hopes, Sarkine would like to add another training triumph to herrésumé.
This time, however, she's hopeful that it isn't capped off by having to watch the horse walking away to a new barn address.
"Exactly. I don't know when I can win the next one, but I'd sure like it to be soon before Mike comes back. It would be nice for the second one to be happy from start to finish, no claims at all. It's part of the sport, and I understand that, but it doesn't make it any easier. You develop a bond with all your horses. Every one is different, but every one is special."