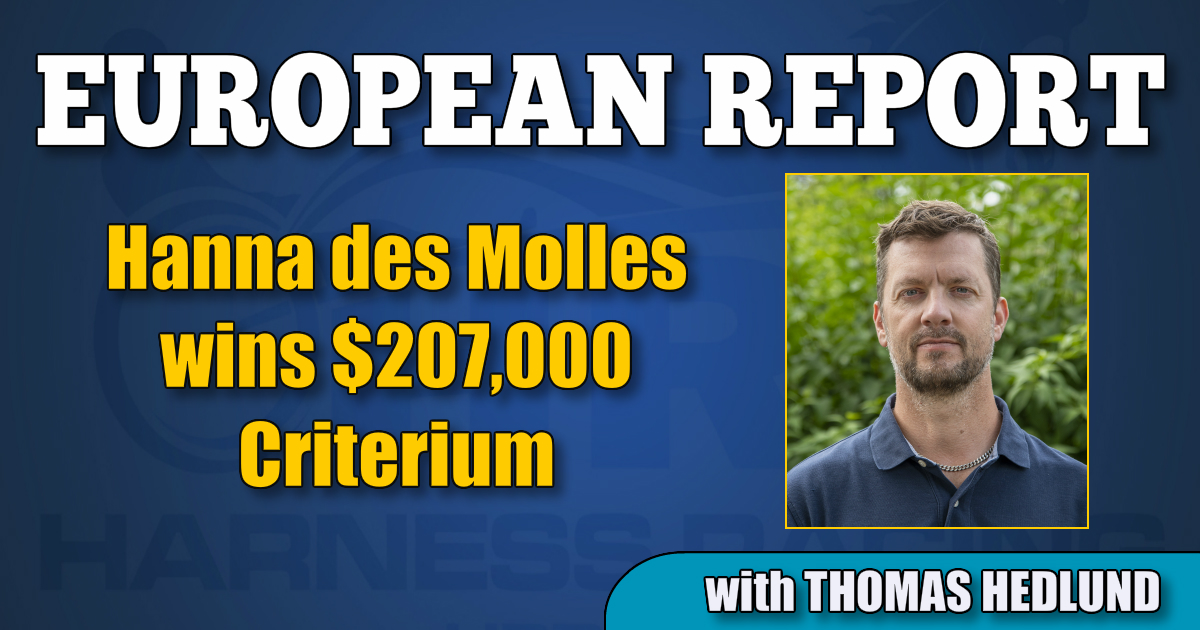 Hanna des Molles wins $207,000 Criterium
by Thomas Hedlund
The $207,000 Criterium des 3 ans for 3-year-olds was held at Vincennes racetrack on Sunday (Dec. 20) and it became a great triumph for Laurent-Claude Abrivard-trained Hanna des Molles (Village Mystic), driven by Alexandre Abrivard.
Hanna des Molles had to advance three wide in the first turn and came to the lead, via position first over, with a kilometer to go in the 1.6-mile race.
Hanna des Molles had everything under complete control as the field turned for home and the filly claimed the trophy in a mile rate of 1:59.
Criterium des 3 ans, which has seen winners such as Ready Cash, Timoko, Bold Eagle and Face Time Bourbon, is one of the biggest objectives during the French winter meeting in Paris and the victory for Hanna des Molles meant that both Laurent-Claude and his son Alexandre claimed their first win in the race, respectively.
World Driving Championship 2021 postponed
Italy was to play host to the World Driving Championship next year, but due to the COVID-19 situation, the competition is postponed and will take place in the European country in 2023 instead, according to Norwegian media tgn.no.
In connection to the championship, the harness racing world conference will be held in Italy in 2023.
New Zealand was to play host to the competition in 2023, but the drivers can look forward to a visit to New Zealand in 2025 instead.
Two-year-olds in focus in Paris
Jean-Philippe Dubois sat behind his 2-year-old filly Illusive Artist (Prodigious) when the $103,500 Prix Une de Mai was held in Paris on Christmas Day. Illusive Artist quite easily claimed the victory in a mile rate of 1:58.3 over 1.3 miles. In a race that contained several breaks (seven out of 13 contenders went off stride), Illusive Artist showed that she probably will be a factor when a new year begins.
Two-year-old colts were gathered around the track of Vincennes on Dec. 26. The $103,500 Prix Emmanuel Margouty was scheduled and Philippe Allaire showed his ItalianoVero (Ready Cash) in perfect shape. The Ready Cash son came to the lead, paired with David Thomain and the duo controlled the field the whole way and came home in mile rate 1:58.1 over 1.3 miles.
The victory in the Prix Emmanuel Margouty was Italiano Ver's fifth consecutive win in 2020 and he will enter the new year as the master of the crop among French-bred colts.
Gocciadoro claimed big win in Italy
Alessandro Gocciadoro is the king of Italian harness racing and on Dec. 26 his Virginia Grif (Varenne) won the $135,000 Gran Premio Due Mari in Taranto, Italy.
The 6-year-old mare was driven by Massimiliano Castaldo and cruised to safe victory in 1:56.1 and beat horses like Chief Orlando and Stepping Spaceboy.
Promising performance by Gu d'Heripre
Face Time Bourbon has already showed Europe that a fresh 5-year-old trotter can win the prestigious Prix d'Amérique in Paris in January. That was the case in 2020, when Face Time Bourbon came from splendid seasons as a 3- and 4-year old and played with the older, more merited and, normally, more brave trotters in the biggest race in Europe.
The comparison is perhaps unfair, but Philippe Billard-trained 4-year-old Gu d'Heripre seems to have all the ingredients required to take the big step against the best trotters in the world, which he showed in his victorious race, the $207,000 Criterium Continental at Vincennes in Paris on Sunday (Dec. 27).
Franck Nivard took a safe route when the car left the 16-horse field in front of the grandstands at Vincennes and Gu d'Heripre was found in fourth over after 250 meters. But horses attacked three wide directly and when leader Guzz Mearas got company from Power midway through the 1.3-mile race, the pace was still set high and Gu d'Heripre sat in sixth over, with horses on his outside. So Nivard had to lift his horse out, with cover as fourth, three wide before the last turn and in the turn Nivard had so much power in his horse that he had to attack four and five wide. Gu d'Heripre (Coktail Jet) flew throughout the last turn and got close contact with the new leaders Go On Boy and Golden Mary. Nivard noted that he would win the race pretty early in the home stretch and Gu d'Heripre's performance was outstanding and so good that he must be considered as a big threat even in the Prix d'Amérique, for which he received a ticket since he won Crtiterium Continental.
The mile rate was 1:54.2 and high grades were distributed to runner up Golden Mary and third placed Go On Boy, who both raced three wide most of the race.
Behind the top three, Jerry Riordan's Aetos Kronos finished incredibly strong in fourth after a trip where he ended up as last horse ahead of the last turn, in addition that he was roughly interfered attacking five wide at the top of the stretch.
Ticket to Abrivard
Just like 2019, the $103,500 Prix Tenor de Baune for 5-year-olds went to a horse trained by Laurent-Claude Abrivard, driven by Alexandre Abrivard. Last year, Excellent was victorious in the particular race which gave him a ticket to Prix d'Amérique (where Excellent made a break in the lead after a kilometer into the race). This time, it was Feerie Wood's turn to show that the Abrivard stable wants to participate in Prix d'Amérique 2020.
Feerie Wood (Rockfeller Center) followed in the back of Feydeau Seven in the last turn and when Alexandre Abrivard gave full order to attack at the home stretch, Feerie Wood disarmed the inside horse and won in a solid mile rate of 1:57.1 over 1.6 miles.
Laurent-Claude Abrivard has had a splendid year as a trainer 2020. His 865 starts have resulted in 163 victories, which puts him in fourth place among the French trainers this year. Jean-Michel Bazire is number one and the French champion trainer and driver has collected 203 victories during 2020.
Horses qualified for Prix d'Amérique 2021
Prix de Bretagne (Nov. 22):
Diable de Vauvert (1), Feliciano (2), Bahia Quesnot (3)
Prix du Bourbonnais (Dec. 13):
Face Time Bourbon (1), Victor Ferm (2), Moni Viking (3)
Criterium Continental (Dec. 27):
Gu d'Heripre
Prix Tenor de Baune (Dec. 27):

Feerie Wood