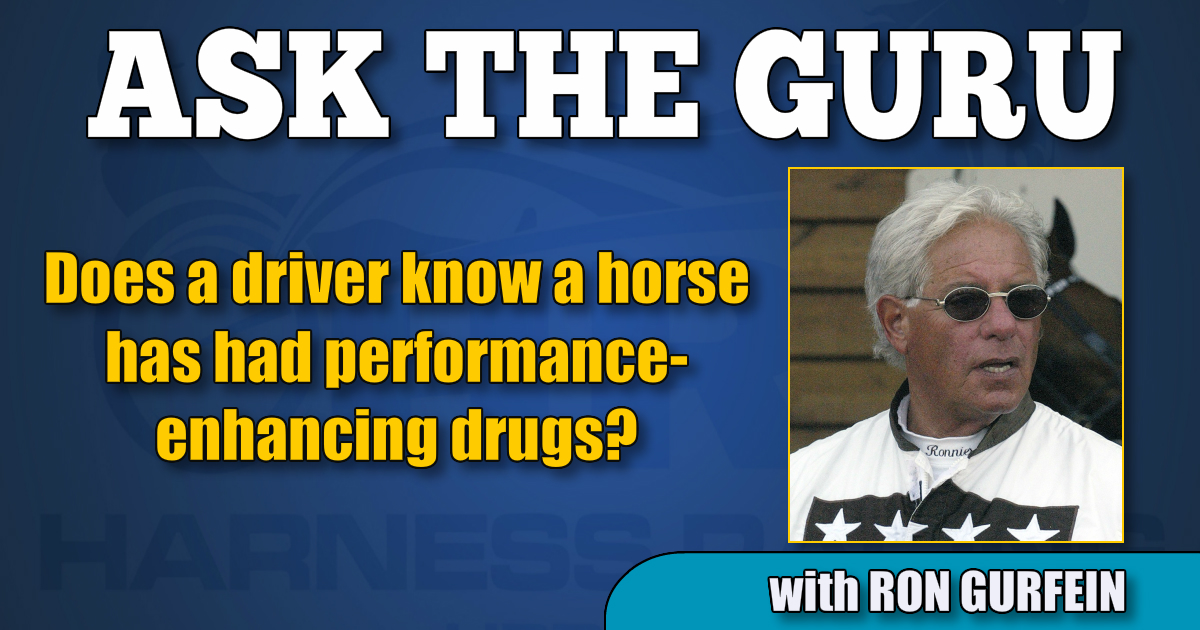 Does a driver know a horse has had performance-enhancing drugs?
That, plus thoughts on if the Breeders Crown should be one night or two, whether North America should follow Sweden's lead on how trainers are paid and much more.
by Ron Gurfein
Tidbits: I am angry and I will tell you why. As a child I had to endure the frightening blackouts in New York City during World War II.
The government, protected our shores from both the Germans and the Japanese.
In grade school I had to crawl under my desk in an air raid drill to protect myself from a Russian bomb during the Cold War. Thankfully, that threat never materialized and once again I was kept safe.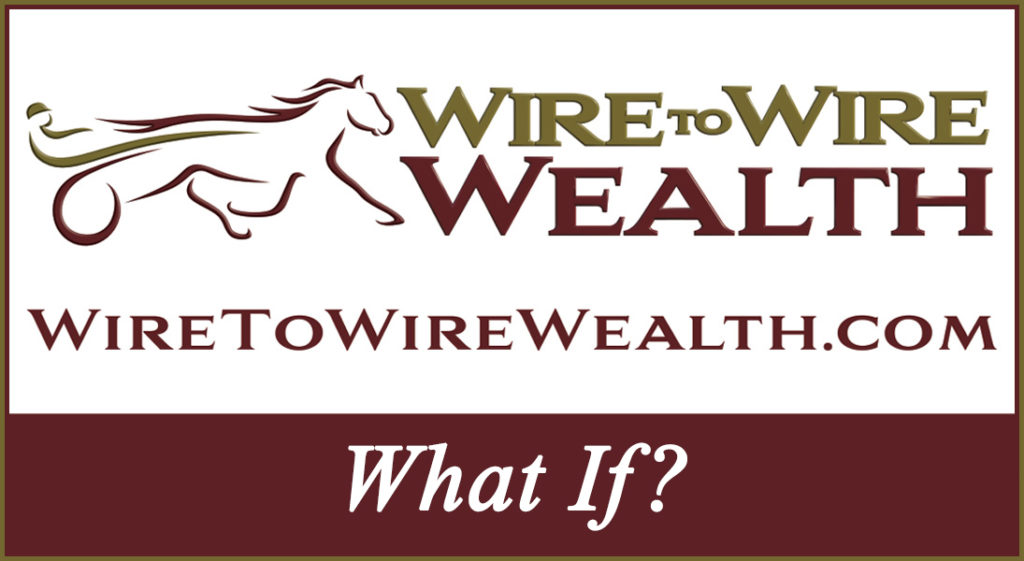 I could go on and on with fire drills and the many years of donning helmets and safety vests, all mandated in an effort to protect me.
Now I find myself at the eight pole in my life. I have been blessed with two wonderful grandsons — one is 3 and the other will turn 3 in March. Add to that, my third will arrive in a matter of weeks.
Unfortunately, Christmas will go by as will their birthdays with only FaceTime to afford interaction. I also suffer from the inability to hold my children in my arms.
This is not a political rant. It is no time to be pointing fingers. I am simply venting at a system that kept me safe for 80 years and has seriously dropped the ball at a time I needed it most.
I will add a major request to all my readers. I know that there are many that don't believe what the media tells them about the virus and I can truly understand your skepticism because the media has the propensity to embellish any and all situations. As my dad used to say, "that's how they sell papers." Personally, I don't care how bad you think COVID-19 is or isn't. I do care that you don't poo-poo its existence to the point you refuse to have the vaccination. It is of the utmost importance we all get the vaccine and as soon as possible.
Sorry if I bored you, but this was important for me to get off my chest.
* * *
Sadly, I must report that Rene Allard's name has been added this week to the list of indicted horseman in the Southern District of New York. Richard Banca and Allard were the last of the first wave of people of interest in the case to be formally charged.
To this writer, the evidence to this point seems quite damming. However, in today's explanation of charges there is one questionable quote. "They found EPO like substances." I am not sure that was the reporter's take on the matter or a true line directly from the indictment. If it was a direct quote then I find it all too vague to ever prove in a court of law.
Unfortunately this case is moving at a snail's pace truly unfair to the defendants and our entire industry. It's time that the horse killers were put behind bars, and the innocents return to life.
* * *
I want to thank Sy Fuchs for sending me the NY Post article on Jeff Gural et al., on the saving of the Astor Barbershop I wrote about last week. When a reader helps me or informs me about a story of interest I like to give them credit. I am sorry I neglected to do so in this case.
* * *
Dr Clara Fenger's presentation to ARCI declaring that a Dexamethasone positive could well in fact be environmental, comes 50 years too late to this writer.
The only major penalty I ever received was 45 days for a Dexamethasone positive. I can see myself now in front of my good friend and wonderful presiding judge Vincent Bergamo (R.I.P.) swearing it was nonsense. I even asked for a lie detector test that's how sure I was that the horse was never purposely injected. Obviously, in those times, my dissertation fell on deaf ears. Not to say that the judges were not amenable to discourse but rarely did they assess any idea of environmental contamination.
I did find that a dozen years later many venues realized their existence.
That said, positive reversals re: environmental influence are few and far between in our sport. Bob Baffert has had many and I totally believe in his assessment of the situations. Ron Burke, Julie Miller, Mark Ford, Linda Toscano and others had glaucine positives in New York and they were dismissed and termed environmental, another decision with which I am in full accord.
Many readers email me that I am pro big barns and always go to bat for the Burkes and the Bafferts. Basically, it is true, mainly because I have been there.
When I was training a barn of killer 2- and 3-year-olds I wouldn't even let a vet treat an overnight horse on the day of a race. When you get to that point in your career a positive would be earth shattering. You don't win classic races by pushing the envelope you win the years before in the sales ring and then prepping them properly for the big dances. Classic races are won by great horses, trainers are responsible to keep them sound and happy.
* * *
Could it be possible that John Calapari was on serious weed when he made up the 2021 basketball schedule for the Kentucky Wildcats? When did you ever see a Kentucky team start out the season 1 and 3?
Coach Cal has been dealing with a basic one-and-done freshman team forever while filling the win column as well as the coffers of NBA teams. The first six or so games are usually at home against the likes of Middle Tennessee Girls College. The freshman had an easy road to getting their legs under them and some rhythm with other players all new to the team.
This year, however, the kids got thrown under the bus early and often. They were beaten badly by a very good Richmond team almost all upperclassmen, they did play well for the first 37 minutes of the next game against a Kansas team now rated fifth in the nation and then got totally out played by the Georgia Tech Yellowjackets. To add to my point they had two of the first four games away from Rupp Arena and that scenario will follow with Notre Dame at home and UCLA and Louisville on the road in their next four games. I love coach Cal and have rarely been critical if at all. But he has set these kids up for a loooong winter.
Allison Sanchez asks: The Breeders Crown in 2021 returns to the Meadowlands. There have been discussions on social media whether the event should be one or two nights. What is your take on the subject?
If it's good enough for the thoroughbreds it's good enough for us. The Breeders' Cup races are always Friday and Saturday, the Oaks and the Derby have the same format. I think anytime you can stretch a good thing successfully it's a positive.
That said, 12 races of that caliber in one night will tend to slight some performances. Let's face it, it is hard to be focused on a dozen major events in a five-hour period.
There are so many trainers with multiple entries it becomes a nightmare of logistics to race that many horses for that much prestige and money.
I will say I don't like the four-eight split for the 2-year-olds on the first night and sophomores and older horses on the second. I really would like to mix and match with a six-six split. There is necessity for all the 2-year-olds to go on the same night.
Another plus would be eliminate all overnight races for those two nights. Fill the card with consolations and preferred and Invitational races. There are a myriad of top horses that are not eligible to the Crown. I am sorry if this takes some effort to accomplish, but sometimes we can go a step further.
Lastly, give the bettor time in between races. Trying to go on 20 minutes rushes the participants as well as the bettors. The extra time would be a big advantage to paddock and winner's circle interviews as well as giving the drivers a chance to catch their breath.
I am so pleased that the Crown returns to the Meadowlands for no other reason that I feel it provides the most fair racing strip available in the U.S. or Canada.
Tom Santoro asks: Does a harness driver know when a horse has received performance enhancing drugs?
This is by no means an easy question to answer, simply because there are so many facets to explore.
If you asked me 30 years ago I would say unequivocally yes because the drugs were not nearly as sophisticated as they are today and an animal treated with performance-enhancing drugs (PEDs) would be more grabby or on the muscle than he was without the stimulant.
Today is another story. The driver may know more having trouble pulling the horse up at the end of the mile than he actually observed scoring down or going to the gate.
Blood doping would increase wind and stamina not likely to create a puller. However, high power pain killers might get an older horse feeling so good he may get a bit grabby.
All I have stated above is basically prudent conversation and is meaningless in the total scheme of things.
The top reinsmen are quite intelligent individuals. They are all well aware of what horses have PEDs when the draw comes out and they know exactly what is going on. Cheaters are notorious. Anyone that thinks that they are secretly getting away with murder is a fool. Don't think for a moment that if Jeff Gural or Ron Gurfein know who are using drugs that Gingras, McCarthy, et al aren't privy to the same information and more.
Look back at the results from previous years. Who were the drivers named on the horses of the indicted trainers. Truly not guys with .107 UDRS.
The situation is totally different with the use of blood doping. Before its existence, trainers would treat a horse to be good on a certain day, a big race, or as a method to cash a bet, but not on a every race basis. Today with programs of EPO, bicarbs and clenbuterol, the criminals, in essence, have every horse in every race on their toes.
If you haven't read Brett Sturmans article (full story here) on Pat Lachance's recent success please do. It gives great insight on how cleaning up the cheating has helped the honest trainers. I have personally known Patrick since he was a youngster. There was never a more honorable, talented and intelligent trainer in my book. His explanation of his present winning streak speaks volumes about how far we have come in the past year. Hopefully this is not the end of the story and we will hear of more similar scenarios as time goes on.
Wedgeclose (no signature) asks: I don't understand how little respect Plunge Blue Chip gets in Horse of the Year voting. How many times she beat Manchego and Atlanta. And when you talk trainer earnings per start shouldn't Ake Svanstedt be up there?
No question Plunge Blue Chip is a wonderful mare but har achievements pale in Comparison to the aforementioned duo. We are talking about a Hambletonian winner and the Oaks Winner. Both Atlanta and Manchego are approach $3 million and Plunge Blue Chip at $1.5 million. This year's earnings are: Atlanta $700,000, Manchego $600,000 Plunge Blue Chip $300,000.
Sometimes, when you like a horse, you tend to overestimate her capabilities. It's perfectly normal. As for Ake being a top trainer in earnings per start, he certainly is, and if memory serves me right he is second or third behind Nancy Takter, but something like $7,000 per start behind.
In no way do I want to demean Ake or Plunge. I have the highest regard for him as a horseman and her as a racehorse. I merely want to keep the record straight.
David Cannon asks: In Sweden all owners and trainers sign a contract, outlining fees and payments. Training fees are paid to the commission and forwarded to the trainers account. This way the commission has an overview of who is the trainer of record at all times. Do you think this would work in America and hinder this epidemic of beard trainers?
Beard trainers will always exist and can only be discovered by live stable surveillance. There really is no money trail to speak of. Your Swedish model would in no way deter or expose the criminal. The beard trainer simply receives the cash from the commission and gives it to the real trainer.
That said, I love the idea, not so much as a deterrent to coverups but for the financial protection of the trainer. The amount of unpaid invoices in our sport is overwhelming.
I have at least a quarter of a million dollars on the books that I will never see. The Swedish method would prevent that from ever happening.
Thank you all for the kind words. Please keep the questions coming in. Have a wonderful Christmas season.
Have a question for The Guru?
Email him at GurfTrot@aol.com.